Commentary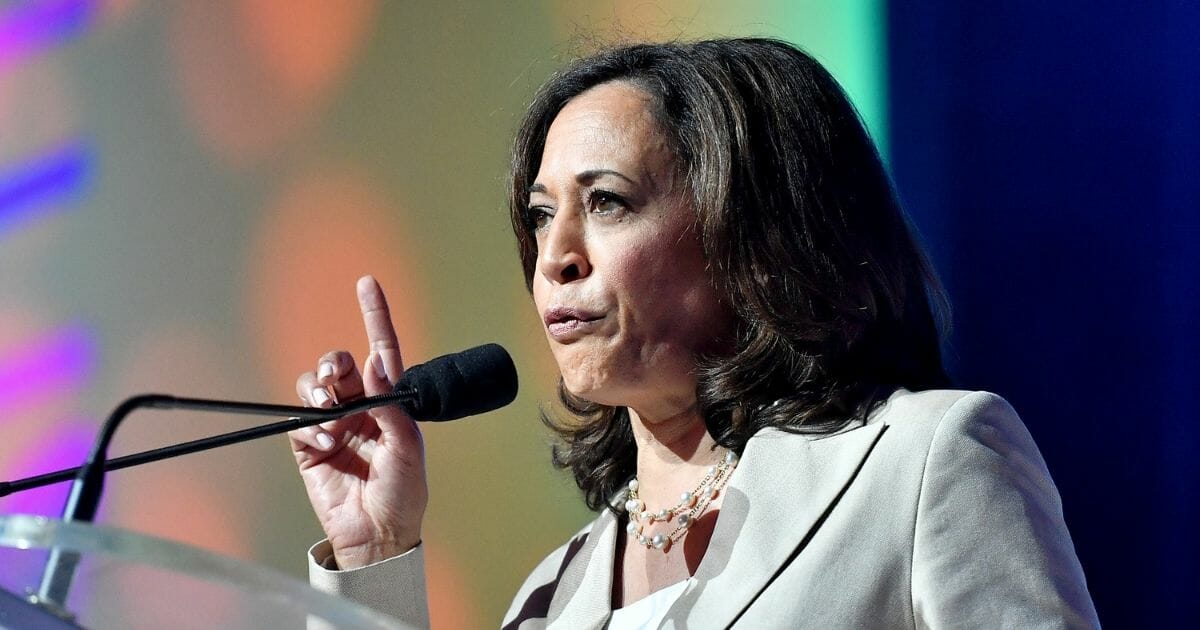 Kamala Harris Bemoans Strong Economy, Repeats Debunked Unemployment Claim
You would think that with all factors considered, the rather robust American economy under President Donald Trump would be viewed as a good thing, no matter what anyone's ideological leanings are.
Unfortunately, that just doesn't seem to be the case.
When Democrats aren't fallaciously arguing that Trump's strong economy is the mere continuation of former President Barack Obama's failed economic policies, some are even insisting we all disbelieve our growing bank accounts and accept that the economy "actually" isn't doing particularly well at all.
Advertisement - story continues below
One of those is top-tier 2020 Democratic candidate and California Sen. Kamala Harris, who not only downplayed the strength of the U.S. economy in a recent campaign event but also repeated an absurd and previously debunked claim about more Americans being forced to work multiple jobs.
The Washington Times reported that Harris was addressing attendees to a town hall-style forum in Myrtle Beach, South Carolina, on Monday when she attempted to dismiss the strength of the economy and stock market.
With regard to the near-record low unemployment rate of 3.7 percent, Harris reportedly said, "Well yeah, people are working. They're working two and three jobs."
"In our America, you should only have to work one job to have a roof over your head and food on the table," she added.
Advertisement - story continues below
But there is little, if any, evidence to suggest that more Americans feel compelled or are forced to work multiple jobs to keep food on the table and a roof over their family's head under the current administration as opposed to the previous one.
Indeed, The Times noted that according to the Bureau of Labor Statistics, the percentage of American workers holding multiple jobs at one time has remained fairly steady at around 5 percent for nearly a decade, since the nominal end of the Great Recession in 2010.
Are Democrats really desperate to try and portray the American economy under Trump as weak?
In the month of June, that number was 5.1 percent, up just slightly from the 4.8 percent mark in June 2018.
Making things a bit worse for Harris is the fact that her remark appears to be a practiced and rehearsed line, as she said virtually the same thing in the first Democratic debate last month, according to Marketwatch.
"You know, this president walks around talking about and flouting his great economy, right, my great economy, my great economy," Harris said. "You ask him, how are you measuring the greatness of this economy of yours? And they point to the jobless numbers and the unemployment numbers. Well, yeah, people in America are working. They're working two and three jobs."
Advertisement - story continues below
Just like The Times, Marketwatch turned to the BLS numbers and noted that the multiple jobholders statistic was essentially the same now as it had been under former President Barack Obama, around 5 percent, give or take a little in any random month.
In May, BLS had that number pegged at 5 percent, so the number has ticked up by 0.1 percent over the course of June — not exactly a crisis-level increase demanding immediate and massive government intervention.
Yet that is precisely what Harris has proposed to address the non-existent problem.
The Times pointed out that the senator has unveiled a plan that would provide up to $500 per month in refundable tax credits to any American family earning less than $100,000 annually. How that will fit in with the massive tax hikes and repeal of Trump's tax cuts, if elected, remains to be seen.
Advertisement - story continues below
Harris also took a dismissive swipe at the record-setting growth of the stock market during Trump's tenure in office and said, "That's fine if you have stocks."
That completely ignores the fact that tens of millions of working-class Americans — the people Harris claims to be fighting for — are absolutely thrilled by the growth of their 401(k) plans, IRA savings accounts and other small, but incredibly important investments that rely upon the stock market.
Historical trends and analysis show that first-term presidents who oversee strong and growing economies almost never fail to win re-election, and numerous economic predictors have already concluded that, should the economy remain roughly the same or grow stronger going into 2020, the odds are heavily in favor of those trends holding and Trump remaining in the White House for a second term.
That is both inconceivable and intolerable for Democrats like Harris, so they must make misleading claims about the state of the economy and American workers out of their sheer desperation to defeat Trump.
Advertisement - story continues below
The American people are smarter than that, however, and Harris' claims don't match what they see in their bigger paychecks and growing retirement accounts.
Conversation