Commentary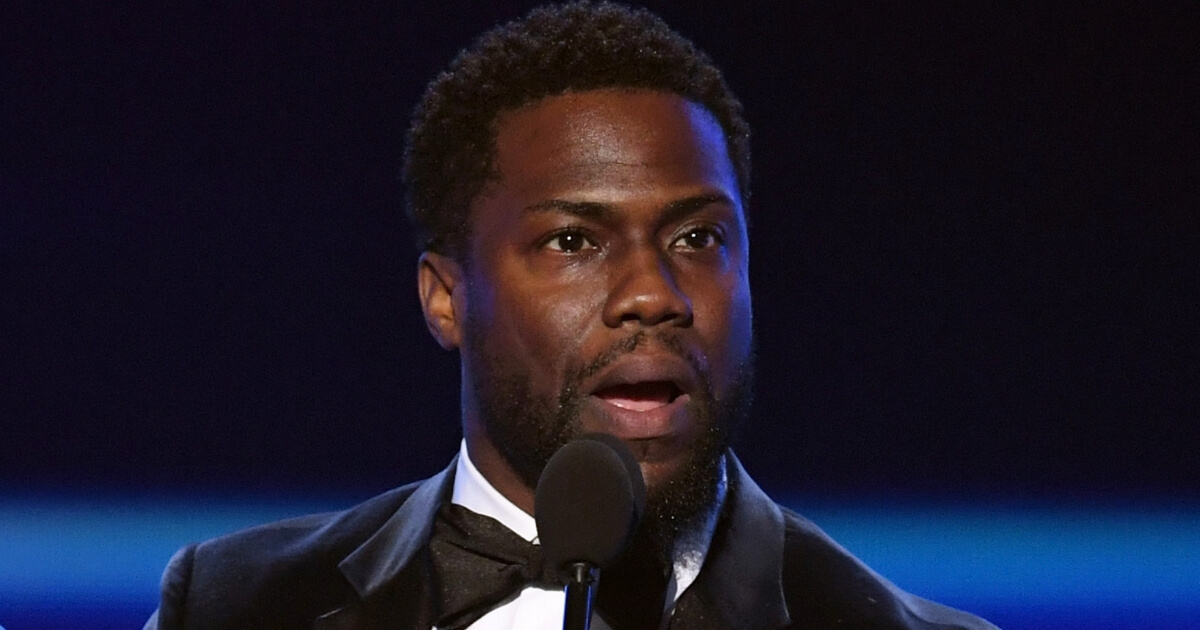 Kevin Hart Bows Out as Oscar Host After White PC Liberals Unite Against Him
When the Academy of Motion Picture Arts and Sciences announced actor and comedian Kevin Hart as next year's Oscars host, it was fairly late in the game and there were rumors that they were having trouble finding a host. People started talking about whether Hart's comedy would translate to the performance.
Then people started talking about Hart's old tweets and routines. Two days later, he was out and the Oscars were searching for a host again.
Hart stepped down Friday after several articles derided him for using the words "homo" and "gay," as well as slurs of a stronger nature, stretching back the better part of a decade.
Advertisement - story continues below
Critics also hit back at a routine that was part of his 2010 "Seriously Funny" stand-up special in which he discussed his fear of his child being gay.
"One of my biggest fears is my son growing up and being gay. That's a fear," Hart said in the routine. "Keep in mind, I'm not homophobic, I have nothing against gay people, be happy. Do what you want to do. But me, being a heterosexual male, if I can prevent my son from being gay, I will.
"Now with that being said, I don't know if I handled my son's first gay moment correctly. Every kid has a gay moment, but when it happens, you've got to nip it in the bud."
The choice of Hart quickly attracted articles arguing against his hosting in publications like The Guardian.
Advertisement - story continues below
Do you think Kevin Hart should have stepped down as host of the Oscars?
"Hiring Hart is an indicative misstep that highlights how homophobia, casual or blatant, is still de-prioritized in comparison with other discriminatory belief systems," Benjamin Lee wrote. "In the past few years, the Twitter feeds, routines and off-stage behaviors of comics have been pored over for signs of impropriety and numerous figures have been duly taken to task. But gay jokes remain somehow acceptable."
Variety, in a post-mortem, said, "Kevin Hart's comic tweets about the LGBTQ community, which basically consist of the aggressive flaunting of a lot of dumb and angry homophobic stereotypes ('Yo if my son comes home & try's 2 play with my daughters doll house I'm going 2 break it over his head & say n my voice "stop that's gay,"' can leave you with a slightly queasy feeling.
"Yes, most of the tweets date back seven or eight years. And no, it's not as if Hart should be banned from stand-up comedy, or that we should now organize a boycott of 'The Upside,' his upcoming buddy farce with Bryan Cranston. Yet Kevin Hart was not the right choice to host the 91st Academy Awards ceremony on Feb. 24, 2019, and so it's a good thing that he's stepping down. Those tweets marked him as the wrong person — the wrong host — at the wrong time."
Hart tried to contextualize the remarks via an Instagram video in which he said people bringing up his past tweets were spreading negativity.
Advertisement - story continues below
"Guys, I'm almost 40 years old," Hart said in the clip. "If you don't believe that people change, grow, evolve as they get older, I don't know what to tell you. If you want to hold people in a position where they always have to justify or explain their past, then do you. I'm the wrong guy, man."
That put the liberal outrage machine into overdrive:
.@kevinhart4real you have a rare opportunity to take responsibility, teach people in this moment, & send a message to LGBTQ youth that they matter & deserve dignity & respect. You say you've grown. Show us. Make amends for hurtful things you've said & affirm LGBTQ people. https://t.co/saca7Oe0nS

— Chad Griffin (@ChadHGriffin) December 7, 2018
Advertisement - story continues below
This is not good. A simple, authentic apology showing any bit of understanding or remorse would have been so simple. Like I tweeted a few weeks ago, Hollywood still has a real problem with gay men. On the surface it may not look like it. Underneath, it's far more complicated. https://t.co/A64LsOjVc2

— billy eichner (@billyeichner) December 7, 2018
Homophobia is not positivity.

— Jamie Lee Curtis (@jamieleecurtis) December 7, 2018
Advertisement - story continues below
Hart would eventually back down:
I have made the choice to step down from hosting this year's Oscar's….this is because I do not want to be a distraction on a night that should be celebrated by so many amazing talented artists. I sincerely apologize to the LGBTQ community for my insensitive words from my past.

— Kevin Hart (@KevinHart4real) December 7, 2018
It's unknown who the next Oscars host will be; no doubt this will be a process fraught with identity politics. However, it was celebrated as a victory for some on Twitter, like Vulture writer Mark Harris.
Advertisement - story continues below
And there it is. Quite a day. When the history of this is written–tomorrow–don't believe anything that cites trolls or "political correctness" or a "mob." This was human beings, standing up for themselves and/or those they care about. https://t.co/PPHB0vUGjo

— Mark Harris (@MarkHarrisNYC) December 7, 2018
PJ Media writer Jim Treacher may have had the best response for this:
"It's different when WE do it" https://t.co/nXtMasRrwz

— Jim Treacher (@jtLOL) December 7, 2018
Advertisement - story continues below
One thing's for certain: Whoever the Academy picks next is going to undergo a lot of scrutiny.
Yes, Kevin Hart made some jokes, mostly underlying his own insecurities. These are old jokes, obviously. The most recent thing I saw that he was pilloried for was the 2015 movie "Get Hard," a movie in which he tries to prepare Will Ferrell for a prison sentence and which contains a lot of gay jokes of a predictable variety. (Ferrell's still good though, right?)
While Hart's non-apology apology may have angered some people, he was contextualizing his remarks. After that, the knives were out. And they're going to stay out for whoever ends up with the role.
Conversation