Commentary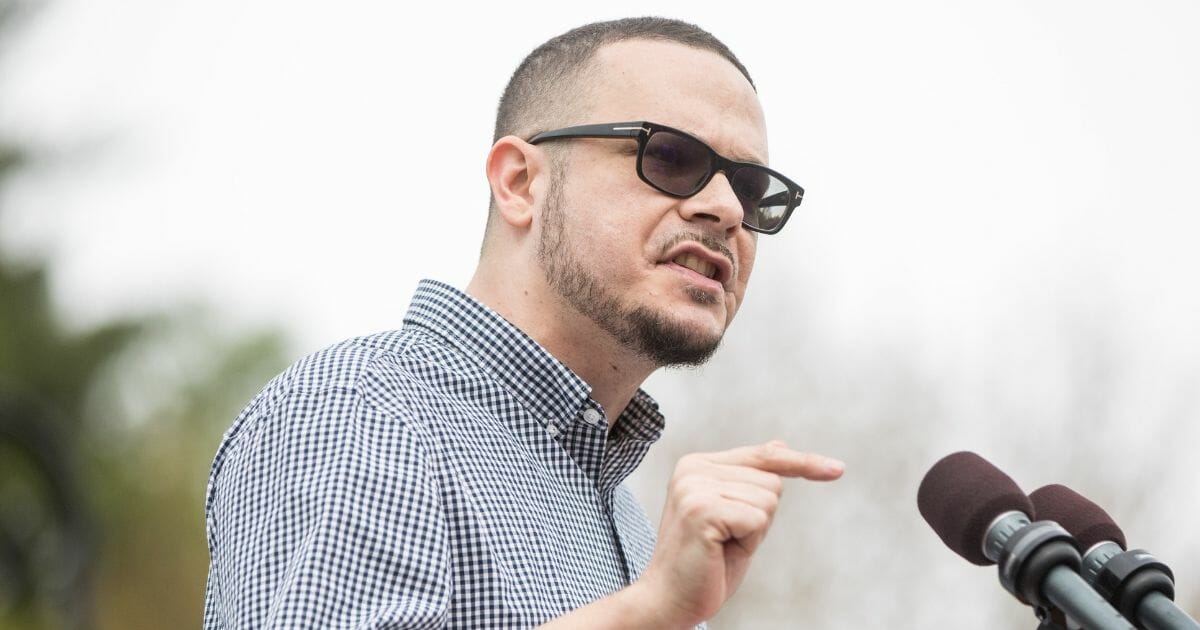 Leftist Fraud Shaun King Praises Antifa Firebomber, Calls for More Violence
During Saturday's early-morning hours, a violent 69-year-old self-proclaimed member of the extremist group Antifa launched a dangerous firebomb attack on an Immigration and Customs Enforcement holding facility in Tacoma, Washington.
Fortunately, Washington State Police neutralized the activist, who was armed with a rifle and Molotov cocktail explosive devices.
But since the attack, various Antifa groups and supporters have labeled Willem van Spronsen as a "martyr." Black Lives Matter leader Shaun King joined in praising the Antifa member for his potentially deadly attack and set a dangerous precedent that could trigger similar incidents.
Advertisement - story continues below
King described the Antifa attacker in a series of tweets as "the first martyr attempting to liberate imprisoned refugees," according to The Daily Wire.
"His hero was John Brown -the white abolitionist who led the raid on Harpers Ferry in 1859. This is what our country has come to," King also wrote.
The tweets have since been deleted, according to The Wire.
Van Sponsen reportedly wrote a manifesto prior to the attack that urged his "comrades" to take similar actions. King complimented the man's words, calling the manifesto a "beautiful, painful, devastating letter."
Advertisement - story continues below
Making matters worse, King made it clear that what van Spronsen did that day was acceptable. King claimed the activist "wasn't crazy," but that "inaction is."
In another since-deleted tweet, King wrote, "This is where [name] was murdered this weekend. His actions will be called terrorism and people will call him crazy, but neither are true. His mind was very clear. He is now 'arm in arm with John Brown.' These camps must be shut down."
Do you think Shaun King is trying to incite future attacks against ICE?
In other words, King would be pleased to see such an incident happen again and even demands that ICE facilities be "shut down," which can only happen at this point through similar violent actions.
Unfortunately, his radical activist followers will probably follow his lead, given his status in the Black Lives Matter community.
Shawn Fallah, the resident agent in charge of the ICE Office of Professional Responsibility, warned how much worse the Tacoma incident could have been if police weren't able to dispatch him in time.
Advertisement - story continues below
"This could have resulted in the mass murder of staff and detainees housed at the facility, Fallah said. "These are the kinds of incidents that keep you up at night."
Customs and Border Protection acting Commissioner Mark Morgan recently said the attack was a result of the "irresponsible" rhetoric from some of the radical Democrat politicians in Congress, such as Rep. Alexandria Ocasio-Cortez.
"They are attacking the men and women of ICE. They are attacking the men and women of CBP. It's unjust, it's unfair, it's misinformed — and outright, sometimes they are just lying to the American people, and it's undoubtedly fueling this," Morgan said in an interview with Fox News' Laura Ingraham.
Morgan is right, but we can't rule out agitators like King, who probably get a level of sick satisfaction from watching Antifa thugs mount attacks on government buildings full of innocent people.
Conversation