Commentary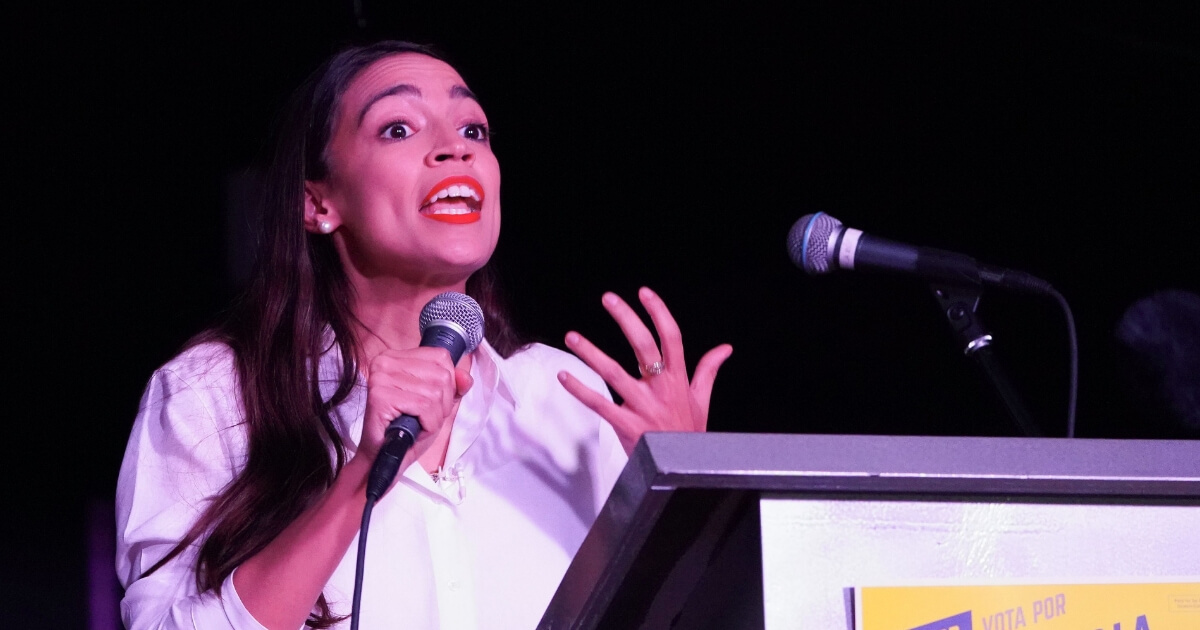 Leftists' Obsession with Ocasio-Cortez Hits Peak Level Crazy with Special Exhibit in Her Honor
When you're thinking female political figures and shoes you're probably thinking Imelda Marcos. The Cornell Costume Collection would like to change that.
The shoes of Representative-elect Alexandria Ocasio-Cortez — a woman who is soon to be a member of one of the three branches of government she can't actually name — will be displayed like a quasi-religious relic by the Costume Collection, because clearly nobody thought this Ocasio-Cortez thing hadn't gone too far already.
"The New York congresswoman-elect's first pair of campaign trail shoes are being loaned out to the Cornell Costume Collection exhibit for those who want to witness what 'hard work' looks like," the New York Post reports.
Advertisement - story continues below
In semi-fairness, this is part of an exhibition that kind of sort of fits along these lines — although we'll get to the problems in a moment.
"The exhibit – titled 'WOMEN EMPOWERED: Fashions from the Frontline,' is set to debut on December 6 and summonses women to share special articles of clothing that have empowered them in the past," the Post reported. "Other featured items include the inaugural suit worn by Texas governor Ann Richards and collars from Supreme Court Justice Ruth Bader Ginsburg among many other pieces of history."
The shoes in question became famous back in June after critics said she won her primary race over powerful incumbent and Democratic Caucus Chair Rep. Joe Crowley because of demographic reasons.
Some folks are saying I won for "demographic" reasons.

1st of all, that's false. We won w/voters of all kinds.

2nd, here's my 1st pair of campaign shoes. I knocked doors until rainwater came through my soles.

Respect the hustle. We won bc we out-worked the competition. Period. pic.twitter.com/RbpQMYTiWY

— Alexandria Ocasio-Cortez (@Ocasio2018) June 29, 2018
Advertisement - story continues below
"1st of all, that's false. We won w/voters of all kinds," she tweeted. "2nd, here's my 1st pair of campaign shoes. I knocked doors until rainwater came through my soles.
Do you think that Ocasio-Cortez will make a good representative?
"Respect the hustle. We won bc we out-worked the competition. Period."
The content of the tweet actually may not be too far from the truth (the fact that Rep. Crowley decided to spend the duration of the race politically supine probably didn't hurt matters, either), although the inclusion of the shoes had a "Wag the Dog"-quality about it that was impossible to miss. (Unless you're with the Cornell Costume Collection, that is.)
Now, I understand the desire to have this sort of collection at the Cornell Costume Collection; between late October and late March, there isn't much to do in Ithaca, New York unless freezing temperatures and controlled substances are your bag.
Advertisement - story continues below
The first point I would bring up here is that there is, um, a bit of a drop-off from the first two names and Alexandria Ocasio-Cortez. I'm not a political fan of either Ann Richards or the Notorious RBG, but as a fan of politics, I obviously have respect for them as accomplished individuals.
Unlike Richards or Ginsburg, Alexandria Ocasio-Cortez hasn't done anything aside from getting elected. She's not going to be able to "sign bills" once she's "inaugurated," and the fact that she's a gaffe-prone admitted socialist will probably keep her toward the back benches unless the Democrats go full-on Rosa Luxembourg in the next few years.
Advertisement - story continues below
It's a bit like a 1998 exhibition featuring artifacts from NFL greats, including Johnny Unitas' cleats from the 1958 championship game, Vince Lombardi's tie from Super Bowl I and Ryan Leaf's jersey from his first game with the Chargers. Maybe we ought to wait until she memorizes all three branches of government before the canonization, no?
Apparently, though, getting elected is all you need to be empowered.
"We can't think of a better example of fashion from the frontline: U.S. Representative-elect Alexandria Ocasio-Cortez of New York's 14th district has loaned us her first pair of campaigning shoes," the Collection said on social media.
"These shoes represent the hard work, dedication, determination, and commitment of the youngest woman ever elected to Congress."
Advertisement - story continues below
Whatever. At least in the exhibit, she might not be in the worst company. Here are some of the other "historical" items of note that'll be included in Cornell's collection:
"a 'power suit' worn by Dorothy Schefer Faux '69, former Women's Image Director of Vogue and later the Executive Editor of Mirabella"
"outfits worn by women circus performers"
"a selection of Honey Lee Cottrell's photographs, which defined lesbian erotica and empowerment in the 1980s"
"outfits worn by sex educator and activist Deborah Sundahl"
"the political t-shirts, pussy hats, and other items worn by everyday women to convey solidarity and collective empowerment"
I reiterate that one does not go to Ithaca for the culture.
Anyway, in case your powers of deductive reasoning aren't exactly Aristotelian, this isn't about all women being empowered but about liberal women being empowered. Which, hey, Cornell is a private institution and they can spend their money (or rather, their students' parents' money) on whatever their little hearts desire.
Advertisement - story continues below
However, the articles about these artifacts don't quite focus on Honey Lee Cottrell or women circus performers. Heck, even Richards or RBG don't get too many mentions. Instead, it's Ocasio-Cortez, who hasn't even taken office yet.
Richards and Ginsburg have accomplished something. So have the circus performers. Offing Joseph Crowley in a solid Democrat district that's tending more progressive is a feat as impressive as, say, being a human cannonball. She's certainly on par with the circus performers (and, judging by her stunt in Nancy Pelosi's office, seems to have even learned a bit from them).
Until January and probably for some time beyond, however, Dorothy Schefer Faux's "power suit" is still more interesting than a pair of shoes used for politicking — especially when most of that politicking took place on social media as opposed to pavement.
Conversation