Commentary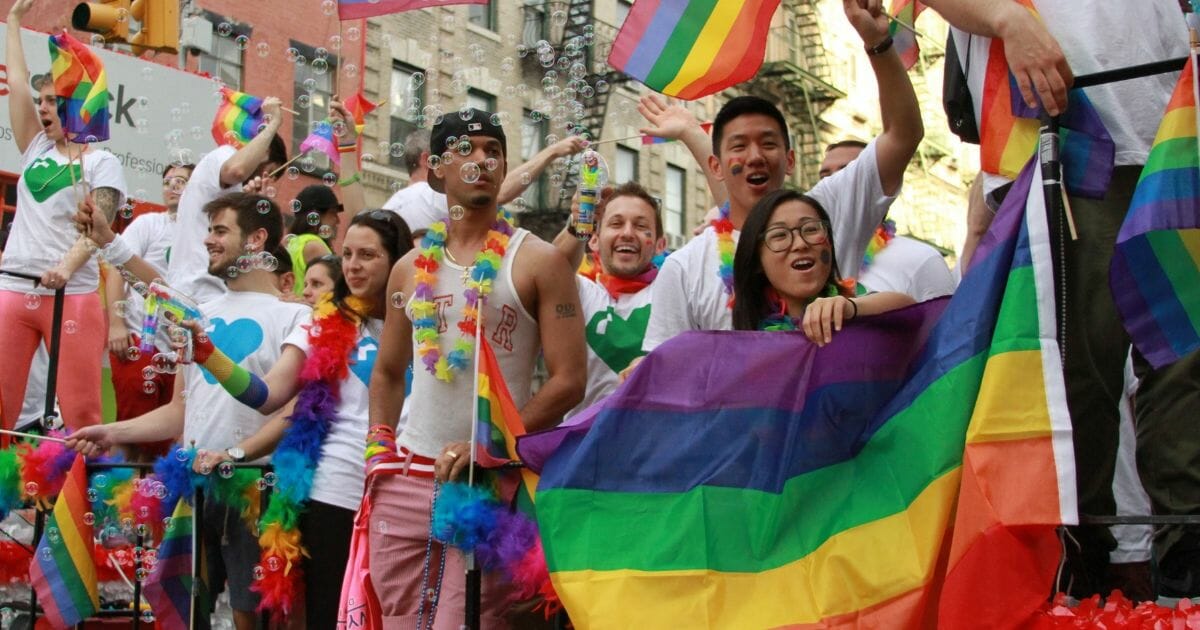 Liberal Brainwashing at Work: Americans Now Think 1-in-4 Are LGBT, Five Times Higher Than Reality
How many people are LGBT in the United States? It turns out that perception and reality are two very different things.
According to a Gallup survey released Thursday, adults in the United States believe that 23.6 percent of their countrymen are LGBT.
That's nearly one in four — almost five times the actual number.
Advertisement - story continues below
"Americans' estimate of the proportion of gay people in the U.S. is more than five times Gallup's more encompassing 2017 estimate that 4.5% of Americans are LGBT, based on respondents' self-identification as being lesbian, gay, bisexual or transgender," the study said.
And among younger Americans and women, the estimates were even further off.
"U.S. women estimate that about three in 10 Americans (29.7%) are gay or lesbian — the highest of any key subgroup, and much higher than men's perceptions (17.4%)," the survey reads.
"Meanwhile, average estimates of the U.S. gay population vary by age. Adults aged 18 to 29 offer the highest estimate (28.5%), and adults aged 65 and older, the lowest (17.5%)."
Advertisement - story continues below
Both Democrats and independents thought that roughly a quarter of America was LGBT while Republicans estimated that 18.3 percent were.
"Even the groups offering the lowest average estimates of gays and lesbians in the U.S. exceed Gallup's figure on all LGBT identification by about four times," the study notes.
This isn't a one-time occurrence, either: "Gallup has previously found that Americans have greatly overestimated the U.S. gay population, recording similar average estimates of 24.6% in 2011 and 23.2% in 2015. In each of the three polls in which Gallup has asked this question, a majority of Americans estimated this population to be 20% or greater."
Part of the reason for the disparity, the pollsters felt, was an overrepresentation of LGBT individuals in the media.
"Overestimations of the nation's gay population may in part be due to the group's outsized visibility," they wrote.
Do you think that LGBT individuals are overrepresented in popular media?
Advertisement - story continues below
"An annual report by GLAAD, an LGBT advocacy group, found that representation of LGBT people as television series regulars on broadcast primetime scripted programming reached an all-time high of 8.8% in the 2018-2019 television season, which is nearly twice Gallup's estimate of the actual population."
That still doesn't account for the massive disparity in the number of LGBT individuals people think there are versus the number there actually are, but it could begin to explain it.
Whatever the case, when even Gallup is willing to say that our general overestimation of the number of gay, lesbian and transgender individuals is because of overrepresentation in the media, one can guess that's one of the reasons.
The question, however, isn't just whether the overrepresentation is having the kind of effect that the pollsters suppose it does. It's also a matter of questioning why the overrepresentation exists in the first place.
Advertisement - story continues below
There's a very obvious answer here: politically correct brainwashing.
Because LGBT issues were shoved deep into the closet for most of the history of popular culture, we have to now make up for it by conspicuous displays of overrepresentation. What that ends up doing is convincing people that there are far more LGBT individuals than there really are.
The practical implications of overrepresentation are anyone's guess, but there's no denying we live in a world where we have as little grasp on the LGBT community as we did before — only now in a world with Drag Queen Story Hour.
Conversation