Commentary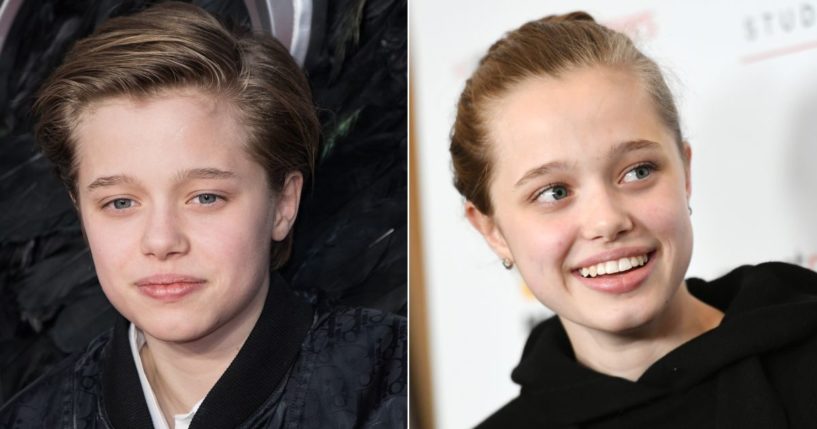 Commentary
A-Lister's 'Gender Fluid' Child Was Celebrated, But Gushing Media Is Silent Now That She's a Normal Girl Again
A recent article about Shiloh Jolie-Pitt is filled with "hers" and "shes" and talk of the girl becoming a "young woman," as befitting her metamorphosis from a little girl to a stunning young lady. But it wasn't long ago that the media was gushing over the child's proclamation that she was "gender neutral" and wanted to be called "John. " It now looks like she has grown out of all that, and the media is quietly just moving on.
The Feb. 1 article from In Touch Weekly, celebrated star Angelina Jolie's "daughter," and noted she has "blossomed into an elegant young woman." The article added that the young woman recently appeared on the red carpet before going on to talk about Shiloh's ongoing fashion decisions over the years.
It also featured a quote from A-List star daddy, Brad Pitt, who said he is glad Shiloh is growing up so well adjusted. "Brad was happy that Shiloh was 'coming out of her shell,'" the site explained. "During the October 2021 London premiere of Eternals, the then-15-year-old repurposed Angelina's Dior dress that was originally worn to the Maleficent: Mistress of Evil premiere in 2019."
Advertisement - story continues below
"'Brad doesn't want her growing up so fast,'" a source told the site, adding "'but he's proud to see her on red carpets. It's been a confidence boost for Shiloh.'"
"The black and white dress was elegant, yet age-appropriate, as the dress landed just above the celebrity teen's knee," the outlet reported.
Throughout the article, Shiloh is labeled a "she," a "girl," a "young woman," and treated entirely as female from birth to today. As well it should. And Shiloh has developed into a very beautiful young lady, certainly.
But Shiloh not so long ago was being celebrated as a "gender fluid" child who wanted to be called "John," even as recently as June of last year when The Quint claimed that Shiloh was "queer," and called her "They/Them" throughout its entry discussing "9 Celebrities Proudly Raising Trans & Nonbinary Kids."
Advertisement - story continues below
"Ex-spouses Angelina Jolie and Brad Pritt's child, Shiloh Jolie-Pitt has been in the news for their fluid gender identity, since they were three years old. From experimenting with clothing styles to haircuts, their parents have been by their side throughout," the site explained.
A search through the media reveals hundreds of articles celebrating Jolie for allowing Shiloh to dress like a boy and go by the name "John" and for supporting her for wanting to alter her gender.
"Angelina Jolie and Brad Pitt's oldest biological child has long expressed an interest in being called John. Shiloh Jolie-Pitt was assigned female at birth — but since the age of 3 has preferred to wear suits and short haircuts — and her family are happy to oblige," Made for Mums noted several years ago.
Should children be allowed to undergo "transition" surgery?
In 2016, The Telegraph celebrated the situation and noted that the then 8-year-old Shiloh was insisting on being called "John," and mom Angelina was perfectly happy with it all.
There are so many more. In 2014, Mic praised Jolie and Pitt for fostering a "supportive family." An SDLGBTN article from 2022 insisted that Shiloh was a "famous transgender person." In 2020, Insider insisted that Shiloh was "gender-nonconforming," as did Buzzfeed, and before that Yahoo News called Shiloh "transgender." There are too many such examples to count — it was so pervasive from 2014 to 2021.
Advertisement - story continues below
Needless to say, the media was excited to fan the flames of Shiloh's purported gender dysphoria when she was a pre-teen child. But now that she has reclaimed her birth name and seems to have turned away from wearing boy's clothing in exchange for stunning dresses and bold, yet classic, fashion choices, all the media's talk of transgenderism and gender nonconformity has very quietly gone away.
Indeed, the left-leaning People magazine now straightforwardly describes Shiloh as "the daughter of American actors Brad Pitt and Angelina Jolie. She is the sibling of Maddox, Pax, Zahara, Vivienne and Knox." No doubt about gender there.
Shiloh's recent blossoming into a young woman highlights an important point. This all speaks to the good sense of refraining from delivering life-altering transgender surgeries to children. After all, what if Angelina and Brad had decided to surgically carve out Shiloh's breasts, give her dangerous hormone therapies that have permanent effects, and otherwise forced life-altering surgical and medical procedures on her when she was wearing boys clothing and asking to be called "John"? The consequences of all that would have been permanent and disastrous.
If they had done that, Shiloh would never have had the chance to grow out of the awkward phase where she dallied with "gender nonconformity," and she would have been denied the chance to grow into the beautiful young woman she has become.
Advertisement - story continues below
The frightening stories of young people who were allowed to undergo these terrible procedures are growing. Former transgender patient Keira Bell, for instance, has said she feels like she was "treated like an experiment" when she was a child being told she could "transition" from being a girl to a boy.
Oli London is another person who was celebrated for "transitioning" to a woman. Now he says it was all a terrible mistake and is glad he never took the final surgical steps to "become" a woman.
Fortunately, some U.S. states are also coming to that realization, too, such as Florida, where two state medical boards have voted to ban such procedures, and Oklahoma, which recently suffered an insurrection inside its capital building from pro-transgender activists who oppose the state's moves to ban such surgical procedures on children.
Shiloh is lucky that, despite the slavish support from the left-wing media, her family did not descend upon her with permanent, disfiguring medical procedures when she went through her stage concerning childish gender fantasies. These life-altering decisions should never be allowed for children, and Shiloh's latest realization that she is a woman — not a transgender boy — is evidence of just why such procedures should be avoided.
Conversation