Sports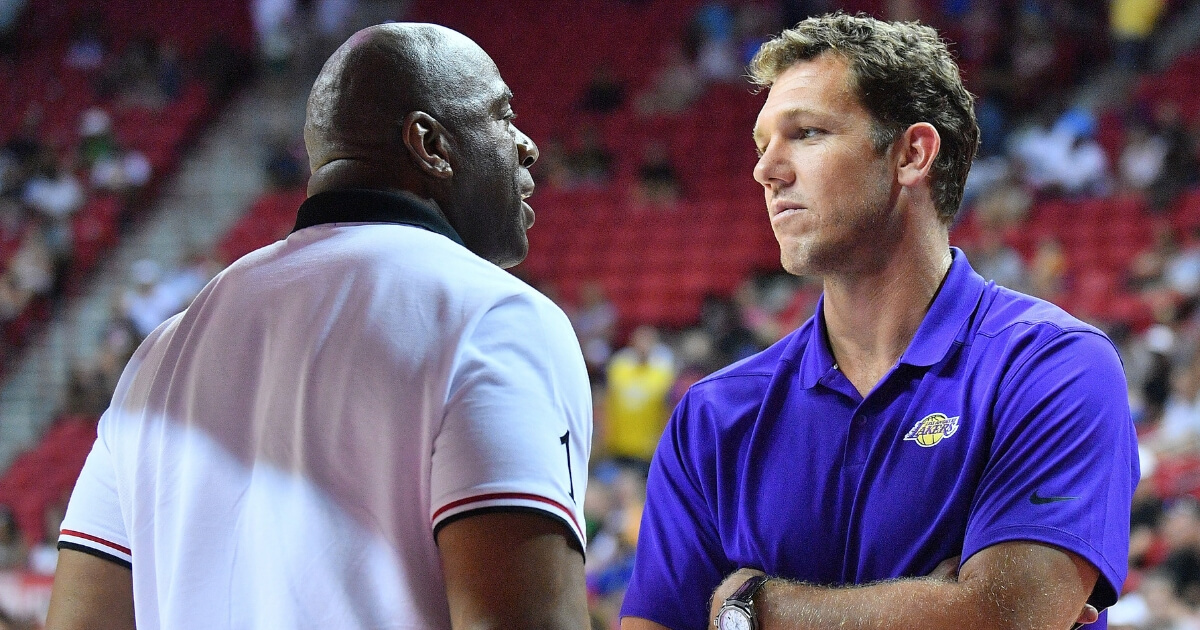 Magic Johnson Reportedly Puts Lakers Coach on Hot Seat
Not even 10 games into the LeBron James era in Los Angeles, coach Luke Walton is already on the hot seat.
This news comes courtesy of ESPN's Adrian Wojnarowski and Dave McMenamin, who reported Lakers president of basketball operations Earvin "Magic" Johnson admonished Walton after the team's 3-5 start.
"Johnson's cutting appraisal elevated an already acute awareness within the Lakers coaching staff that there are intense and immediate pressures on Walton to deliver the franchise a winner in short order," the report said.
Advertisement - story continues below
There was already pressure on Walton to deliver a winner from the simple fact that he's the head coach of LeBron James. While both James and Johnson have stressed patience as a team full of new players gets comfortable playing together, Johnson's patience appears to be wearing thin.
The scolding of Walton could have been much worse than a simple scolding had the Lakers not held on to defeat the Dallas Mavericks on Wednesday.
The Lakers were up by 14 points with four minutes left in the game but managed to win by just a single point thanks to a James' free throw with two seconds remaining.
There have been several mitigating factors for Walton, including the suspensions of starters Brandon Ingram and Rajon Rondo. Additionally, Lonzo Ball is still working his way back into shape after offseason knee surgery.
Advertisement - story continues below
But Walton also hasn't enabled the Laker players to develop a rhythm together as he's frequently juggled lineups. LA has used 104 different lineups this season, which is second only to Atlanta's 140.
Do you think Luke Walton will finish the season as the Lakers' head coach?
"We're trying to figure things out. We've got to figure groups out," Walton said.
To his credit, he isn't outwardly showing that he's feeling the heat as he confidently addressed the media amid reports of Johnson admonishing him.
"I feel like I have a great relationship with management, yes," Walton said when asked if management would be patient with him.
When asked about job security, Walton said he's not going anywhere.
Advertisement - story continues below
Luke Walton says he's not going anywhere

(via @billoram)pic.twitter.com/QMXhjkiH6k

— Bleacher Report (@BleacherReport) November 2, 2018
"I feel like I'm down here to do my job and coach and I don't feel like I'm going anywhere," Walton said.
Walton was hired by the prior regime in Los Angeles in April 2016. At the time, the Lakers were run by president of basketball operations Jim Buss and general manager Mitch Kupchak.
About a year later, those two were replaced by Johnson as president and Rob Pelinka as GM, so it wouldn't be a surprise if the current Lakers front office decides to terminate Walton and hire its own coach.
Advertisement - story continues below
Firing a coach this early in the season is uncommon for most teams but is almost standard for the Lakers. Three of their last four head coaches to be fired in season were canned before the 13th game of that season.
The most recent of those was James' former Cavs coach, Mike Brown, who was fired after five games in the 2012-13 season.
Conversation