News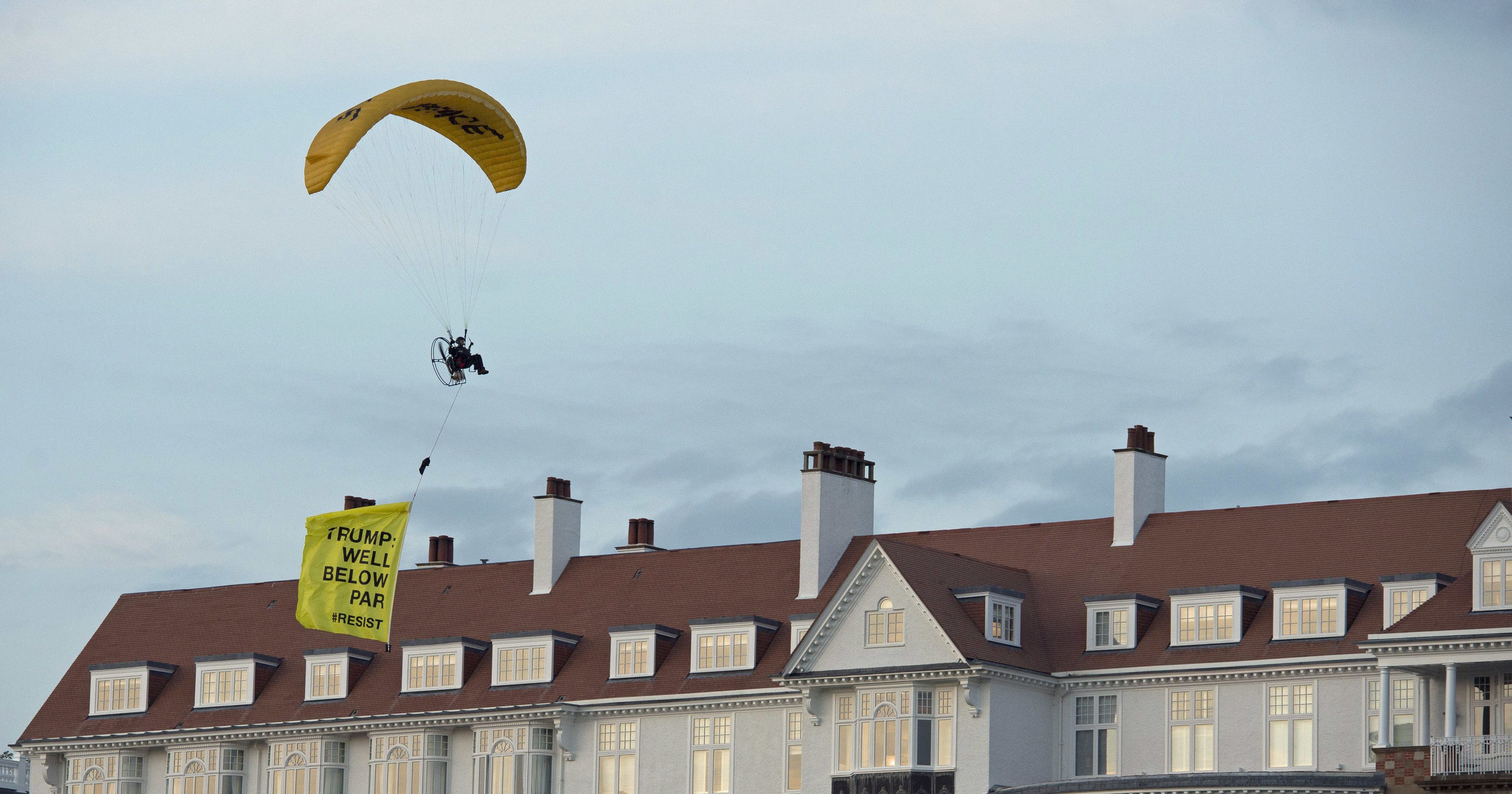 Man Arrested After Breaching No-Fly Zone Over Trump Resort With Paraglider
LONDON (AP) — A man has been charged in connection with a Greenpeace protest that breached a no-fly security zone and flew a banner close to the golf resort where President Donald Trump was staying, Scottish police said Sunday.
The paraglider carried a banner reading "Trump: Well Below Par" Friday night over Trump's Turnberry resort in western Scotland to protest his environmental policies. After the glider appeared, Trump was seen cutting across the grass, quickly heading to the entrance of the resort.
Police in Scotland said 55-year-old man was arrested and charged. They did not give further details. The man is due to appear at a local court Monday.
Advertisement - story continues below
Police said the protester breached a no-fly zone over the Turnberry resort and committed a criminal offense. The environmental group said it informed police about the stunt before it took place.
Trump and first lady Melania Trump are on a private trip and staying at the resort after the president's official talks with British Prime Minister Theresa May and meeting with Queen Elizabeth II.
Tens of thousands took to the streets in London, Edinburgh and other British cities on Friday and Saturday to protest Trump's first official visit to Britain. Smaller groups also demonstrated outside Trump's two golf resorts in Scotland.
Trump was due to leave Scotland on Sunday ahead of his summit with Russian President Vladimir Putin in Finland on Monday.
Advertisement - story continues below
Some 1,500 people demonstrated in Finland's capital on Sunday to promote human and sexual rights, democracy and environmental issues. They marched through central Helsinki shouting "Human rights for all!" and "Helsinki calling for Mr. Putin, Helsinki calling for Mr. Trump!"
One protester held a sign that read, "Build saunas not war!"
Do you expect positive news to come out of Trump's meeting with Putin?
Organizers said the event wasn't aimed at either of the presidents, but was designed to focus on important global issues.
"We celebrate the Helsinki spirit here … and we welcome everybody who respects human rights and democracy and doesn't share fake news," Helsinki native Timo Heikkinen, 50, said.
A U.S.-based advocacy group splashed light messages on a wall at Finland's presidential palace urging the U.S. and Russian presidents to help fight injustices against the LGBTQ community in Russia's Chechnya region.
Advertisement - story continues below
Finnish police briefly questioned the projectionists but allowed the light show to continue.
The string of messages included phrases like "Trump and Putin: Stop the Crimes against Humanity in Chechnya" and "Investigate LGBTQ persecution in Chechnya."
Ty Cobb, director of HRC Global that organized the show, said Putin should investigate and hold accountable those responsible for crimes against people who "are being rounded up, put in secret prisons, tortured, some killed — just because they're gay."
The Western Journal has not reviewed this Associated Press story prior to publication. Therefore, it may contain editorial bias or may in some other way not meet our normal editorial standards. It is provided to our readers as a service from The Western Journal.
Conversation