Commentary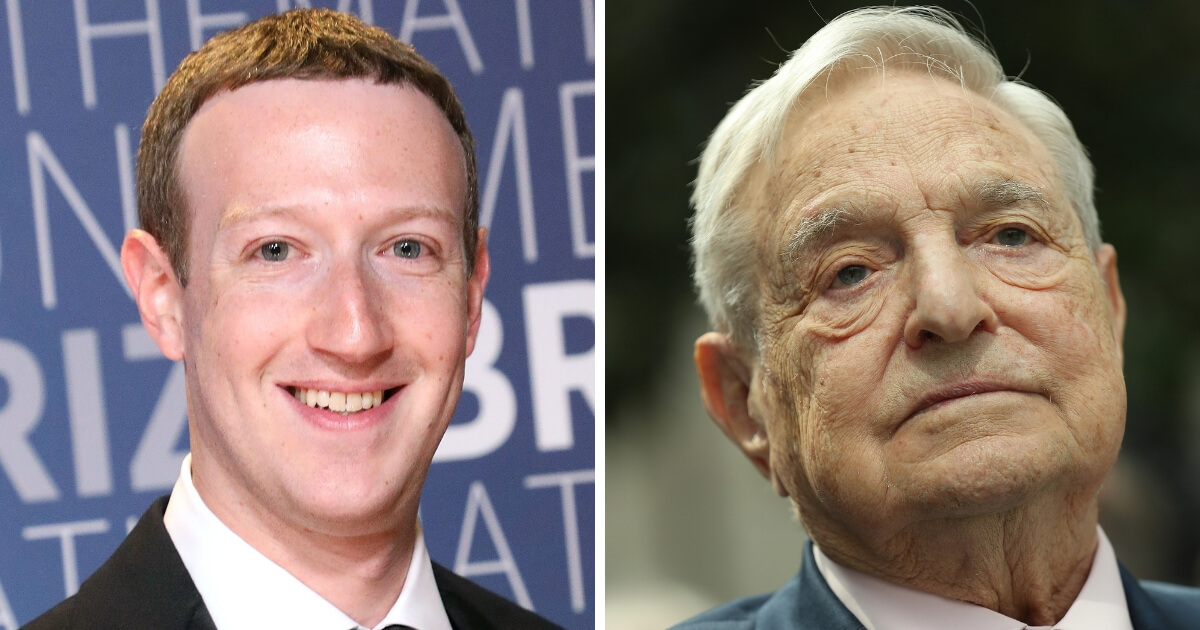 Mark Zuckerberg Admits He Has 'Tremendous Respect' for George Soros
Over the past few years social media giant Facebook has managed to achieve the rare and dubious honor of being reviled by virtually all sides of the ideological spectrum, an extreme dislike which stemmed from a series of missteps and arrogant responses when called out that alternately angered both conservatives and liberals alike.
For conservatives, those arrogant missteps included the suspected censoring of conservative users and a blatantly apparent aligning with progressive ideology, among other things. Liberals were outraged that Russian trolls had utilized the platform to "interfere" in the 2016 election and that user data had been shared with third-party contractors, also among other things.
According to a lengthy and scathing report from The New York Times — which, of course, should be taken with a grain of salt — the series of crises led to infighting among top executives and compelled Facebook to mount a massive public relations and political lobbying campaign.
Advertisement - story continues below
This campaign was designed to mitigate and deflect the anger directed at Facebook toward others, such as big tech competitors and wealthy financiers who could be accused of secretly supporting and underwriting the flood of criticisms aimed at Facebook.
Part of that concerted PR push involved the employment in Oct. 2017 of an establishment Republican-aligned political opposition research firm known as Definers Public Affairs, who initially monitored for and then began to respond against negative media coverage of Facebook, utilizing the same sort of tactics seen in political campaigns to similarly defend and deflect criticism on behalf of the massive corporation.
One of the founders of that firm — Tim Miller, former spokesman for the 2016 Jeb Bush campaign — summed up in an interview that the goal was to "have positive content pushed out about your company and negative content that's being pushed out about your competitor."
That involved targeting prominent critics of Facebook and hitting them with smears to discredit them, such as broadly linking many anti-Facebook critics to the funding that flows freely from billionaire leftist financier George Soros, an obvious sop to conservatives who view the progressive philanthropist with a rather wary eye.
Advertisement - story continues below
The Times noted in the article that Soros' Open Society Foundation admitted to having supported some groups that were critical of Facebook, but denied having offered any funding for campaigns — particularly by a group known as Freedom From Facebook — against the social media platform.
However, Variety reported that in response to the hard-hitting article from The Times, Facebook CEO Mark Zuckerberg fielded questions from reporters during a conference call with the media and appeared to deny having any knowledge of the PR campaign in general, the hiring of the Definers group to manage that crisis operation more specifically, or why the Definers had linked critics of the platform to funding from Soros.
Do you think Zuckerberg has only said this to mitigate damage from the scathing NYT report?
"I learned about this relationship when I read this New York Times piece yesterday," said Zuckerberg with regard to the employment of Definers. He added that the partnership with the PR group had been re-evaluated and subsequently terminated after the story from The Times had been published.
As for the linking of Facebook critics to leftist financier Soros, Zuckerberg said, "I have tremendous respect for George Soros." However, he did add that he generally supported the effort launched by Definers to encourage reporters to dig into the financial backing of prominent critics, and said, "It was not a spontaneous grassroots effort, it was well funded."
Zuckerberg declined to directly answer whether anybody would be fired following the exposure of the concerted PR campaign, and seemed to pass the buck when pressed as to who had initially brought the Definers on board at Facebook, as he said, "Someone on our comms team must have hired them."
Advertisement - story continues below
But that claim of ignorance with regard to Definers doesn't really hold up when viewed against Facebook's initial response in a blog post to the article from The Times, which took on what the social media giant described as "a number of inaccuracies," which included the characterization of the work done by Definers.
"The New York Times is wrong to suggest that we ever asked Definers to pay for or write articles on Facebook's behalf — or to spread misinformation," the blog post claimed. "Our relationship with Definers was well known by the media — not least because they have on several occasions sent out invitations to hundreds of journalists about important press calls on our behalf."
"Definers did encourage members of the press to look into the funding of 'Freedom from Facebook,' an anti-Facebook organization. The intention was to demonstrate that it was not simply a spontaneous grassroots campaign, as it claimed, but supported by a well-known critic of our company. To suggest that this was an anti-Semitic attack is reprehensible and untrue," the blog post added.
So … which is it? Was Facebook CEO Mark Zuckerberg and Chief Operations Officer Sheryl Sandberg truly unaware of Definers and what they were doing — as Zuckerberg claimed to reporters — or were they fully aware of the "relationship" that the platform's own blog post described as "well known by the media" as meeting with and calling journalists on Facebook's behalf?
Advertisement - story continues below
The story from The Times appears to show that Facebook has attempted to play both sides of the ideological divide to save themselves, but the effort to try and tie criticism of the platform to George Soros in a bid to win back conservative support has backfired.
Now two supremely wealthy individuals known for meddling in political and societal affairs — and for sharing similar ideologies — are at odds with each other after that subversive effort was exposed, hence Zuckerberg's obsequious pronouncement of "tremendous respect" for the man his company's PR hatchet-men had worked to demonize.
Conversation