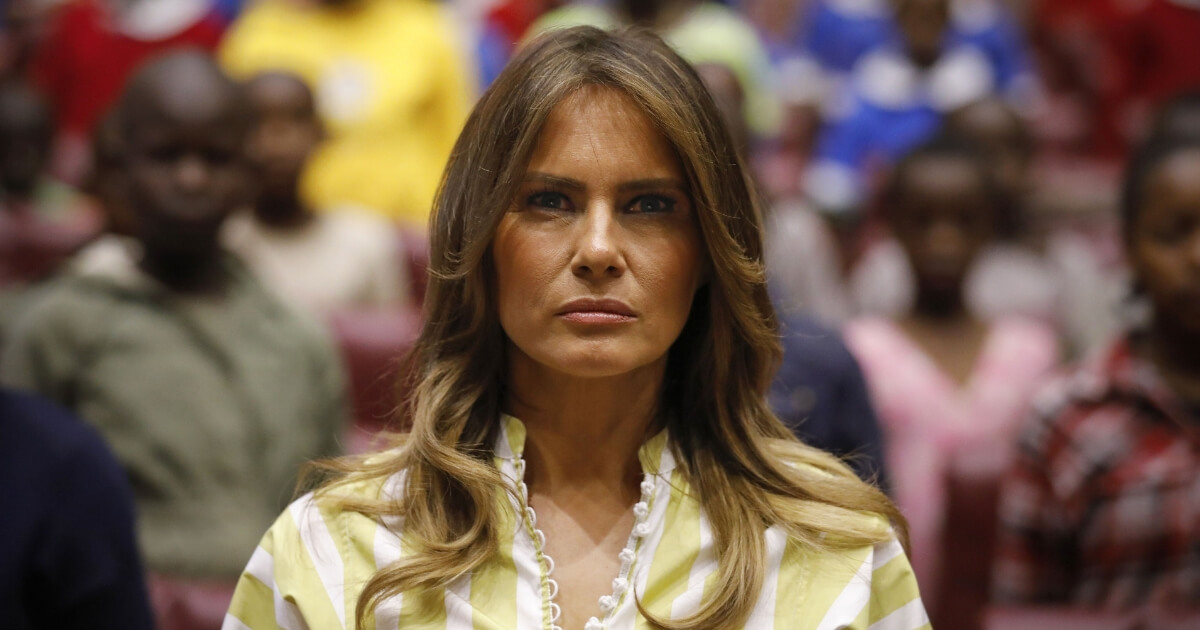 Melania Goes International: Embarks on First Solo Trip To Promote Child Welfare
First lady Melania Trump arrived in Ghana on Tuesday for her first solo international trip. Trump will be focusing on child welfare as part of her "Be Best" initiative launched earlier this year.
Trump's "Be Best" campaign was launched in the spring and focuses on "shining a spotlight on successful programs and organizations that teach children tools and skills," Fox News reported.
Trump plans to visit multiple hospitals, shelters and schools for children as part of her five-day, four-country trip and is also expected to participate in an embassy meet and greet later Tuesday.
Advertisement - story continues below
She first stopped at one of the West African nation's baby clinics at the Greater Accra Regional Hospital and passed out teddy bears wrapped in blankets.
While in Ghana, the first lady also had tea with Ghana's first lady, Rebecca Akufo Addo, at the presidential palace and took time to speak to children and hold infants.
After Ghana, the first lady will make her way to Malawi, Kenya and Egypt, according to Fox News.
First ladies Hillary Clinton, Laura Bush and Michelle Obama also made solo trips to Africa during their husband's time as president.
Advertisement - story continues below
A source told Fox News that the trip is positive for the administration on more than one level. Not only does the first lady get to advocate for her "Be Best" project, but the trip pulls attention off a difficult news week for the administration.
When the first lady's "Be Best" project was launched in May of this year, Trump said she hoped to address everything from social media to the opioid crisis sweeping through America's youth.
Do you think Melania will positively represent the Trump administration?
"We can and should be best at educating our children about the importance of a healthy and balanced life," Trump said during a speech in the Rose Garden, Fox News reported at the time.
"By promoting values such as healthy living, encouragement, kindness, and respect, parents, teachers, and other adults can help prepare children for their futures," the project website reads.
One of the biggest issues that the "Be Best" plans to address is that of the opioid dependence. According to their website, "BE BEST will support the families and children affected by this crisis, bring attention to neonatal abstinence syndrome, and help educate parents on the importance of healthy pregnancies."
Advertisement - story continues below
At the time that President Donald Trump signed the "Be Best" proclamation, following his wife's speech, he praised her for her compassion for children, according to Fox News.
"Everywhere she's gone, Americans have been touched by her sincerity, moved by her grace and lifted by her love," the president said.
"Melania, your care and compassion for our nation's children — and I have to say this and I say it to you all the time — inspires us all."
The White House told Fox News that they hope the first lady's trip to Africa will shed a positive light internationally on this administration.
Conversation