Commentary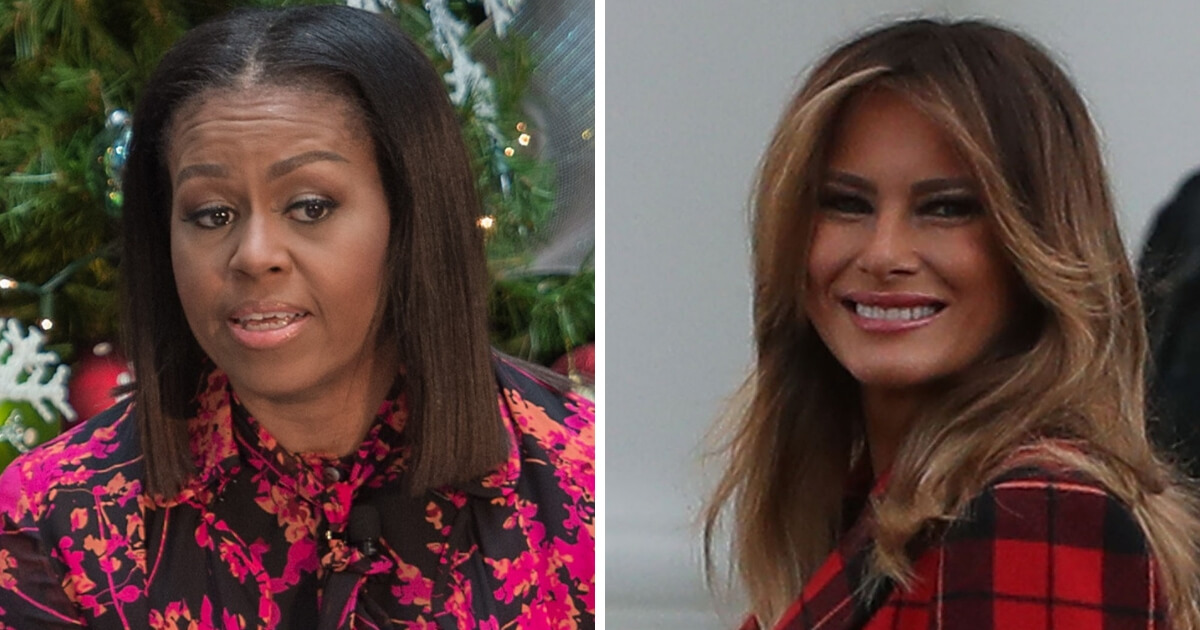 Melania's Christmas Honors 'American Treasures.' Michelle's Honored Communist Butcher Mao
First lady Melania Trump is being criticized for red Christmas trees in the White House. But, hey, at least she kept red dictators responsible for the deaths of tens of millions of people off the trees.
So, as you might have heard through all of the kerfuffle over social media, people are getting themselves all worked up over bright red topiary trees that served as only part of the White House holiday exhibition.
"These 40 meme-ready trees were compared to car-wash brushes, juxtaposed with iconic blood waves in Stephen King's 'The Shining' and photoshopped to don white bonnets — a clear reference to the long-suffering women in Margaret Atwood's 'The Handmaid's Tale,'" the U.K. Guardian wrote about the social media reaction.
Advertisement - story continues below
"While much of the lampooning was surely prompted by disdain toward her husband's policies, several psychology experts told the Guardian that Trump's holiday aesthetic may just be inherently jarring for the human psyche."
For proof of this, they dragged out Dr. Toby Israel, a "pioneer of design psychology," who said that trees "have the association of not just being different, but blood or rage, shock."
"So, for example, we have a green Christmas tree, that's about nature – and the best that nature has to offer," Israel said. As for the red trees, "I'm not going to recognize that is a tree, (as) something that connects us to the universe."
Those red trees Melania decorated the WH with are a disaster. That family has zero business being in power. They ruin everything they touch. This is how a red sparrow decorates Christmas Tress in the American White House? #Disgrace #SeeingRed pic.twitter.com/DdGEDSSUwf

— Molly (@Molly16964541) November 27, 2018
Advertisement - story continues below
Meanwhile, little attention was given to the actual theme of the entire White House Christmas display: "American Treasures."
Yes, there were the 40 red trees on the East Colonnade. As The Hill noted, there was quite a bit more, including "an 18-foot official White House Christmas tree adorned with more than 500 feet of blue velvet ribbon, and an ode to American-grown produce with fruit and vegetable-filled garlands.
Do you like this year's White House Christmas decorations?
"In the East Room, several cityscapes line the mantels, with the skyline of New York — President Trump's hometown — placed front and center in the space.
"The traditional White House gingerbread house has company this year with edible versions of the Capitol, the Lincoln Memorial, the Jefferson Memorial and the Washington Monument all on display in the State Dining Room. The gingerbread landmarks were created using 225 pounds of gingerbread dough, 110 pounds of pastillage dough, 25 pounds of chocolate and 20 pounds of royal icing, according to the White House."
Advertisement - story continues below
And there was even a Red Room display devoted to Melania's anti-bullying campaign, "Be Best," complete with ornaments, garlands and wreaths celebrating the initiative.
The People's House @WhiteHouse is ready to celebrate Christmas and the holiday season! pic.twitter.com/oejKW3mC15

— Melania Trump (@FLOTUS) November 26, 2018
So, with all that hue and cry over one part of the design, what did the Obama administration give us?
Advertisement - story continues below
Well, in 2009, a Christmas tree featuring an ornament dedicated to Chairman Mao Zedong, a man whose reign of terror killed untold numbers of people:
Oh yes, and there was also an ornament featuring drag queen Hedda Lettuce. They haven't killed anybody, however, so that's sort of unimportant.
The administration's excuse was that they were decorated by community organizations. The fact that they weren't screened seems beyond unlikely, however. That means someone delegated by the Obama administration saw one of the great ghouls of American history and decided he belonged on the nation's Christmas tree.
Advertisement - story continues below
So what's the point, one asks, beyond the obvious? Well, notice that even on Fox News — a network the Obama administration openly warred with — this was a human interest story at most. Murderous dictator on the tree? Eh, things slip through the cracks, deliberately or not.
Red trees, though? Let's please talk about this endlessly and suggest that this was supposed to invoke "blood or rage, shock." There are a nearly endless number of news organizations talking about the trees; I just picked the silliest. Yet the "American Treasures" theme was discussed as an afterthought, if at all.
Again, they wonder why conservatives talk about media bias.
Conversation