Sports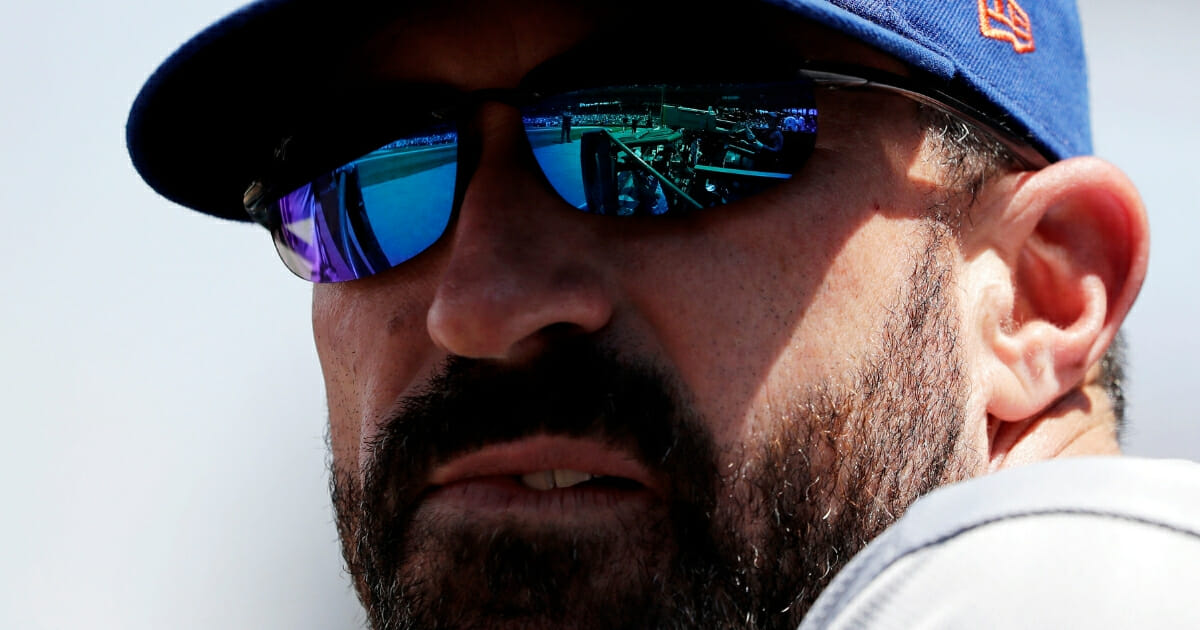 Mets Manager and Pitcher Snap on Reporter in Clubhouse Incident, Take Things Too Far
Losing is never easy, but tensions were running really hot for New York Mets manager Mickey Callaway and pitcher Jason Vargas after a 5-3 loss to the Chicago Cubs on Sunday.
Callaway and Vargas went on vulgarity-laced tirades after a beat reporter made a seemingly innocuous comment after the game in Chicago, which the Cubs won when Javier Baez hit a three-run home run in the bottom of the eighth.
The reporter, Newsday's Tim Healey, explained what happened.
Advertisement - story continues below
"Mickey came out of his office, dressed, and I thought he was leaving for the day, so I said, 'See you tomorrow, Mickey,'" Healey told Newsday. "And then he said, 'Don't be a smart-ass.'"
Ugly clubhouse scene involving Mickey Callaway, Jason Vargas and a reporter punctuates brutal loss for the Mets https://t.co/AMj93Bbel7 pic.twitter.com/6WNnzDAeHU

— Tim Britton (@TimBritton) June 24, 2019
Callaway left the room briefly after that, but then came back at Healey, thinking the reporter was being sarcastic.
Advertisement - story continues below
"Shut the f— up, get out of my face. Get out of here," Callaway said as Healey tried to tell him it wasn't meant as a slight, the New York Daily News reported. "Get this motherf—er out of here, he'll be here tomorrow."
Callaway reportedly asked the Mets public relations staff to remove Healey from the clubhouse, the Daily News reported.
While this was happening, Healey explained that he was getting a stare down from Vargas, the Mets pitcher, who was at his locker about 15 feet away.
Then, according to the Daily News, Vargas asked Healey why he was looking at him.
"It looked like you had something to say," Healey responded, per the Daily News.
"I'll knock you the f— out, bro," Vargas said to Healey.
Advertisement - story continues below
The Daily News said Vargas "charged" toward Healey and had to be stopped by teammates Carlos Gomez and Noah Syndergaard. Healey left the clubhouse shortly thereafter.
Healey downplayed it.
"He said, 'I'll knock you out right here' and then took a couple of steps toward me," Healey told Newsday. "Some people said charged — charged is super-strong."
Do you like Healey's response to the incident?
Advertisement - story continues below
Later that day, the Mets issued an official apology.
"The Mets sincerely regret the incident that took place with one of our beat writers following today's game in the clubhouse," the team said in a statement, according to Tim Britton of The Athletic. "We do not condone this type of behavior from any employee. The organization has reached out and apologized to this reporter and will have further discussions internally with all involved parties."
Statement from the Mets: pic.twitter.com/RPLO1o4axD

— Tim Britton (@TimBritton) June 24, 2019
Advertisement - story continues below
Team owner Jeff Wilpon also called Healey to apologize.
"Jeff Wilpon called me [Sunday] evening to apologize on behalf of the organization," Healey told Newsday. "He stressed the fact that I should feel comfortable being able to do my job at the ballpark and that moving forward, there's no reason for me to feel uncomfortable. I appreciated that sentiment from him, absolutely."
The Mets fell to 37-41, while the Cubs improved to 42-35.
Conversation