Commentary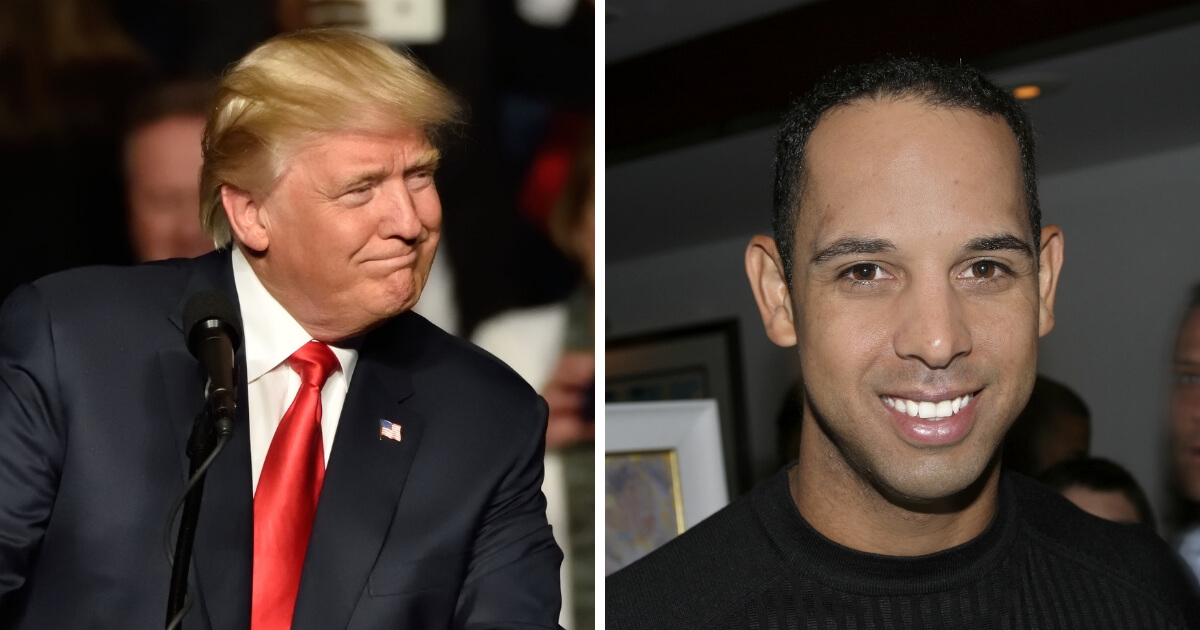 MLB Manager Calls Trump 'Disrespectful,' But Then Says 'Thank You For Helping Us'
He said he hates talking politics. He said he hates when people make Hurricane Maria and how it impacted Puerto Rico "political."
Despite this, when Boston Red Sox manager Alex Cora was asked about it in relation to a tweet by President Donald Trump, he "went there." He willingly engaged in it being made "political."
According to ESPN, Cora's response was, "To be tweeting about 3,000 people … it's actually disrespectful for my country. We see it that way. I know probably he doesn't feel that way."
Advertisement - story continues below
He added, "And like I said: Hey, man, thank you for helping us. He went down there, he did what he did."
Cora, who is originally from Caguas, Puerto Rico, was commenting on the tweet from Trump that disputed a high reported death toll in Puerto Rico from Hurricane Maria.
The Hill notes that early reported death toll numbers were under 100.
But a study by George Washington University researchers, commissioned by the Puerto Rican government, claims the number is much closer to 3,000. Trump was responding to the massive difference between the two numbers. Bear in mind, Puerto Rico has a democratic government, too:
Advertisement - story continues below
3000 people did not die in the two hurricanes that hit Puerto Rico. When I left the Island, AFTER the storm had hit, they had anywhere from 6 to 18 deaths. As time went by it did not go up by much. Then, a long time later, they started to report really large numbers, like 3000…

— Donald J. Trump (@realDonaldTrump) September 13, 2018
…..This was done by the Democrats in order to make me look as bad as possible when I was successfully raising Billions of Dollars to help rebuild Puerto Rico. If a person died for any reason, like old age, just add them onto the list. Bad politics. I love Puerto Rico!

— Donald J. Trump (@realDonaldTrump) September 13, 2018
Was President Trump's tweet about the Puerto Rican death toll "disrespectful?"
So how could there suddenly be around 3,000 deaths from Hurricane Maria? USA Today described how the researchers came to their conclusion:
"Researchers spent six months poring (sic) over death certificates, speaking to funeral home directors and interviewing doctors to arrive at a death toll of nearly 3,000 people as result of Hurricane Maria's devastation to Puerto Rico."
When the researchers were first approached about doing the study, "the official toll was still 64 – a low number that would remain the official count for months."
Advertisement - story continues below
The Hill reported something else about the study, noting that the team looked at "typical mortality rates from 2010 to 2017, then compared that figure to the number of deaths in the six months after Maria." So, the new, higher number was not the immediate death toll directly caused by Hurricane Maria.
It also included deaths they attributed to Maria's impact. "Overall, we estimate that 40 percent of municipalities experienced significantly higher mortality in the study period than in the comparable period of the previous two years," according to the report.
Some, particularly on social media, have noted that Trump is not only being blamed for the deaths, but attacked for his comment on the new number. They point to what they believe are the actual contributions of the Puerto Rican government to that new number:
https://twitter.com/KeithBarrett/status/1039628317782142980
Advertisement - story continues below
Is everybody just going to act like Puerto Rico doesn't have any responsibility towards their own citizens? How many pictures of food rotting on the docks or water left without being distributed do we have to see before we start the question their narrative

— Kevin Jones (@Loki120682) September 13, 2018
HE so mindless? And as for Puerto Rico, let's not forget about this in addition to the truckloads of food found rotting last month: https://t.co/GXHp3yB5xJ

— Chris Parker (@chwparker) September 13, 2018
By Frances Robles
Aug. 10, 2018

SAN JUAN, P.R. — At least 10 trailers full of food, water and baby supplies donated for victims of Hurricane Maria were left to rot at a state elections office in Puerto Rico, where… https://t.co/Q2R9Ry1LXS

— Jerry Pascale (@cutjeep) September 14, 2018
Some may view Trump as crass and his tweets as insensitive. But no one can honestly deny that he acted quickly in response to Hurricane Maria and is not responsible for the actions or inaction taken by the Puerto Rican government.
Advertisement - story continues below
As for Cora, his "Trump is disrespectful, but thanks for the help" commentary is just one more in a long line of similar statements from those who oppose the president.
It seems to be the order of the day to attack him, even when thanking him. He can't ever seem to just be given credit for what good he does.
Conversation