Sports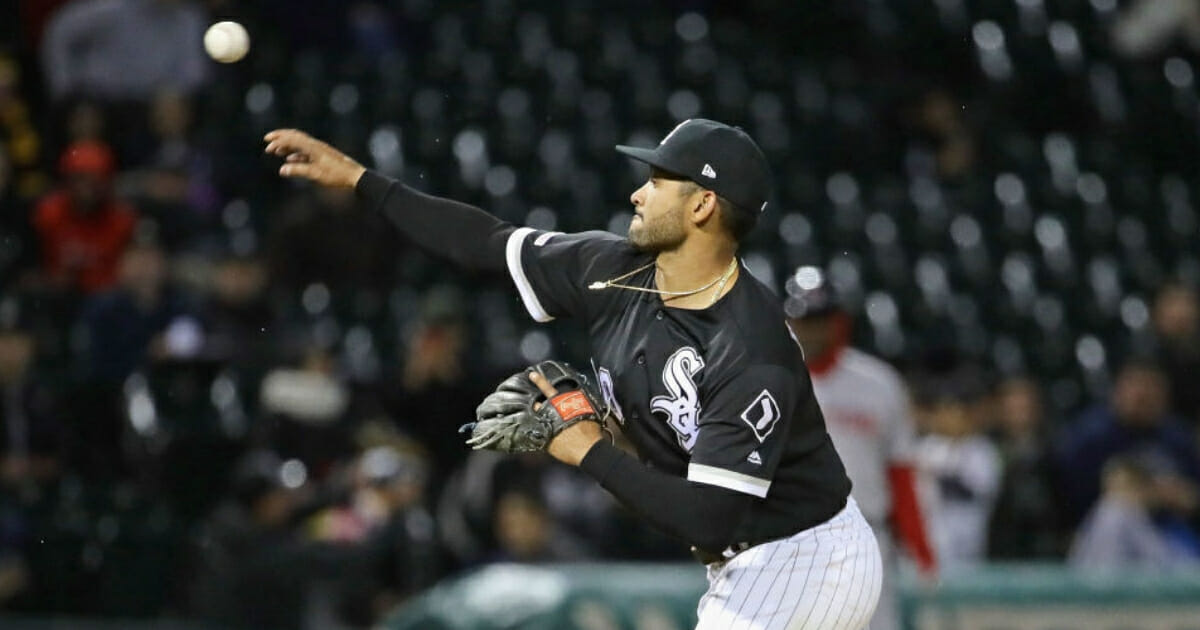 MLB Player Delivers a Series of Stunningly Slow Pitches, Keeps Opponents from Scoring
The act of position players taking the mound in blowout games certainly isn't anything new, as managers often employ this tactic no matter which end of the blowout they are a part of.
The belief behind it is that teams can rest the arms of relievers in a game that's all but decided, so they turn to position players who often were pitchers in high school or at another level.
This scenario played out in Friday's game between the White Sox and Red Sox. Chris Sale of Boston shut down his former team, and though it was just a five-run game in the ninth inning, White Sox manager Rick Renteria waved the white flag by putting utility man Jose Rondon on the mound.
Advertisement - story continues below
Facing the heart of the Red Sox lineup, Rondon held his own by pitching a scoreless inning with two hits allowed and no strikeouts.
The highlights to emerge from Rondon's inning on the mound involved him doing the exact opposite of "bringing the heat," as he lobbed many eephus pitches to which Red Sox players didn't know how to react.
Jose Rondon 50.7 mph eephus ? pic.twitter.com/9YbUbA6Oq2

— David Adler (@_dadler) May 4, 2019
Advertisement - story continues below
The low-50s "heat" that Rondon threw was so slow that Statcast radars couldn't even register the velocity of many pitches.
Only three of his 15 pitches picked up a velocity as Rondon topped out at 58.4 mph.
This is what Jose Rondon's lollypop pitches look like, at least the 59 MPH ones that were tracked. (The others were too slow.)

It's 6-1, by the way. This is ridiculous. pic.twitter.com/H9lX4Vx5ua

— Mike Petriello (@mike_petriello) May 4, 2019
After finishing his inning of work, Rondon returned to the dugout and received high-fives and fist pounds, as if he had struck out the side on nine pitches.
The reaction in the dugout after Jose Rondon somehow threw a scoreless inning against the Boston Red Sox. pic.twitter.com/Kvx6EY6uwl

— Chuck Garfien (@ChuckGarfien) May 4, 2019
Advertisement - story continues below
Lost in the shuffle of his masterpiece on the mound was the fact that Rondon started the game at second base. He went 1-for-4 at the plate with a double, which gave him two total bases as a batter and two bases allowed as a pitcher.
Rondon said after the game that it was his first time ever on the mound and that his teammates got a kick out of seeing him throw those lollipops out there.
Should the White Sox have put a position player on the mound?
Advertisement - story continues below
"They just were laughing," Rondon said, through team interpreter Billy Russo, of the on-field reaction to his work, "and stared at me like, 'You're really doing this?'"
Renteria said he did have Rondon throw practice pitches before the game and had the score been within four runs, then he would have kept an actual pitcher on the mound.
"Listen, you never want to resort to that, but I think that under the circumstances, for us, it was just a necessary thing we needed to do," Renteria said. "Fortunately, it didn't get out of hand, it didn't get ugly. You're always concerned about things like that. But it didn't, and we were able to save a few arms today."
Conversation