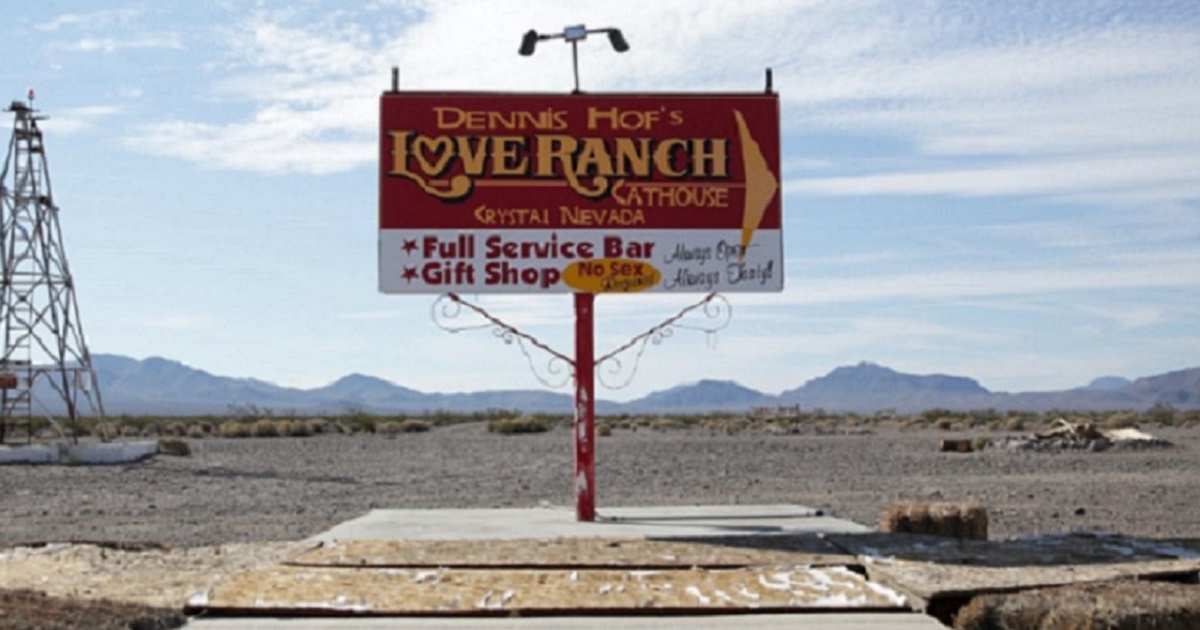 Nevada Pimp Runs for Public Office, Finds His Brothel Shut Down
Officials have yanked a brothel license from Nevada's most famous legal pimp, who markets himself as an outsider candidate in the mold of Donald Trump as he seeks a state legislative seat and faces increasing anti-prostitution sentiment.
Dennis Hof had failed to apply for a renewal and pay fees for his Love Ranch brothel about an hour's drive northwest of Las Vegas, officials in southern Nevada's Nye County said.
The rare, permanent closure of the brothel where former NBA player Lamar Odom was found unconscious in 2015 comes amid an anti-brothel push in Nye and Lyon counties, where Hof owns bordellos. Lyon County has a ballot measure going before voters that would make prostitution illegal.
Advertisement - story continues below
After Nye County voted not to renew Hof's brothel and liquor licenses, Sheriff Sharon Wehrly went to Love Ranch to close the business. But Hof called her and said he would not allow deputies on his premises, according to a sheriff's statement Wednesday.
Wehrly said her office got a warrant and seized the brothel's licenses and its prostitutes' required work cards and closed the business. She said deputies faced no confrontation, but Hof indicated he would appeal.
Hof did not respond to phone and text messages seeking comment Wednesday.
The flamboyant pimp, who starred in the HBO adult reality series "Cathouse," upset local politics earlier this year when he ousted a three-term Republican state lawmaker in a primary for the state Assembly.
Advertisement - story continues below
Hof billed himself as "The Trump of Pahrump," the city where he's now based, and has been shunned by the state's establishment Republicans, including Gov. Brian Sandoval, U.S. Sen. Dean Heller and Attorney General and gubernatorial hopeful Adam Laxalt.
While conservatives believe strongly in free enterprise, the kind of business Hoff engages in can destroy the women who work in it, the men who patronize it, and untold families who are affected by it — through divorce or disease. However a pimp like Hof markets himself, he's not going to attract the support of the millions of Americans who put Donald Trump into the White House in the 2016 election.
Do you think Hof's brothel was shut down for political reasons?
Hof has responded by saying that if he wins the Republican-leaning district, he would set up his own office in a luxury motor coach in front of the Capitol building in Carson City where he would offer liquor and "free shoulder massages for anyone who comes to visit or meet with me."
Brothels, which are illegal in the counties that contain Las Vegas and Reno, harken back to Nevada's days as a mining territory about 150 years ago. Brothels were illegal but tolerated in some areas until 1971, when the Mustang Ranch near Reno became the first legal brothel.
It led to a movement that allowed counties with populations of 700,000 people or fewer to decide whether to legalize prostitution in licensed facilities. Outside of bordellos, prostitution is illegal.
Advertisement - story continues below
About 20 brothels operate in Nevada, mostly in rural areas. The state doesn't publicize how many are open, and most owners keep a much lower profile than Hof.
Hof, who wrote a book titled "The Art of the Pimp," owned half a dozen brothels in Nevada earlier this year, but announced when he won the primary election that he would begin downsizing his holdings.
Nye County spokesman Arnold Knightly said Hof has since sold his Area 51-themed brothel, the Alien Cathouse. It wasn't immediately clear Wednesday how many other facilities he still owns.
Hof's regulatory problems come as a coalition of religious groups and anti-sex trafficking activists have pushed to overturn a law allowing brothels to operate. Voters in Lyon County, where Hof has four brothels, will consider the issue in November. A similar effort failed in Nye County.
Advertisement - story continues below
Commissioner Lorinda Wichman said Tuesday's action was the first time in at least a decade that she can recall Nye County permanently revoking a brothel license, but it's not the first time Hof's property has been closed.
The county temporarily suspended his license in February, saying he failed to produce permits for renovations to trailer homes where his prostitutes work. Hof called it politically motivated harassment.
In 2017, he clashed with county officials over allegations that prostitutes at his Area 51-themed brothel did not have proper work permits and medical records. The allegations were later dropped.
The same thing happened last year, but Hof faced no penalties.
Advertisement - story continues below
Wichman said officials let that violation slide, but his businesses have been an ongoing problem.
"We have given an awful lot of leeway to each of those code violations," Wichman said.
She added that there's nothing personal or political behind the action by the county, which voted Tuesday to renew permits for three other brothels with other owners.
The Las Vegas Review-Journal first reported the license decision Wednesday.
The Western Journal has reviewed this Associated Press story and may have altered it prior to publication to ensure that it meets our editorial standards.
Conversation