Commentary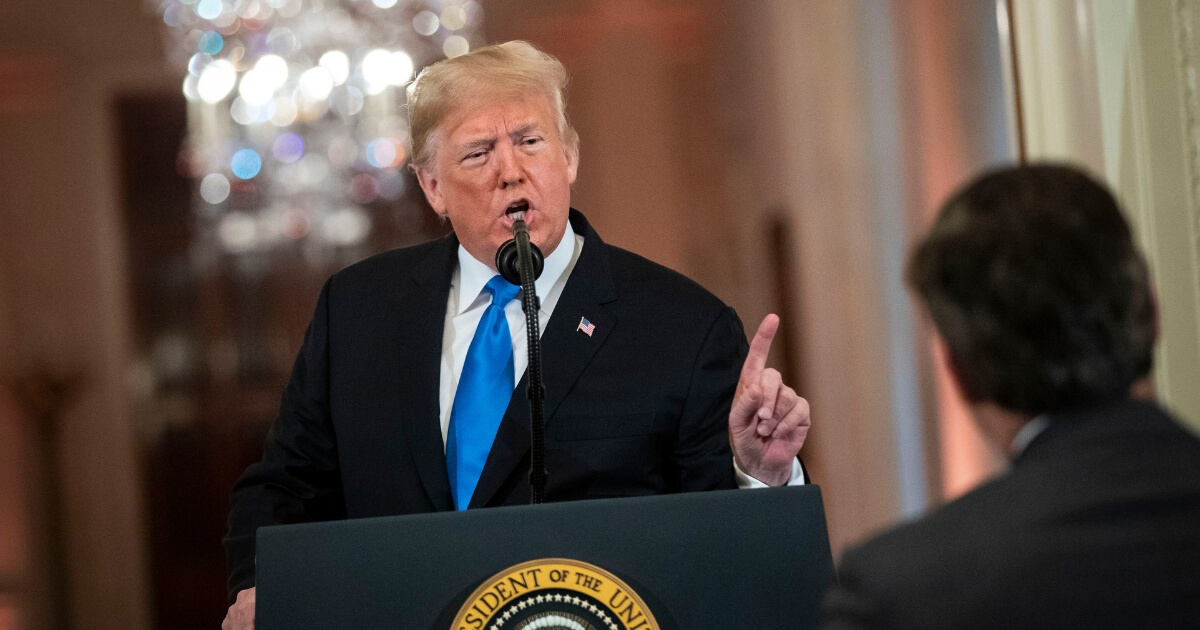 News Outlet Breaks From Establishment Media, Defends White House's Acosta Ban
While establishment news outlets have sided with CNN reporter Jim Acosta after his White House press pass was revoked last week, one news organization spoke out in defense of the White House.
As the White House faced a lawsuit by CNN over the revocation, Robert Herring, the CEO of One America News Network (OANN) stated Thursday that the news outlets would file a friend of the court or amicus brief in support for the action against Acosta.
"Acosta's actions are stopping our people from getting their questions answered, so that we can give our audience the real news direct from our president," Herring wrote.
Advertisement - story continues below
He pointed out that bigger news outlets, like Fox News, wouldn't be hurt as much as OANN by Acosta's presence in White House press conferences.
"Can't believe Fox is on the other side, but they have direct connection to the president. We are lucky if we get a five minute interview once a quarter," he continued.
(2) Can't believe Fox is on the other side, but they have direct communication to the President. We are lucky if we get a five minute interview once a quarter. @OANN #CNNvsWhiteHouse

— Robert Herring (@RobHerring) November 15, 2018
Advertisement - story continues below
In OANN's file in support of Acosta's pass being revoked, they said Acosta is "disruptive to our fundamental principle of a free functioning press," and pleaded with the White House Correspondents' Association to "take reasonable action" against him.
"The repeated, unprofessional conduct by one specific reporter, namely CNN's Chief White House Correspondent, Plaintiff Jim Acosta, has hindered our free press from functioning effectively during White House briefings," OANN's brief reads.
Do you think Acosta's presence limits less established media voices?
"Plaintiff Acosta's history of interruptions, unnecessary and excessive consumption of time with his grandstanding, and obstructive conduct toward his colleagues should have been addressed by CNN and the WHCA some time ago," it continued.
"Mr. Acosta's behavior in failing to yield to fellow journalists when asked by the President of the United States was no surprise to anyone. It was typical of a pattern of behavior exhibited by Plaintiff Acosta who seems to think his comments are more important than other journalists in the room."
A group of major news organizations, including Fox News, stated Wednesday that they would file an amicus brief on CNN's side in its lawsuit against the White House, according to CBS News.
Advertisement - story continues below
CNN sued the White House, arguing that Acosta's pass being revoked violated his First Amendment rights, although on Friday the judge decided it mostly based on the Fifth Amendment's right to due process clause.
The judge, Timothy Kelly for the U.S District Court, did not rule on the underlying case on Friday.
However, he gave CNN an opening win by granting their request for a temporary restraining order that would allow Acosta access to White House press conferences again.
CNN asked that court restore Acosta's pass, which is what happened on Friday when Kelly ordered that it be returned and Acosta given access to the White House once more.
Advertisement - story continues below
With Acosta's access reinstated, the less established news outlets will be hurt the most from Acosta's habit of imposing on fellow journalist's time.
Hopefully reporters from smaller networks will be able speak to President Trump too in future press conferences, despite Acosta's now publicly reinforced ego.
Conversation