Sports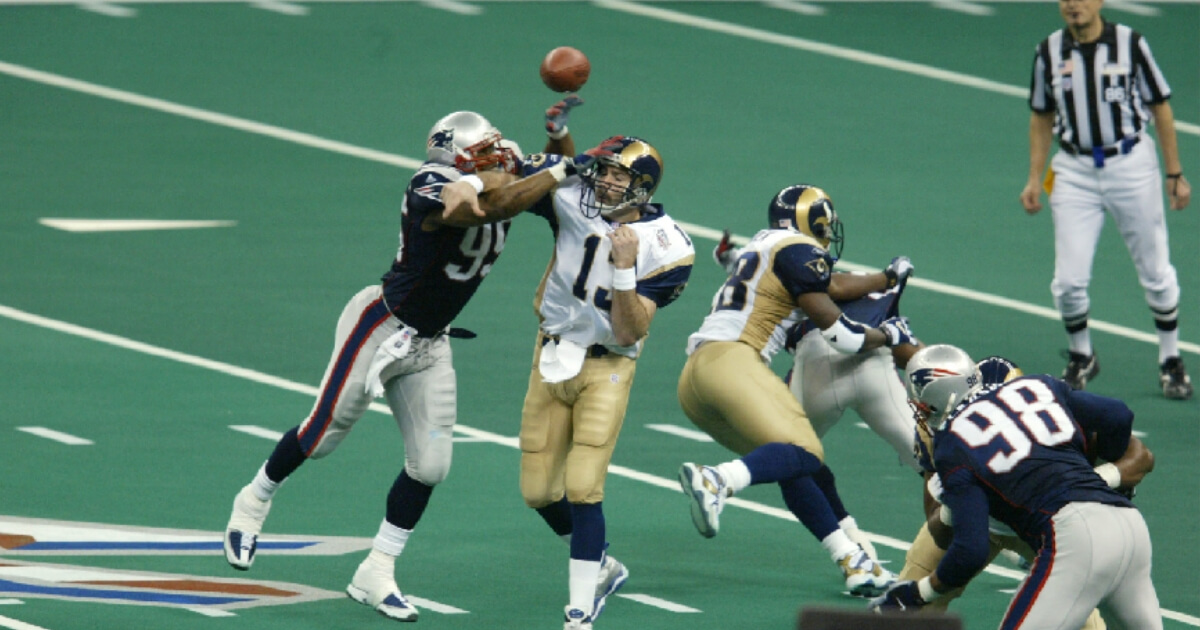 NFL Hall of Famer Insists Patriots Cheated Rams in Super Bowl XXXVI
You can go ahead and add one more name to the list of current or former NFL players who have accused the Patriots of cheating.
Hall of Famer Eric Dickerson calls himself the Rambassador due to his ties to the Los Angeles Rams, but the former running back spent part of last week talking about the Patriots and their alleged nefarious ways.
During a Monday appearance on Fox Sports 1, Dickerson discussed the Patriots' victory over the then-St. Louis Rams in Super Bowl XXXVI in New Orleans. He said he wanted a rematch this year so the Rams could get revenge on New England, who he believes cheated back in 2002.
Advertisement - story continues below
"We want a rematch (against the Patriots) in L.A.," Dickerson said. "They cheated us. They know they cheated us back in New Orleans. They watched our film, so we want some more of them."
The Rams were 14-point favorites in that Super Bowl, according to CBS Sports, but ended up losing 20-17. Ever since, there have been rumors that the Patriots secretly recorded a Rams walkthrough practice before the game.
Citing an unnamed source, the Boston Herald reported in 2008 that the Patriots had taped the Rams' walkthrough, according to ESPN.
Advertisement - story continues below
A former video assistant for New England later admitted that he and other employees were present during the Rams' practice to set up video equipment for the game, but claimed they didn't tape any of the practice.
NFL commissioner Roger Goodell eventually met with that former assistant and declared that nothing illegal happened. The Herald, meanwhile, ended up issuing an apology.
Do you think the Patriots established their dynasty legitimately?
Even with the NFL saying nothing wrong happened, you'd have a hard time convincing some former Rams.
Fellow Hall of Fame running back Marshall Faulk, for instance, has been outspoken about the Patriots' alleged cheating in the lead-up to Super Bowl XXXVI. He still believes he was cheated out of a championship ring.
"Now, I didn't see what was on the tapes, because we didn't get to see that," Faulk said in 2017. "The only thing I could say is that they taped our practice. That was wrong."
Advertisement - story continues below
The concern that the Patriots might tape their opponents' practices manifested itself last year ahead of the team's Super Bowl matchup with the Philadelphia Eagles.
Eagles long snapper Rick Lovato admitted that the team ran a fake walkthrough ahead of the game just in case the Patriots were spying.
"I believe our whole walkthrough was just a complete fake walkthrough," Lovato said on 620 WDAE in Tampa days after the Eagles' victory, according to NBC Sports. "We did it at the stadium. There were certain people walking around. … I believe I overheard someone say a lot of the plays we were running weren't even in the playbook for the Super Bowl.
"We already had our game plan set all week for the last two weeks," he added. "We had two weeks to prepare for that game. A measly walkthrough the day before the game, we weren't going to show anything to anyone, especially being at the stadium."
Conversation