Sports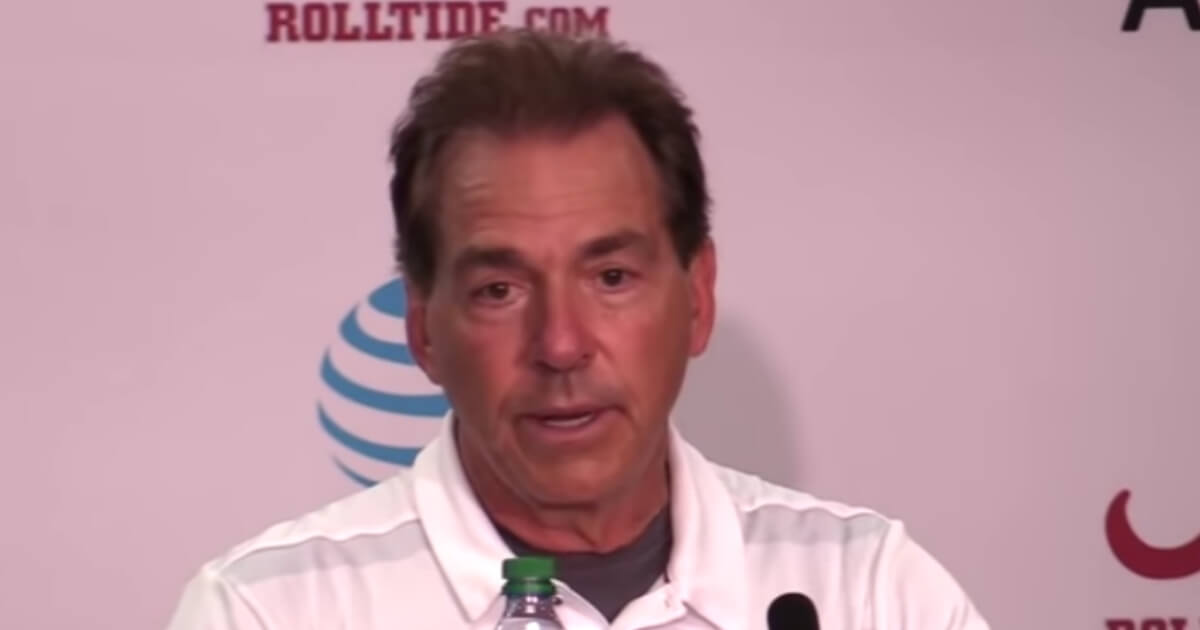 Nick Saban Pleads with Media: Stop Fawning Over Alabama
Last season it was "rat poison" that Nick Saban used as the analogy for the media's fawning over Alabama, and said it was dangerous for his team to hear.
This time around Saban didn't apply a catchy phrase to the media's coverage of his team, but the Crimson Tide coach still implored the press to stop blowing smoke up the you-know-what of his No. 1 ranked team.
Alabama defeated No. 22 Texas A&M 45-23 on Saturday in a game that wasn't even as close as the 22-point margin indicated. The Tide committed no turnovers for the first time this season and outgained A&M 524-393 in total yards.
Advertisement - story continues below
But Saban still wasn't pleased with some aspects of the game and wanted the media to pass that message on to his team.
.@AlabamaFTBL coach #NickSaban:

"I don't want to get into the rat poison again…"

But he did, and it's classic Saban after Bama rolled @AggieFootball 45-23#TAMUvsBAMA #Bama#RollTide pic.twitter.com/agplDOcd0n

— Rick Karle WVTM 13 (@RickKarle) September 23, 2018
"I don't want to get into the rat poison again," Saban said, referring to the now infamous mini-rant he went on following a win at Texas A&M last season. "We have a good team, but our team needs to do a lot of things to improve, all right?
"So I would appreciate it if you would sort of look at some of the things we didn't do so well, all right, and write about that so I can show it to the players and say, 'Look here, man. Here's something you can do better.'"
Advertisement - story continues below
Alabama wasn't without fault as it committed nine penalties and lost the time of possession battle, which is a key stat for Saban.
Alabama's 22-point win over A&M was its smallest margin of victory this season. Prior to Saturday, Alabama was winning by an average of 47.3 points per game.
Will Alabama go undefeated through the regular season?
While the media may have had some fun with Saban's surly disposition after another blowout win, his players hear his message loud and clear.
Senior running back Damien Harris was asked how his team doesn't get a overconfident in light of another impressive win and No. 1 ranking.
"It's not hard when Coach Saban is your coach," Harris said.
Advertisement - story continues below
When the AP rankings come out Sunday, Alabama will be ranked No. 1 for the 108th week in school history.
For comparison, the 13 other teams currently in the SEC have been ranked No. 1 a combined 133 times.
Alabama will get an unofficial bye this week when it hosts the University of Louisiana-Lafayette of the Sun Belt Conference on Saturday. ULL is 1-2 this season with its only victory coming over an FCS team.
Saban should get used to the fawning of his team by the media as Alabama won't face a ranked team, and thus get tested, until it visits LSU on Nov. 3.
Conversation