Op-Ed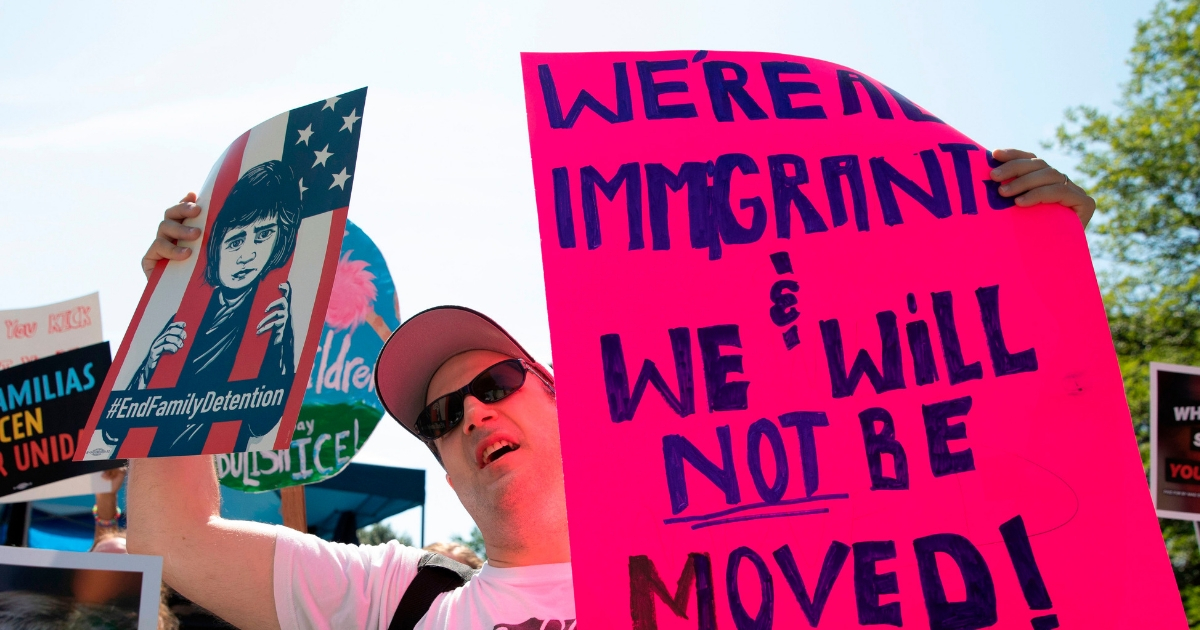 No, Immigrants Will Not 'Pay Our Pensions'
America's immigrant population now tops 44.5 million people according to new data from the US Census Bureau. This means 13.7 percent of America's population are immigrants — the highest level since 1910.
But this number does not tell the whole story. Because immigrants are more fertile than natural born citizens, their children make up a disproportionately large share of the next generation: 26 percent of Americans under the age of 18 have an immigrant parent.
This is a big, unprecedented demographic change, and like all changes, it is the subject of vigorous political debate. Many liberals argue that immigration is economically justified — Americans need immigrants to pay for their pensions and Medicaid.
Advertisement - story continues below
This justification does not hold under scrutiny. In reality, immigration is a net drain on America's welfare state. Immigrants will not save America's social safety net — they will destroy it.
A 2017 study from the National Academies of Sciences, Engineering, and Medicine found that although America's immigrant population is theoretically revenue-neutral, most immigrants are actually a drain on the system. The economic contribution of immigrants follows a Pareto Distribution. Commonly known as the 80-20 Rule, this just means that a hyper-productive few immigrants provide most of the economic gains, while the majority of immigrants contribute (less than) nothing.
Specifically, the top 15 percent of immigrants provide the bulk of the economic benefits, while the next 38 percent generate a small surplus or break even. The remaining 47 percent of all immigrants are a net drain on public revenue, consuming more in government services than they contribute in taxes. The study estimates their net present value cost at $170,000 per person.
NPV is a bizarre metric that underestimates the true cost of non-economic immigration. Basically, NPV measures how much money the government would need to invest today, at a yield of inflation plus 3 percent, to pay for an immigrant's tax deficit over the course of his lifetime. Of course, the government does not do this — it taxes and spends.
Advertisement - story continues below
According to an analysis by the Heritage Foundation, each non-economic immigrant more realistically costs a net of $476,000 in welfare payouts over the course of their lifetime. As such, the true cost of immigration is higher than even the Academies' research suggests.
Major studies in other Western countries reach similar conclusions. For example, a study conducted by Denmark's Ministry of Finance found that immigrants were a net drain on the nation's welfare state. In fact, non-EU immigrants and their descendants consumed 59 percent of the tax surplus collected from native Danes.
This is not surprising since some 84 percent of all welfare recipients in Denmark are immigrants or their descendants. Immigration is a net burden on Denmark's welfare state.
Another major study from the University College of London found that immigrants in the U.K. consumed far more in welfare than they paid in taxes. The study looked at the Labour government's mass immigration push between 1995 and 2011.
The researchers found that immigrants from the European Economic Area made a small, but positive net contribution to the British economy of $5.7 billion during the period. However, non-European immigrants, primarily from South Asia, the Middle East, and Africa, cost the British economy a net $156 billion. This is Pareto in action.
Advertisement - story continues below
These studies have two important implications that liberals would be wise to recognize. First, immigration is not an economic panacea: America's welfare state is structurally unsound and no amount of immigration will save it. If anything, immigration will hasten the demise of America's welfare state.
Second, the economic problems associated with immigration could be fixed by cutting the immigration rate in half. As the Academies' study notes, immigration authorities know a priori which category of immigrants is revenue-positive and which is not.
For example, the bottom 47 percent is overwhelmingly composed of asylum-seekers, "diversity visa" lottery winners, illegal aliens, and people sponsored for familiar reasons. Removing or shrinking these categories would do the trick.
When it comes to immigration, less is more.
Advertisement - story continues below
Spencer P. Morrison is the Editor-in-Chief of the National Economics Editorial and contributor to American Greatness.
The views expressed in this opinion article are those of their author and are not necessarily either shared or endorsed by the owners of this website. If you are interested in contributing an Op-Ed to The Western Journal, you can learn about our submission guidelines and process here.
Conversation