Commentary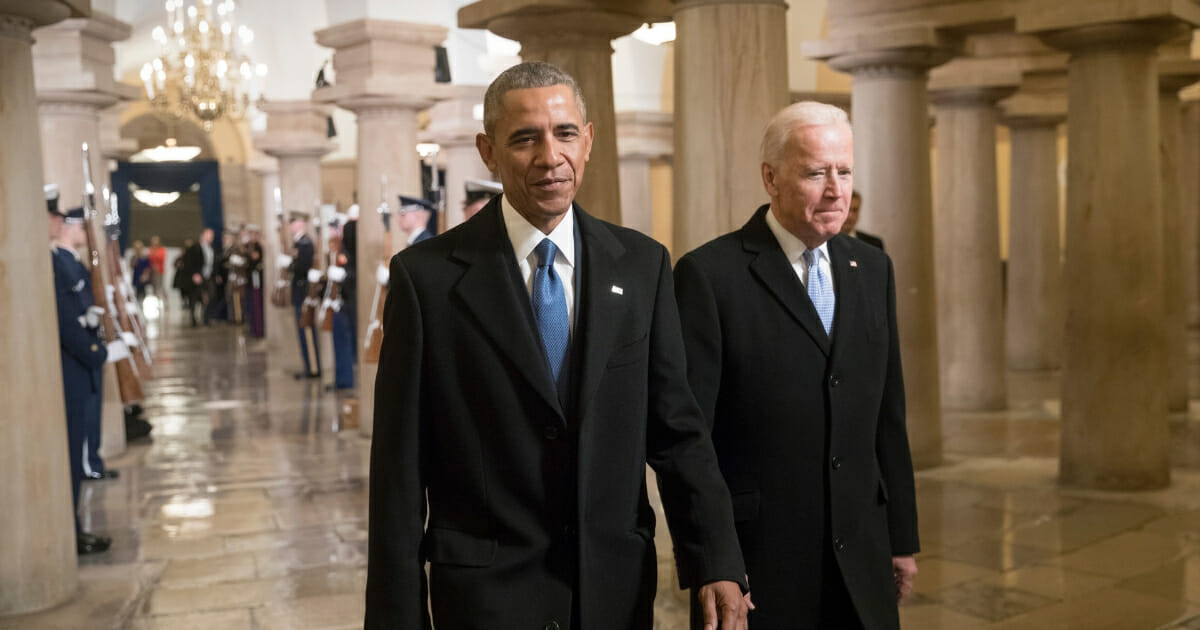 Not Joking: Biden Says There Were No Scandals in Obama Administration
As President Donald Trump so accurately summarized in a recent interview with Fox News host Sean Hannity, former Vice President Joe Biden, who is now officially running for the 2020 Democratic presidential nomination, is "not the brightest light bulb" in the group of candidates — or anyone else in the Democratic Party for that matter.
Biden, who has become infamous as much for his ludicrous gaffes as he is for inappropriate touching during photo opportunities, just uttered something that is so absurdly false that you'll probably have to listen to it multiple times, if only to confirm that he actually said it.
Following his official announcement to kick off his campaign, Biden appeared on the set of ABC's "The View" for a stomach-churning love-fest with the liberal — and borderline liberal — co-hosts who showered Biden and his former boss, President Barack Obama, with an abundance of adulation.
Advertisement - story continues below
At one point in the discussion, Biden made the absolutely ridiculous and provably false assertion that there was "not one single whisper of a scandal" during the eight years of the Obama administration.
Prior to his laughably delusional statement about "no scandals," Biden first addressed the news that he would not be receiving an endorsement of his candidacy by Obama. Biden claimed that despite the great friendship between himself and his former boss, as well as their families, he had purposely asked Obama to not endorse him, as he wanted to prove he could win the nomination on his own merits.
Whether or not that is true, or merely an excuse to sidestep the embarrassing slight is beside the point. Biden moved on in the conversation to regale the ladies with a fantastical tale of the "scandal-less" administration he served in for eight years.
Advertisement - story continues below
"I'm incredibly proud to have served with him," Biden said of Obama. "The thing I'm proudest of is, coincidentally, we were each in a different part of the country, and we were each talking to groups of people who were being televised, and at the same day, purely coincidentally, we got asked the question: What are you proudest of in your administration?"
"And you know what I said? And it turns out he said the same thing, probably a little more clearly than I did, that not one single whisper of scandal," he added, to great applause from the liberal audience. "And that's Barack Obama. That's because of Barack."
Do you agree the Obama administration was wracked with constant scandals?
Oh, Joe, how woefully wrong you are. Just, wow. Where to begin, in documenting just how scandalous the Obama administration actually was?
In truth, there were dozens upon dozens of scandals during Obama's presidency, some quite large and consequential, others small and petty, but all quite scandalous nonetheless.
First and foremost is the arguably the biggest, and still currently unraveling, scandal that the Obama administration spied on then-candidate, now-President Donald Trump and his campaign/transition team/administration.
Advertisement - story continues below
This is part of the now-debunked false narrative that Trump had "colluded" with Russia to 'steal" the 2016 election away from the purported rightful winner, failed Democratic nominee Hillary Clinton.
Speaking of Clinton, there was the massive scandal surrounding her use of an unauthorized and unsecured private email server to handle official government documents — many of which were classified and highly sensitive — while serving as head of Obama's State Department. Equally scandalous is how Clinton escaped justice for this fiasco.
Sticking with Clinton for a moment — the Clintons in and of themselves were overwhelming scandalous, but that's another story — there was the concerted effort to cover up the truth of the 2012 terrorist attack that claimed four American lives in Benghazi, Libya — specifically the lack of response from Obama to stop that attack or rescue those targeted.
As for Obama himself, there were his overt lies about the realities of Obamacare, his use of the IRS against tea party groups and conservatives, the Operation Fast and Furious gun-running to Mexican cartels, the wasted billions of the post-recession stimulus bill, the foreign hacking of various government agencies, the dismal state of the Department of Veterans Affairs, his spying on the Associated Press and a Fox News reporter, spying on Congress, trading Taliban prisoners for a traitor, emptying out Guantanamo Bay of hardened terrorists, stonewalling internal inspectors general investigations, executive action on gun control, the Iran nuclear deal, the climate change-focused Paris Accords, his outreach to communist Cuba, his ignoring the rise of the Islamic State group, rampant illegal immigration, his meddling in Israeli elections and propping up Palestinians and the Muslim Brotherhood … and the list goes on.
Advertisement - story continues below
Assuredly, some scandals have been left out of this far from all-encompassing list.
There weren't any "whispers" of a scandal during Obama's eight years … there were constant screams and shouts of scandal at countless points all throughout his tenure in office. Just because a complicit liberal media chose not to adequately cover those scandals — if they even mentioned them at all — doesn't mean they didn't happen.
Conversation