Sports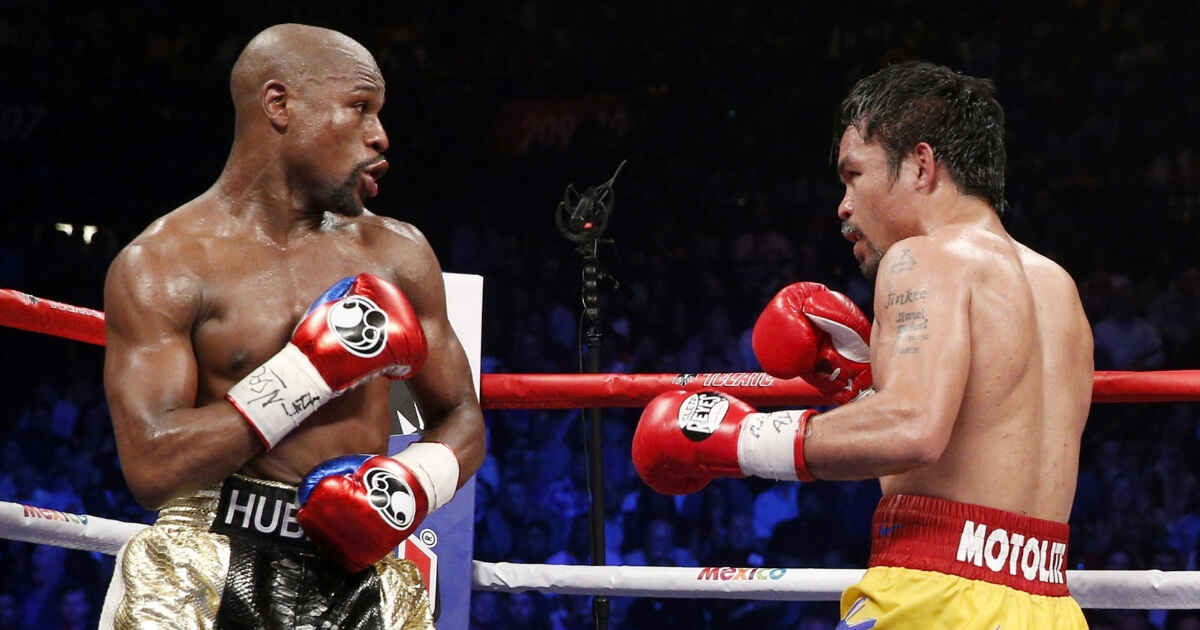 Not Quite Retired? Mayweather Claims Another Pacquiao Megafight Coming This Year
Not satisfied with GGG and Canelo stealing the boxing headlines, Floyd Mayweather Jr. teased a rematch with Manny Pacquiao on Instagram.
Both fighters are in Tokyo and attended the same music festival. Mayweather posted a video of the two in which he is heard saying, "I'm coming back in December."
Advertisement - story continues below
Mayweather defeated Pacquiao by unanimous decision in May 2015 in the highest-grossing pay-per-view of all time. Mayweather improved his record to 48-0 and pocketed roughly $220 million.
Since then, Mayweather has fought just twice, with his last match coming vs. Conor McGregor in August 2017. Pacquiao has fought four times and won the WBA welterweight title on July 15.
In the video, Pacquiao can be heard saying, "I have the belt," to which Mayweather responds, "I'm gonna take it from you!"
Pacquiao also posted a video from the exchange on his Instagram account in which Mayweather repeatedly says "December," along with "Easy work" in regards to how he'll dispatch of Pacquiao.
Advertisement - story continues below
Pacquiao also posted the caption of "50-1," which would be Mayweather's record if he fights and loses to Pacquiao (or anyone else).
This isn't the first time Mayweather has teased a high-profile rematch with an opponent. In April he talked about a potential rematch vs. McGregor that would take place in the Irishman's domain of the octagon.
"If I do come back, it has to be in the octagon. – @FloydMayweather #LaraHurd pic.twitter.com/hGOxMMMdil

— SHOWTIME Boxing (@ShowtimeBoxing) April 8, 2018
"Is it possible that I come back? Yes, but if I do come back, it has to be in the octagon," Mayweather said.
That prompted Pacquiao to call out Mayweather as he said he wants a rematch after winning the welterweight title from Lucas Matthysse in July.
Advertisement - story continues below
Would you pay to see a rematch between Floyd Mayweather and Manny Pacquiao?
"Mayweather? If he decides to go back to boxing then that is the time we are going to call the shots," he told reporters after his victory. "I have the belt, so it's up to him. If he wants to come back in boxing let's do a second one."
Mayweather is 41 and Pacquiao turns 40 in December, but there is no doubt that they can still draw in this industry — though no one expects them to match the numbers from their first fight.
The rematch that people want to see happens to take place the same day that these videos were posted as Gennady Golovkin and Canelo Alvarez will square off Saturday night, one year after their first fight ended in a controversial draw.
Conversation