Commentary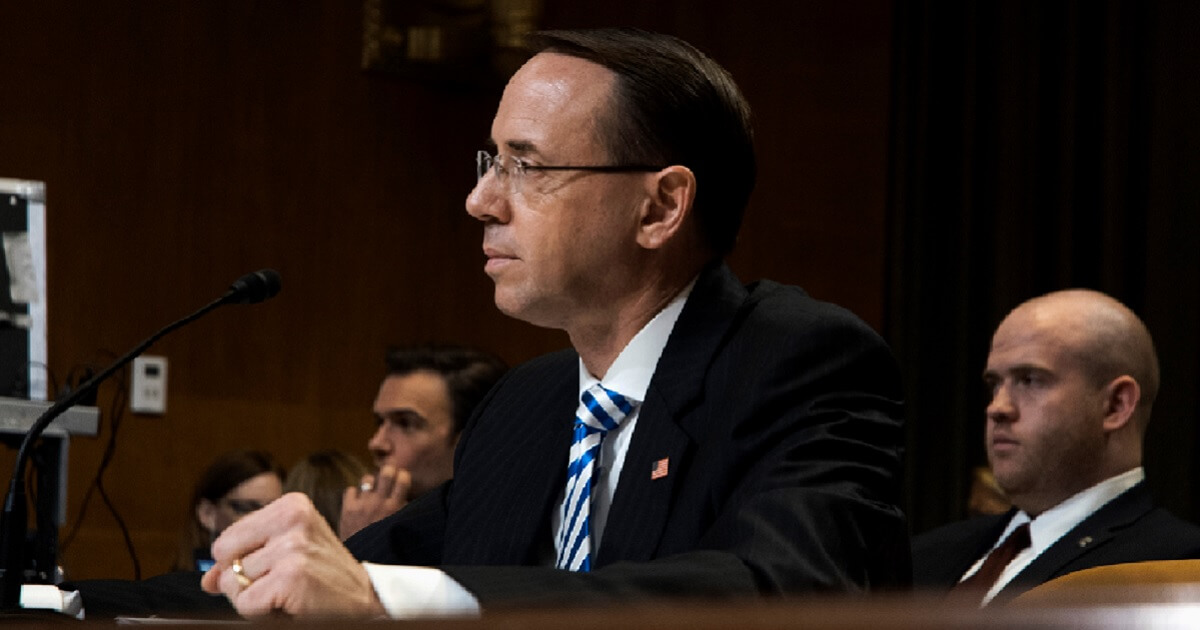 NYT Report on Rosenstein 'Wire' Talk Brings 'Deep State' Fears to the Surface
I have a question for Deputy Attorney General Rod Rosenstein: Do you want conservatives to believe in the existence and the inherent perfidy of the concept of the "deep state?"
Because, if The New York Times is correct, how Rosenstein acted shortly after the firing of former FBI Director James Comey is exactly what one would expect of a "deep state" working to thwart American democracy.
According to an article published by The Times on Friday, Rosenstein considered secretly recording President Donald Trump and getting cabinet members to invoke the 25th Amendment in order to "remove Mr. Trump from office for being unfit."
Advertisement - story continues below
"Mr. Rosenstein made these suggestions in the spring of 2017 when Mr. Trump's firing of James B. Comey as F.B.I. director plunged the White House into turmoil. Over the ensuing days, the president divulged classified intelligence to Russians in the Oval Office, and revelations emerged that Mr. Trump had asked Mr. Comey to pledge loyalty and end an investigation into a senior aide," the article, written by Adam Goldman and Michael S. Schmidt, read.
"Mr. Rosenstein was just two weeks into his job. He had begun overseeing the Russia investigation and played a key role in the president's dismissal of Mr. Comey by writing a memo critical of his handling of the Hillary Clinton email investigation. But Mr. Rosenstein was caught off guard when Mr. Trump cited the memo in the firing, and he began telling people that he feared he had been used."
The story was written using sources described as "insisting on anonymity to discuss internal deliberations" in the Justice Department and had been "briefed either on the events themselves or on memos written by F.B.I. officials, including Andrew G. McCabe, then the acting bureau director, that documented Mr. Rosenstein's actions and comments."
"None of Mr. Rosenstein's proposals apparently came to fruition," the story continued.
Advertisement - story continues below
"It is not clear how determined he was about seeing them through, though he did tell Mr. McCabe that he might be able to persuade Attorney General Jeff Sessions and John F. Kelly, then the secretary of homeland security and now the White House chief of staff, to mount an effort to invoke the 25th Amendment."
The New York Times, ever New York Times-ish about the whole affair, blamed the deputy attorney general's actions on "Mr. Rosenstein's state of mind in the disorienting days that followed Mr. Comey's dismissal."
Do you think that Rod Rosenstein should be fired?
However, the details of the report go beyond the merely problematic. Take, for instance, the fact that the deputy attorney general wanted to act like he was a criminal turning state's evidence.
"Mr. Rosenstein … raised the idea of wearing a recording device, or 'wire,' as he put it, to secretly tape the president when he visited the White House," the report read. "One participant asked whether Mr. Rosenstein was serious, and he replied animatedly that he was.
"If not him, then Mr. McCabe or other F.B.I. officials interviewing with Mr. Trump for the job could perhaps wear a wire or otherwise record the president, Mr. Rosenstein offered. White House officials never checked his phone when he arrived for meetings there, Mr. Rosenstein added, implying it would be easy to secretly record Mr. Trump.
Advertisement - story continues below
"Mr. Rosenstein mentioned the possibility of wearing a wire on at least one other occasion, the people said, though they did not provide details."
Even The Times noted that this was "remarkable," arguing that wires are usually used when "targeting drug kingpins and Mafia bosses in criminal investigations, not a president viewed as ineffectively conducting his duties."
Rosenstein denied the allegations, first in a rather tepid statement published along with the story and then in a more explicit repudiation.
"The New York Times's story is inaccurate and factually incorrect," the statement included with the article said.
Advertisement - story continues below
"I will not further comment on a story based on anonymous sources who are obviously biased against the department and are advancing their own personal agenda. But let me be clear about this: Based on my personal dealings with the president, there is no basis to invoke the 25th Amendment."
A later statement read: "I never pursued or authorized recording the President and any suggestion that I have ever advocated for the removal of the President is absolutely false."
JUST IN: New statement from Rod Rosenstein:
"I never pursued or authorized recording the President and any suggestion that I have ever advocated for the removal of the President is absolutely false. " https://t.co/n3GDr6PPu4

— Peter Alexander (@PeterAlexander) September 22, 2018
A story from NBC News, meanwhile, posited the talk of a wire was a joke.
Advertisement - story continues below
"In a May 16, 2017 meeting at a secure facility at the Justice Department — one week after Trump fired FBI Director James Comey — Rosenstein was arguing with Andrew McCabe, then the acting director of the FBI, about the president, according to a senior Justice Department official," the story read.
"'Well, what do you want me to do, Andy, wear a wire?' Rosenstein asked at the meeting, which also included FBI lawyer Lisa Page and four career DOJ officials, according to the senior official. One of the career civil servants was Scott Schools, who would later go on to sign off on the firing of McCabe, the official said."
Wherever the truth may lie, most of the narratives one can construct from these stories are rather malodorous. Both stories were constructed out of reports from Justice Department officials and neither one shows the DOJ in top form.
In the less noisome version put forth by NBC, exasperated officials were working counter to the president but doing so in a way that respected the rules and the Constitution. In The New York Times' version, Rosenstein was hard at work trying to find ways around those impediments.
Advertisement - story continues below
Whichever version you believe, what it means is that you're going to hear a lot more talk about the "deep state." And nobody involved can pretend, at this point, that it isn't deserved.
Conversation