Op-Ed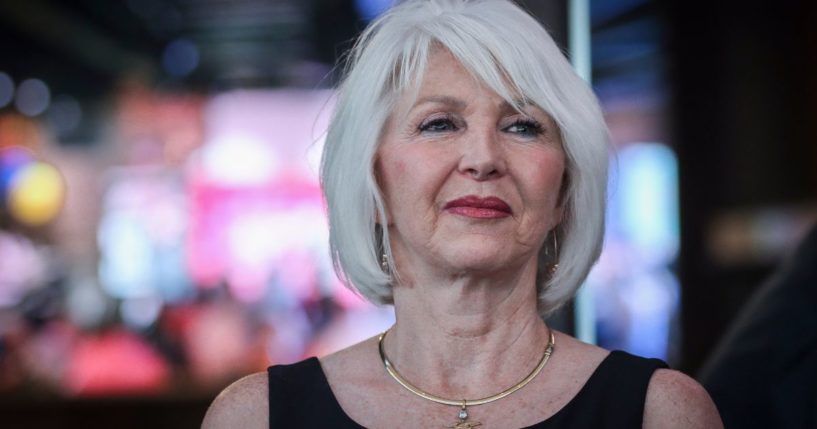 Op-Ed
Op-Ed: County Clerk Under Fire for Providing the Only Proof We Have of 5.5K Missing Ballot Records
As the elected clerk in Mesa County, Colorado, Tina Peters assumed that the election process was secure. However, her assessment changed after there were surprising results in a city election.
Peters knew that Dominion workers would periodically show up to perform "maintenance" on the election computer system. As a precaution, Peters decided to make a backup copy of the 2020 election database before they arrived. This was near the end of May 2021.
When images of voting system information appeared on the internet, the Colorado secretary of state assumed the images came from Peters, and perhaps they did. After all, Peters regarded herself as a whistleblower who was pointing out serious potential problems related to the Dominion upgrade process.
Advertisement - story continues below
To the Democratic administration in Colorado and to the Merrick Garland Justice Department, Peters was not a whistleblower: She was a criminal.
In August 2021, Mesa County District Attorney Daniel Rubinstein launched a criminal probe into the conduct of Tina Peters and her associates. The Colorado secretary of state asked a district court judge to prohibit Peters from overseeing the next two Mesa County elections, and that request was granted. Later, heavily armed FBI agents conducted early-morning raids on the homes of Peters and three associates. In one case, a battering ram was used to break in the door.
Before long, Peters began receiving death threats, so pillow czar Mike Lindell provided her with security and housing for several weeks. As a result, Peters now faces an ethics probe for receiving a gift valued over $65. Also, she was arrested for allegedly taking pictures during the trial of one of her workers and resisting police when they attempted to seize her phone.
I hope she is flossing her teeth every day — otherwise she might end up in solitary confinement.
Advertisement - story continues below
Tina Peters has been through a lot, and in her trial (now delayed until this summer) some of her office assistants will be testifying against her. They have been under pressure to testify, and if they don't do it correctly, they are likely to face serious jail time. That is the deal the DA has given.
After all, it is not as if Peters merely sucker-punched some pedestrians or sold a little fentanyl: She is an ELECTION DENIER!
Enter cyber experts Jeffrey O'Donnell and Dr. Walter C. Daugherity.
Should Peters be prosecuted?
Somehow, the database copy made by Peters got into the hands of two cyber experts, who analyzed it in minute detail. The experts, Jeffrey O'Donnell and Walter Daugherity, examined Mesa County's election database prior to and after Dominion's update in May 2021. Subsequently, they issued a report with several alarming findings.
O'Donnell and Daugherity discovered that critical log files had been destroyed during the Dominion update process, and this destruction may have violated federal record retention requirements. Even more disturbing were the findings that arose from examination of the pre-Dominion database files:
Advertisement - story continues below
"There was an unauthorized creation of new election databases during early voting in the 2020 General Election on October 21, 2020, followed by the digital reloading of 20,346 ballot records into the new election databases, making the original voter intent recorded from the ballots unknown. In addition, 5,567 ballots in 58 batches did not have their digital records copied to the new database, although the votes from the ballots in those batches were recorded in the Main election database" (report, p. 3).
In other words, after people had been voting for a few days, someone (or something) deleted the election database and installed a "new" database, minus 5,567 ballots. As a result of this activity, the original voter intent is not known. According to these experts, these changes had to occur in one of three ways:
Direct action by Mesa County personnel
By some sort of remote trigger from, perhaps, a local network or the internet
By means of "a software algorithm running inside the [Dominion] computer systems in Mesa County"
It happened again.
Advertisement - story continues below
A small local election was held a few months later, in April 2021, and a very similar problem occurred. According to O'Donnell:
"They were about 40 percent through the election and suddenly, this rogue process woke up. … The same unauthorized process occurred again. … The working theory is that there is an algorithm running inside these [Dominion] machines that knows what the desired result of the elections are in that county."
So the strange anomaly that took place during the November 2020 election happened again during the April 2021 election. I strongly recommend that you view O'Donnell's 46-minute video. It contains disturbing but vital information.
Responses from Colorado officials
Advertisement - story continues below
While Rubinstein was conducting his criminal probe, the O'Donnell-Daugherity report was sent to him. After analyzing it, Rubinstein issued a rebuttal that is interesting for what it says and what it does not say.
The district attorney does not dismiss a single allegation in the 87-page report issued by the cyber experts. The basic points made by Rubinstein are that the final vote count was correct and that no one, including Dominion, intentionally did anything wrong. OK — nobody claimed otherwise.
Using long-distance security camera images, Rubinstein theorizes that a Mesa County election worker, Sandra Brown, inadvertently caused the problems identified in the O'Donnell-Daugherity report. Rubinstein's interpretation of the surveillance photos is subjective. He identifies certain people and things in the photos that are so small they are practically indistinguishable.
For example, on Page 6, he states, "Elections Manager Brown can be seen enabling the automatic results loading setting in the below screenshot, followed by a screenshot of the election judges apparently viewing the first ballot image for adjudication." Well, for all I can tell, Brown was watching "The View," and the judges were watching a baseball game.
Advertisement - story continues below
Rubinstein hedges his statements with fudge words such as "apparent" (five times), "apparently" (seven times) and "appears to" (seven times). I hope the DA doesn't prosecute other "criminal" cases with such nonsensical evidence.
Rubinstein brushes right by the most significant finding, which is that voter data may be lost forever. The DA says, "Further investigation would be required to determine if Sandra Brown's actions resulted in a failure … to be able to preserve the election records as required by statute."
Now that he has admitted that "records required by statute" may be gone forever, he needs to acknowledge why he knows it. He knows it because Tina Peters, the person he is prosecuting, smartly and bravely made a copy of the database.
At this moment, the cause of the data loss is not clear. Perhaps it was human error (as Rubinstein maintains), or perhaps it was something more nefarious. Either way, voter information is gone and the Dominion upgrade masked the loss.
Advertisement - story continues below
We know about this serious problem because of — and only because of — the efforts of Tina Peters, with the assistance of Jeff O'Donnell and Walter Daugherity. These people deserve our gratitude — not condemnation or prosecution.
The views expressed in this opinion article are those of their author and are not necessarily either shared or endorsed by the owners of this website. If you are interested in contributing an Op-Ed to The Western Journal, you can learn about our submission guidelines and process here.
Conversation