Op-Ed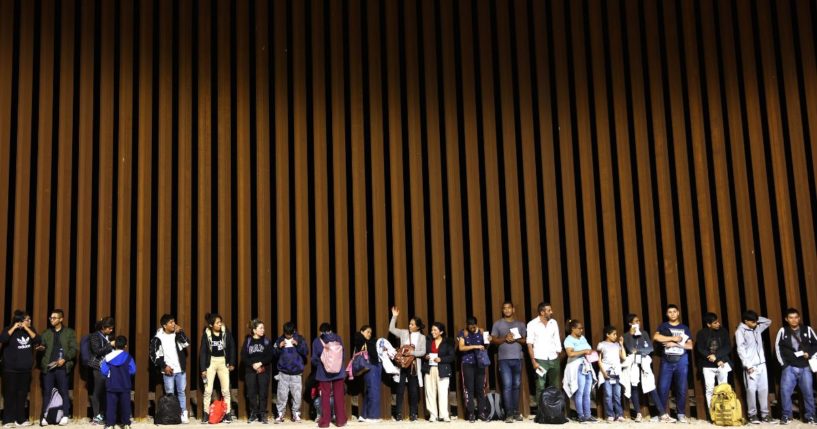 Op-Ed
Op-Ed: We're Under Invasion - And Here's Why Our Leaders Are Allowing It
The rampage on America by massive numbers of illegals with unknown backgrounds and untold purposes, whose first act on American soil is to break U.S. law, is brought to us by the men and women who took an oath to protect American citizens and our national sovereignty.
They're here — millions of men, women and children who entered the country illegally. So many that the real number is hard to know — estimates since Joe Biden became president range from 4 to 7 million and up.
With the Donald Trump-era regulation Title 42 coming to an end, the floodgates are open, the dam is broken, and millions more illegal aliens are expected to surge across.
Advertisement - story continues below
The invasion is unprecedented. This influx of people is typically only seen in faraway countries when people are forced to leave their homes during war. Now, in America, the assault on the southern border by law-breaking illegals appears to be deliberate and contrived by the ruling class to destroy the fabric of America.
Why did they do it?
For cheap labor. Corporations pay undocumented aliens a fraction of what they're obliged to pay U.S. citizens. So the rich get richer and working-class Americans undercut by unlawful foreign labor are made poor.
And to change the electorate, particularly in Texas, a red state now inundated with future blue voters. And it's not the only state, as illegals are flown across the nation in the still of the night.
Advertisement - story continues below
It's no secret that the political systems of the countries where most illegals hail from are based on patron-client relationships. If you want a job or a home, you support the party and its leadership no matter what — or else starve.
That's the model for the current ruling party in the U.S., the party of oligarchs and coastal elites. To them, the invasion of America means power and wealth. They demand loyalty — or else persecution.
Is the border crisis a deliberate policy choice?
Some fear it may also signal coercive force. To be sure, countries around the world are releasing felons into our country, and no doubt terrorists and foreign spies, too.
But there's another concern — that the millions of fighting-age men who've crossed the border may at some point be armed by the ruling party and turned against the population. What do they care about taking up arms against Americans? This is not their home, we are not their families, and our symbols, traditions and anthems are not theirs.
Nor, it seems, will they ever be, for our educational system is not in the business of acculturating immigrants and turning them into patriots by instructing them in the glorious history and traditions of our great nation. Rather, teachers and administrators drill them in contempt for America, lessons reinforced by our treasonous media, from newspaper columnists to Hollywood celebrities.
Advertisement - story continues below
Trump famously remarked that you can't have a country without borders. At present, we have no border to the south, but we do still have a country. And like you, America's Future is resolved to fight for it. Keep speaking up. Get involved in your local community and never surrender.
The views expressed in this opinion article are those of their author and are not necessarily either shared or endorsed by the owners of this website. If you are interested in contributing an Op-Ed to The Western Journal, you can learn about our submission guidelines and process here.
Conversation