Op-Ed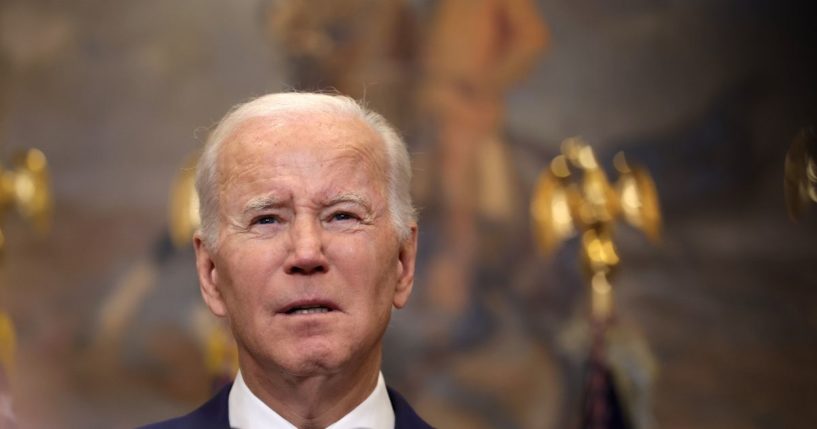 Op-Ed
Op-Ed: Has the Time Come for a Military Tribunal for President Biden?
Before I get started on the latest allegations surrounding President Joe Biden and the illegal storage of documents containing sensitive information in his home, I want to discuss the term "military tribunal."
A military tribunal works as a military court, but one that isn't exclusive to military personnel. Civilian parties can actually be the subject of charges. In fact, at one point, the administration of George W. Bush proposed military tribunals in an effort to convict "unlawful enemy combatants," compared to a regular investigation by, say, the Department of Justice.
You're probably thinking, "But why aren't military tribunals exclusive to military personnel?" You're probably thinking of the military court martial, which does focus on military members. A tribunal, however, investigates others, such as contractors and, in this particular case, even someone as high up as the president.
Advertisement - story continues below
So why would I suggest such a thing? Because, honestly, this whole situation surrounding Biden and his classified documents is simply a mess. What's more, not only do these documents contain sensitive information about Ukraine and China, but they were also easily within reach of Biden's son, Hunter — and we're all familiar with the trouble he's gotten into in the past.
Biden and his administration have been cooperative thus far, but that hasn't stopped House Republicans from forming a committee to look into the matter. The FBI and DOJ have made their inquiries as well, and are reportedly looking into details.
Anyway, back to the military tribunal. The thing is, this is essentially the best way to investigate a case. No nonsense, no favoring this side or another — simply military members looking closely at the facts of the case. Not those involved with the case, not those whom it could possibly help or hurt, just the plain ol' facts.
I can't trust the FBI to do that because, well, it's been less than neutral in the past. Based on what several whistleblowers have said, it leans more toward favoritism than ever. And don't even get me started on the ignorance it showed with its all-out storming of former President Donald Trump's Mar-a-Lago resort last year, which led to the removal of — you guessed it — classified documents.
Advertisement - story continues below
And, honestly, I don't see the DOJ doing much either. Even if something was found, the department probably would see it as "nothing much" — the same way it dismissed Hunter Biden's laptop a while ago.
Then we have the Republican committee, and while I'm hopeful it can find the answers to burning questions, I do have questions about Attorney General Merrick Garland, as well as the assigned leader of the DOJ probe, former DOJ official Robert Hur. While they can no doubt do their jobs, I wonder, again, what would happen if they found information against Biden.
Should a military tribunal investigate this case?
The bottom line here is that something else must be done to take a closer look into the matter. All the probes and investigations in the world can be launched, but unless unbiased searching takes place, I have a feeling the results won't be enough.
That's why I believe a military tribunal has to take place. Again, they seek justice, period. They don't take sides. They simply get the job done on their terms, and that means finding answers — even some that a few people out there won't like to hear. It's really just a matter of seeing who would be behind the idea of launching one.
Because, otherwise, we're just going to keep seeing the evidence stack up like those documents and little get done in terms of finding out where they came from.
Advertisement - story continues below
Trump didn't have it easy, so why should Biden?
The views expressed in this opinion article are those of their author and are not necessarily either shared or endorsed by the owners of this website. If you are interested in contributing an Op-Ed to The Western Journal, you can learn about our submission guidelines and process here.
Conversation