Sports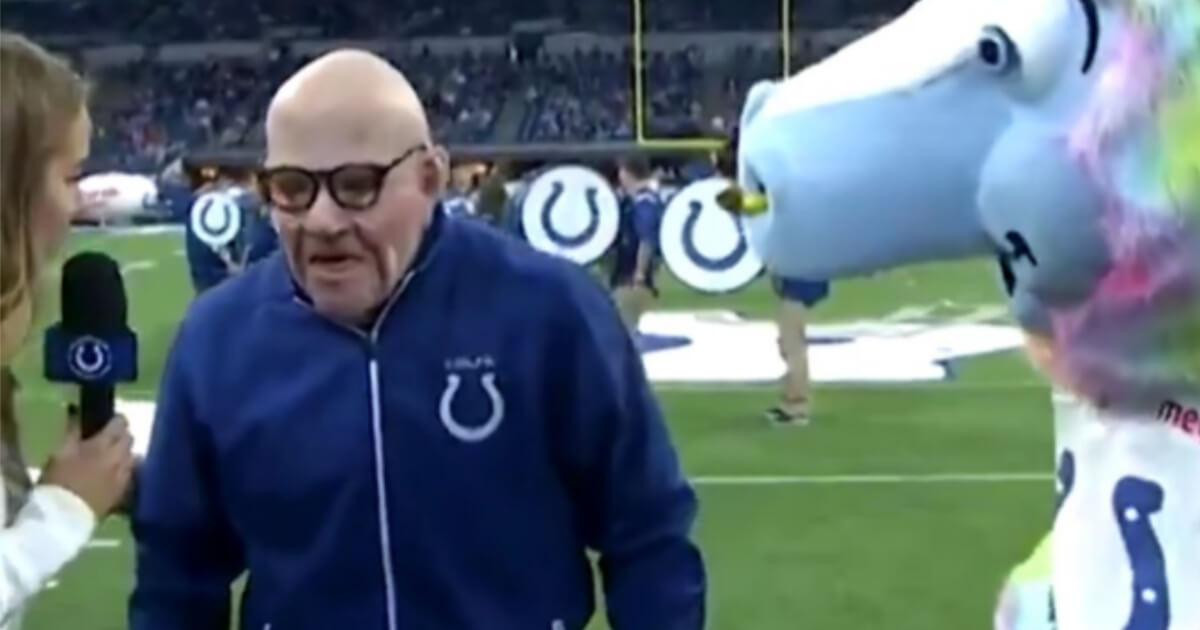 Pat McAfee Wears Old-Man Disguise, Wins $70K for Charity Before Colts Game
Basketball has Uncle Drew, football has Grandpa Pat.
Former Colts punter Pat McAfee pulled a hilarious stunt before the Colts game against the Bills on Sunday where he dressed up like an elderly man and entered a field goal-kicking contest.
It was all for charity — to raise $70,000 for the Simon Cancer Center at Indiana University. McAfee wore an old-man mask and was entered into a contest to kick field goals from 20, 30, and 40 yards in 60 seconds.
Advertisement - story continues below
Blue, the Colts mascot, just happened to pick the old man's number and it was game on.
Very grateful to be a part of this today… Big thanks to the @Colts for the invite.. Had a BLAST being old as balls and raising $70,000 for cancer research… Very cool day #ForTheBrand pic.twitter.com/pA9AeTvckX

— Pat McAfee (@PatMcAfeeShow) October 21, 2018
The elderly gentleman, aka McAfee, dribbled his first kick about 10 yards on the ground. But on his second attempt he drilled it through the uprights. He hobbled back to the 30-yard line and, after pushing the first two kicks left, nailed the third one.
Advertisement - story continues below
Is McAfee's disguise as convincing as Kyrie Irving's Uncle Drew?
After missing his first attempt from 40, he drilled his next kick through the uprights to win the $70,000. Afterward, McAfee, still in character, was doubled over with his hands on his knees when Colts.com reporter Caroline Cann came over to interview him.
"Sir, who are you? We didn't get your name," Cann asked.
I apologize for missing all of the incredible #ForTheBrand action around the league.. I'm at @LucasOilStadium, hoping to witness @adamvinatieri make history..ALSO.Kicked some field goals and raised $70G for the IU Cancer Center pre game.. Great day being back in the @Colts world. pic.twitter.com/4SXgGjCimW

— Pat McAfee (@PatMcAfeeShow) October 21, 2018
"My name is Jackson. I've been a fan of the Colts since the Mayflower came from Baltimore," he said through the mask.
Advertisement - story continues below
"Sir you sound a little familiar," Cann responded.
"This is the greatest city on Earth and ladies and gentleman it was my honor to raise $70,000 for cancer research. Sorry I missed a couple, I'm an old man," he said.
HUGE congrats to the Boilermakers for pounding OSU.. Purdue dedicated the win 2 @thetylertrent.. Heroic cuzzie who is currently kicking cancer's ass for the 4th time..I got to hang out with him last fall. Such an incredibly positive spirit. Keep going brother. #TylerStrong pic.twitter.com/AE1DF8VB53

— Pat McAfee (@PatMcAfeeShow) October 21, 2018
Advertisement - story continues below
Then he peeled off his mask to reveal his true identity.
"Let's go! Let's beat the hell out of the Bills," yelled McAfee, 31, who retired after the 2016 season after eight years with the Colts.
Since he's retired he's hosted a radio show on Barstool Radio on Sirius and works with the WWE as a host for various events.
The Colts followed McAfee's advice and destroyed the Bills 37-5 behind four touchdown passes from Andrew Luck.
Conversation