Commentary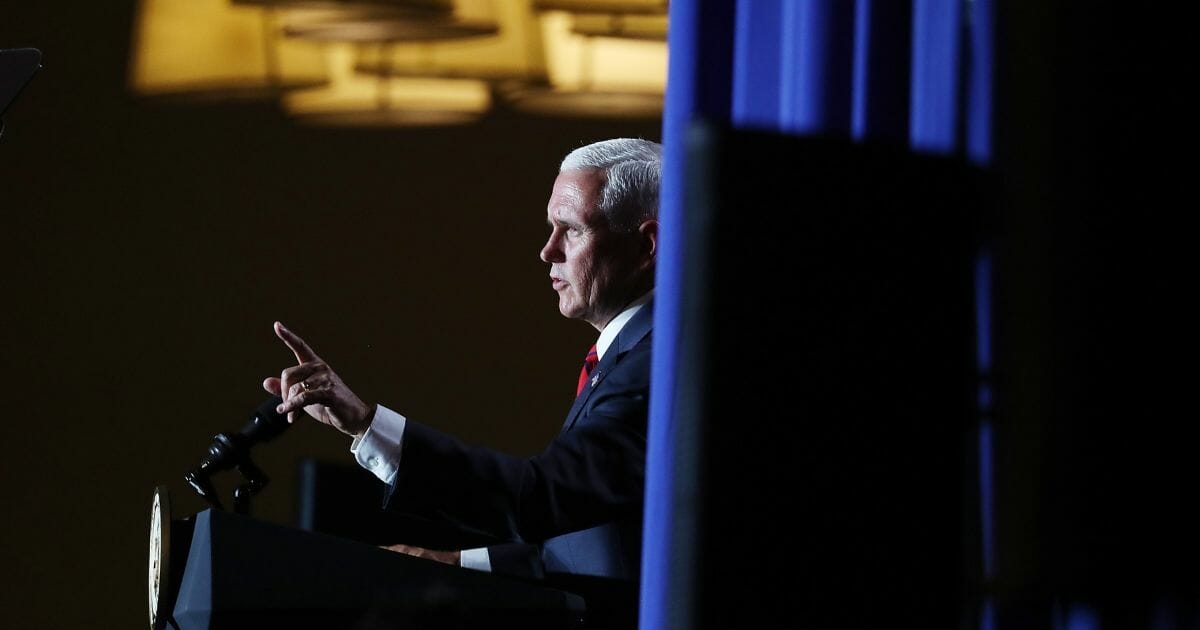 Pence Slams AOC, Concentration Camp Claims in Remarks to Pro-Israel Group
In June, New York Rep. Alexandria Ocasio-Cortez posted a rant on her Instagram profile in which she made an absurd comparison between migrant holding facilities on the U.S. border and "concentration camps."
Although she didn't reference the Holocaust by name, her wording — including her use of the phrase "never again" — is a common and well-known reference to Nazi-era concentration camps where millions of Jewish people were tortured, beaten and killed.
Many condemned her ridiculous accusation in the aftermath of her video and on Monday, Vice President Mike Pence joined them by slamming her comparison in a speech to a pro-Israel group in Washington, D.C.
Advertisement - story continues below
According to The Hill, during remarks at the Christians United for Israel's annual summit, Pence reminded everyone that using the tragedy of the Holocaust to push a political narrative is reprehensible and far over the line.
"We must never allow the memory of those lost in the Holocaust to be cheapened as a cliché to advance some left-wing political narrative," Pence said.
"Sadly, in recent weeks, that's exactly what some Democrats have done in the national debate."
Though he didn't call out Ocasio-Cortez by name during his remarks, he made it clear that he was referencing her disrespectful and demeaning comparison.
Advertisement - story continues below
"Last month, a leading Democrat in Congress actually compared our U.S. Customs and Border Protection detection facilities to concentration camps," Pence said.
Pence also brought up a key point that many Democrats have ignored, which is the fact that tens of thousands of migrants flock to the border, knowing full well they'll be detained.
Are you glad that Pence condemned Ocasio-Cortez's "concentration camp" remarks?
While the facilities may not be ideal, given the tremendous overflow of migrants, they're provided shelter, food and security.
That's quite the contrast to "concentration camps," where people were held against their will, starved, beaten and many times murdered for fun.
"To compare the humane work of dedicated men and women of Customs and Border Protection with the horrors of the Holocaust is an outrage," Pence said. "The Nazis took lives, American law enforcement save lives every day."
Advertisement - story continues below
The Hill mentions that several other Democrats defended Ocasio-Cortez's remarks, including Rep. Ilhan Omar, and joined her in going against the party by voting no on a $4.5 billion aid package to help facilities on the border get what they need to properly take care of the influx of migrants.
In a recent trip to one of the holding facilities, Ocasio-Cortez reportedly made a dramatic scene by "screaming" at some of the agents who worked at the facility. She also refused a tour of the facility and accused agents of making migrant women drink out of toilets.
Let's be clear — even though her accusations have been disputed by many, including a Hispanic pastor, Ocasio-Cortez is exploiting the situation to hype her anti-Trump base.
Again, nobody is saying that the facilities are perfect, but ironically one could even place the blame for that on Democrats like Ocasio-Cortez, who would rather use the issue as political ammo instead of putting politics aside to actually fix the underlying immigration problems America faces.
Advertisement - story continues below
Those underlying problems are what lead to the influx in migrants who are overwhelming our resources at the border in the first place.
Though I'm certainly glad Pence is taking a stand against her remarks on a public platform, I have to admit that it's a little embarrassing for our country as a whole that our vice president has to take the time to condemn a sitting U.S. lawmaker's outlandish remarks.
Conversation