Commentary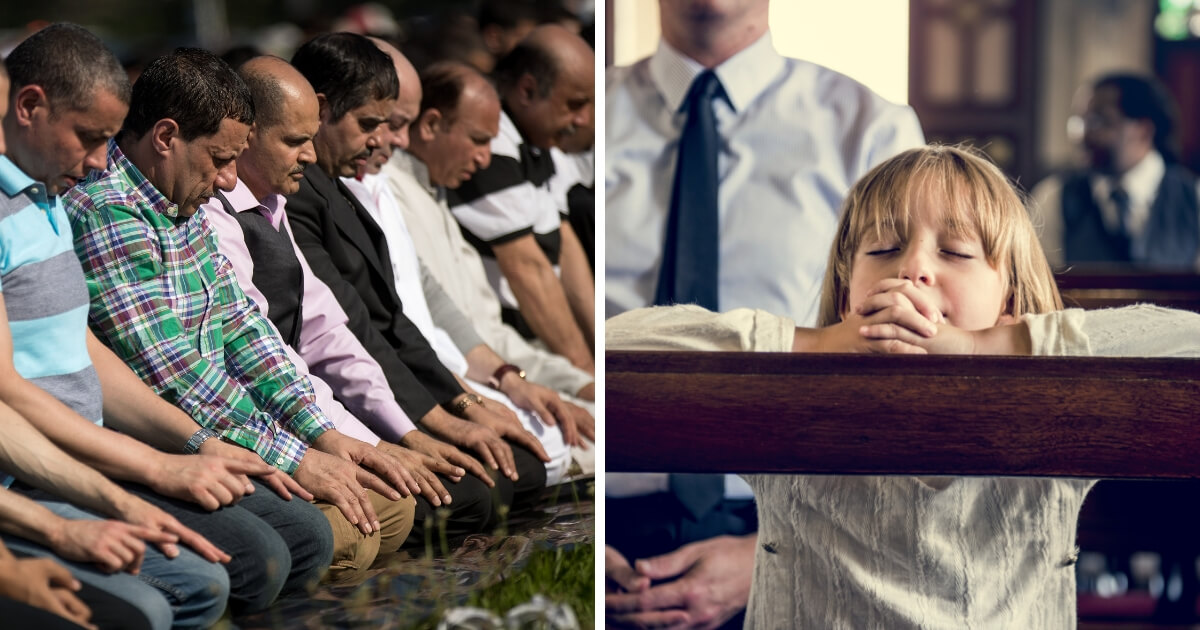 Poll: Democrats Really Do Support Muslim Freedom of Religion More Than Christian Freedom of Religion
The modern-day Democratic Party, composed as it is of far-left progressives and slightly more moderate liberals, has embraced a sort of religious-like devotion to secularism — they loudly "booed" God at a major political convention — at best paying only lip service to the Judeo-Christian cultural norms and traditions upon which this nation was founded.
While it is one thing for secular Democrats to hold a sort of passive sentiment against Christianity, some on the left aren't exactly passive in displaying their anti-Christian sentiments. Some have even gone so far as to hypocritically set aside their own secular feelings against all organized religions to embrace the one major religion that they know stands in firm opposition to Christianity: Islam.
Indeed, while these folks on the left will staunchly oppose arguments of religious freedom put forward by Christians, they will support the exact same sorts of arguments if they are put forward by Muslims.
Advertisement - story continues below
This strange dichotomy was revealed in a recent national poll conducted by Grinnell College in Iowa, which surveyed 1,000 U.S. adults between Nov. 24-27 and asked a series of questions related to politics and current events. For purposes of the demographics of the poll, respondents were classified ideologically as Republicans, Democrats or independents, though independents that leaned right or left were included with the tallies for Republicans and Democrats, respectively.
One question in the poll — posed two separate ways in every other interview — was related to freedom of religious expression, and asked, "Suppose a group of devout (Muslims/Christians) asked their employer to provide a private place for them to pray together. Even if it is a hardship (for the business), do you think the employer should or should not accommodate the request?"
Overall, a total of 47 percent of Americans said the Muslim employees seeking a prayer room should be accommodated, while 41 percent said they should not. Meanwhile, a total of 41 percent said the Christian employees should be accommodated in their request, while 49 percent disagreed and said they should not be accommodated.
Those numbers right there, before any ideological breakdown is factored in, shows that the left has already succeeded in indoctrinating a sort of passive opposition to the desires of Christians while favoring the desires of Muslims. But it gets worse once the ideological breakdown is displayed.
Advertisement - story continues below
On the question of whether an employer should be required to accommodate Muslim employees requesting a special prayer room, 30 percent of Republicans said they should be accommodated while 60 percent said they should not. On the other hand, 68 percent of Democrats said the Muslim employees must be accommodated, while a mere 21 percent thought not. True independents were closely split in favor of Muslims, 49-43 percent.
Among respondents who voted in the 2016 election, those who supported Donald Trump were split 61-30 against accommodating Muslim employees, while Hillary Clinton voters were split 66-23 in favor of accommodating Muslim employees seeking a special prayer room at the expense of their employer.
Would your answer to this question change depending on whether it was about Christians or Muslims?
Flipping that question to pertain to Christian employees seeking a prayer room instead of Muslims, the anti-Christian bias on the left really showed through. While Republicans remained fairly consistent in favor of the business owner — 40 percent said Christians should be specially accommodated, while 50 percent said they shouldn't be — only 45 percent of Democrats (who you'll recall supported Muslims in a similar situation by 68 percent) thought the Christians should be accommodated, while 49 percent disagreed.
Among Trump and Clinton voters, the outcome appeared similar. Trump voters were against forcing business owners to accommodate Christians by a margin of 56-33, while Clinton voters were against accommodating Christians by a margin of 49-46 percent.
Again, Republicans in general tend to align in favor of the rights of business owners over employees, and typically balk at forcing business owners to make accommodations for any employees that could prove detrimental to the business, even for things like religious expression that Republicans also tend to be generally in favor of.
Advertisement - story continues below
Democrats, on the other hand, rarely balk at forcing business owners to bow to mandates and regulations, which ironically means more Democrats would force a business owner to make special accommodations for Christian employees than Republicans would.
But the truly incredible aspect of this poll is the vast difference between how many Democrats and Clinton voters would side with Muslims over Christians, even as those two disparate groups of devout religious employees were asking for virtually the same thing, a space set aside for their religious expression.
More than two-thirds of Democrats would force an employer to accommodate Muslim employees, while less than half of those same Democrats would do the same on behalf of Christian employees.
This is truly stunning, and goes to show the success the left has enjoyed in its subversive anti-Christian indoctrination efforts.
Conversation