Commentary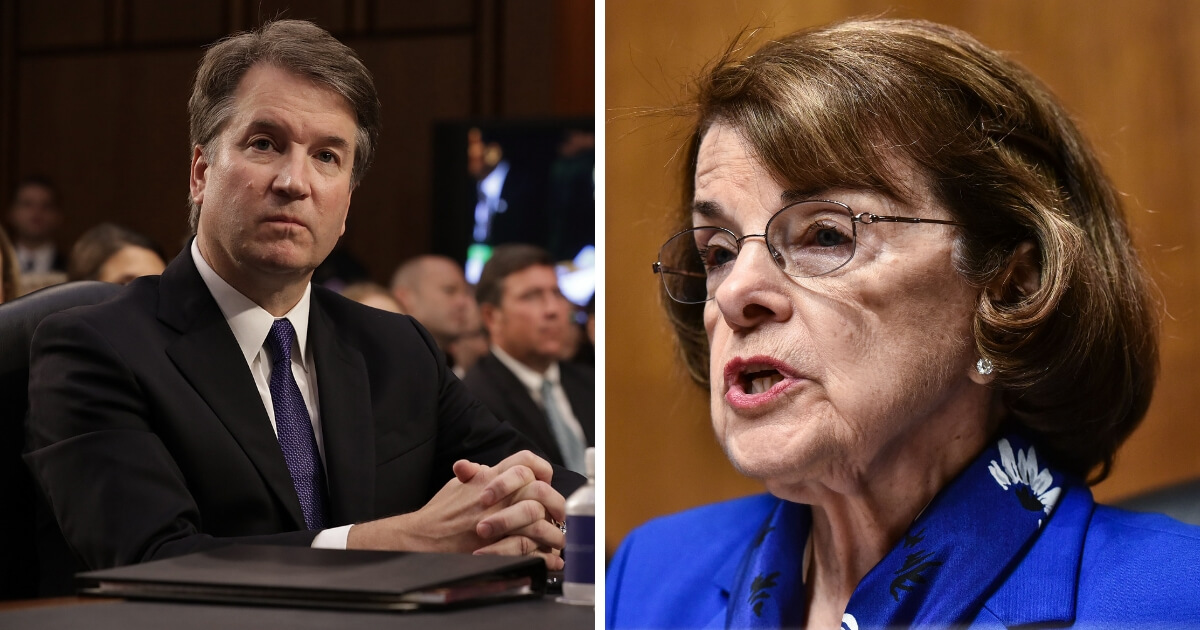 PR Firm Behind Kavanaugh Accusations? Exact Same Phrase Suddenly Everywhere
So Brett Kavanaugh's accuser has finally come forward: In a Washington Post piece, 51-year-old research psychologist Christine Blasey Ford says that she was sexually assaulted by the Supreme Court nominee in high school back sometime during the early 1980s.
Ford has accused a "stumbling drunk" Kavanaugh and friends of locking her in a room at a get-together in Maryland.
"While his friend watched, she said, Kavanaugh pinned her to a bed on her back and groped her over her clothes, grinding his body against hers and clumsily attempting to pull off her one-piece bathing suit and the clothing she wore over it. When she tried to scream, she said, he put his hand over her mouth," the piece read.
Advertisement - story continues below
"Ford said she was able to escape when Kavanaugh's friend and classmate at Georgetown Preparatory School, Mark Judge, jumped on top of them, sending all three tumbling. She said she ran from the room, briefly locked herself in a bathroom and then fled the house."
This led to a predictable backlash on social media. It also led to a predictable phrase that appeared in a lot of tweets by prominent liberals. See if you can notice — and figure out why NeverTrumper conservative pundit Erick Erickson thinks this was the work of a PR firm.
https://twitter.com/Susan_Hennessey/status/1041386165809627136
Credibly accused sexual assailant Donald Trump putting credibly accused sexual assailant Brett Kavanaugh on the Supreme Court tells you everything you need to know about the Republican Party

— Dan Pfeiffer (@danpfeiffer) September 16, 2018
Advertisement - story continues below
https://twitter.com/imillhiser/status/1041403456785973253
Imagine the reaction to future Supreme Court rulings on women's rights if 2 of 5 justices in the majority and the President have been credibly accused of sexual misconduct.

— Brendan Nyhan (@BrendanNyhan) September 16, 2018
If Kavanaugh is confirmed, that means every 5-4 opinion authored by the Court's conservative majority will include two men credibly accused of sexual harassment and attempted rape. If that doesn't call into question the legitimacy of the institution and the rule of law…

— corey robin (@CoreyRobin) September 16, 2018
That's a rundown that includes the executive editor of Lawfare, the justice editor at ThinkProgress and one of the hosts of Pod Save America — all of which qualify them as certified, blue-checked members in solid standing of the liberal Twitterati.
Now, did you notice the phrase there?
Seems like everyone read the same email on Kavanaugh pic.twitter.com/85nuCmdJmY

— Patrick Poole (@pspoole) September 17, 2018
Advertisement - story continues below
Yes, everyone seems to want America to know that Kavanaugh has been "credibly accused."
Erick Erickson — certainly no fan of the president — thinks there's a PR firm behind Ford's accusation.
https://twitter.com/EWErickson/status/1041389105601499137
https://twitter.com/EWErickson/status/1041408053848035330
Advertisement - story continues below
.@EWErickson was not wrong when he said that he believes that a PR firm is working this story. https://t.co/hHZMCb1evV

— Reagan Battalion (@ReaganBattalion) September 17, 2018
Now, this may not be a public relations firm — that sounds far too traceable, but it's plausible — but this does reek of coordination. That's not just in terms of the phraseology of these tweets, but the timing of it all.
Do you think Brett Kavanaugh should be confirmed to the Supreme Court?
This got leaked at the end of the Kavanaugh hearings, after which it became clear the Democrats had no chance of derailing it. Feinstein played coy about the letter she had received, but details continued to spill out. Finally, the entire story came forth in a piece for the Sunday edition of The Washington Post — certainly the most marquee-grabbing way it could possibly come out.
Advertisement - story continues below
It's not unfair to the alleged victim to talk about how perfect this all seems for the Democrats. It puts the GOP in a quandary — although Erickson says it shouldn't be.
https://twitter.com/EWErickson/status/1041518259907035136
Will they, though? We'll see during the next few days.
Conversation