Commentary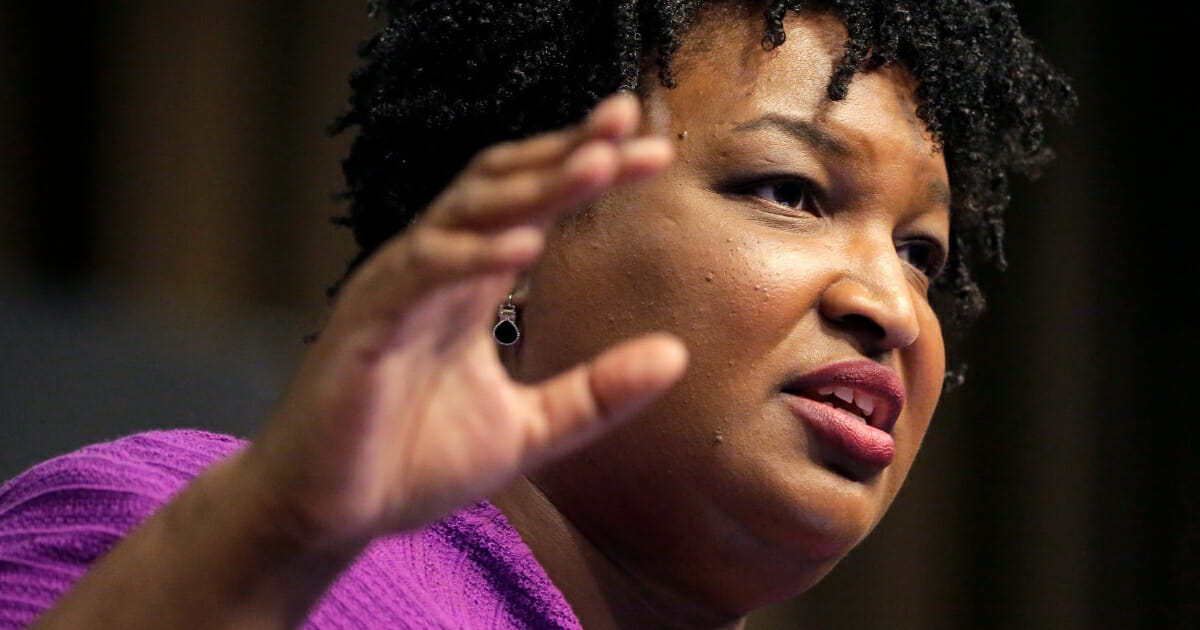 Prof. at Liberal Univ. Says 'No Good Evidence' Stacey Abrams Won GA Gov. Election
Last autumn, when it became evident that Stacey Abrams wasn't going to win the Georgia gubernatorial election, she made it clear she hadn't lost, either.
"Let's be clear: This is not a speech of concession," Abrams said at the time. "Because concession means to acknowledge an action is right, true or proper. As a woman of conscience and faith, I cannot concede that."
She couldn't concede this in her concession speech because Brian Kemp, the winner, engaged in voter suppression as attorney general by enforcing existing voter laws, the most crucial of which was shepherded into being by Democrats. A regular Orval Faubus, this Kemp fellow.
Advertisement - story continues below
Whatever the case, Abrams has created a new article of faith among the acolytes of the left: She didn't really lose the Georgia gubernatorial election, it was stolen from her! (You don't actually have to be Joseph Campbell to sense a pattern in the archetypal hero of modern liberal mythology.)
However, even a professor at a liberal university doesn't think that's true — and PolitiFact isn't exactly standing behind the claim, either.
So a bit of background: Last Sunday, Kamala Harris — 2020 Democrat presidential candidate/hipster who was into Tupac and Snoop Dogg way before they were cool — made it clear she believed that Abrams was the rightful governor of Georgia during a speech to the NAACP.
"Let's say this loud and clear — without voter suppression, Stacey Abrams would be the governor of Georgia, Andrew Gillum is the governor of Florida," Harris said, according to PolitiFact.
Advertisement - story continues below
"It isn't possible to prove if any election law or policy in either state cost the Democrats their elections, so we aren't rating the statement by Harris on the Truth-O-Meter. However, our review found there's more to the story of why these Democrats lost both races," PolitiFact's Amy Sherman wrote.
"Harris has a weaker case for blaming voter suppression in Gillum's loss. Among other issues, Gillum faced ties to an FBI investigation during his campaign."
Do you think Stacey Abrams lost the Georgia gubernatorial election fair and square?
Dismissing Gillum, however, we move onto the alleged voter suppression in Georgia. We've explained this in depth before and I can't believe we're recapitulating this, so let me allow PolitiFact to do it.
"Georgia removed about 1.4 million voters from the rolls between 2012 and 2018. Many died, moved away or lost their right to vote because they committed felonies — all routine reasons for removing voters in any state," Sherman wrote. "But many other residents were removed because they skipped previous elections and had no contact with the election officials."
"Although that removal policy started in the 1990s under Democratic leadership, the numbers spiked in 2017 when the state purged about 500,000 voters in one night. By the end of 2017, about 670,000 people, or about 10 percent of voters, were removed from the rolls. Voting rights advocates raised alarm about the massive purge while Kemp defended the responsibility of election officials to maintain voter rolls.
Advertisement - story continues below
"The state also flagged 53,000 registrations as part of a 2017 law that requires exact matches for a person based on state and Social Security records. The Associated Press found that the majority of those flagged voters were African-American. Mismatches occurred over differences as small as a missing hyphen."
So this is the massive voter suppression that denied Stacey Abrams the governorship. Except not really: Most proponents of the theory cite a study by the Center for American Progress, a liberal organization.
However, as FiveThirtyEight reported, if Kemp was trying to suppress voter turnout, he failed wildly.
"In Georgia, where a competitive gubernatorial race took place between Democrat Stacey Abrams and Republican Brian Kemp, an estimated 55 percent of eligible voters exercised their right to vote, which is about 21 points higher than the state's 1982-2014 average. That was the biggest change from the average of any state," they noted.
Advertisement - story continues below
Also, while there may have been purges from the voter rolls, Georgia was also one of the states with automatic voter registration, which meant that you were automatically registered to vote if you were a legal resident and got a driver's license. This has long been a Democrat wishlist item in every state, and it meant Georgia's voter rolls grew dramatically.
That's why University of California, Irvine election law expert Richard Hasen thinks Democrats shouldn't keep on regurgitating the idea that the election was "stolen."
"I have seen no good evidence that the suppressive effects of strict voting and registration laws affected the outcome of the governor's races in Georgia and Florida," he said.
"It would be one thing to claim, as some have, that these laws are aimed to suppress the vote and likely suppressed some votes. It is quite another to claim that there is good proof they affected the outcome."
Advertisement - story continues below
University of California, Irvine isn't exactly Hillsdale College and I doubt Hasen is a Republican. However, facts are facts. Even PolitiFact can occasionally grok that.
I somehow doubt Hasen's advice will make its way to Harris or to any other Democrat. Sure, Abrams lost by more than a percentage point. Sure, the voter rolls increased. Sure, there's no evidence that enforcing the law actually made a difference.
But when political beliefs become a matter of religion, facts don't particularly matter, do they?
Conversation