Sports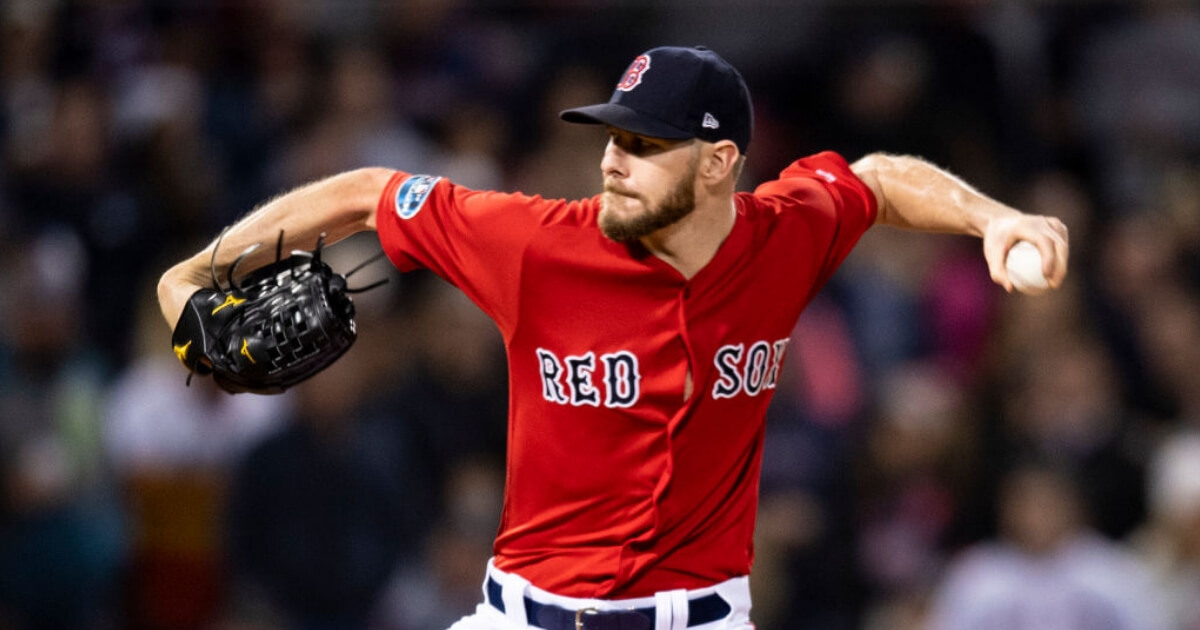 Red Sox Ace Hospitalized, Kept Overnight Due to Illness
If Red Sox ace Chris Sale looked a little off in Game 1 of the American League Championship Series Saturday night in Boston, it may have been for good reason.
The hard throwing lefty might have been battling something other than the Houston Astros lineup in Saturday's 7-2 loss. Sunday afternoon he was admitted to Massachusetts General Hospital for a stomach illness, the team reported.
#RedSox LHP Chris Sale reported a stomach illness today and was admitted to MGH for observation this afternoon. He will be kept overnight for evaluation and any further updates will be released when available.

— Red Sox (@RedSox) October 15, 2018
Advertisement - story continues below
The team reported that Sale was kept overnight for evaluation.
That means he watched the Sox pull out Game 2 Sunday night from his bed at Mass General. The Sox evened the series at 1-1 with a 7-5 win over Houston.
Matt Barnes picked up the win in relief of starter David Price. Barnes came on in the fifth inning with the Sox leading 5-4. Craig Kimbrel got another shaky save, giving up a run in the ninth but holding on to close out the 7-5 win.
Alex Cora said Chris Sale's trip to the hospital for a stomach ailment was "nothing serious" from what he understood, and he hopes he joins the team in Houston after staying overnight.

— Rustin Dodd (@rustindodd) October 15, 2018
Advertisement - story continues below
Red Sox manager Alex Cora said Sale's condition was not serious.
Will the Red Sox knock off the defending champions in this series?
"From what I know it's nothing serious, but obviously whenever you have to go to the hospital you have to be quote-unquote worried," Cora said, reported the Boston Herald. "But he should be fine. Hopefully we get news in the upcoming hours and he'll join us in Houston."
Cora said sale didn't fall ill until after the game, but it's hard to imagine whatever he was battling didn't effect him somewhat Saturday night.
.@AlexSepier: #RedSox pitching coach Dana LeVangie did acknowledge that pitcher Chris Sale had an uncharacteristic lack of command and struggled to put away Astros hitters in Game 1. https://t.co/CY2KoaLilH pic.twitter.com/c94GqNe41P

— The Boston Globe (@BostonGlobe) October 15, 2018
There have been no further updates on Sale's condition so there's no information as to how, or if, this will impact his spot in the rotation going forward.
Advertisement - story continues below
If no other complications arise, Sale would likely be in line to start either Game 5 in Houston or Game 6 back in Boston.
Red Sox right fielder Mookie Betts paced the Boston offense Sunday with two hits — both doubles — and two runs scored.
"He ignited them from the very beginning of the game," Astros manager A.J. Hinch said, reported the Herald. "The energy of this place when he comes up to bat is really electrifying. You try to minimize as much as you can in front of them, we didn't do a great job of that today. But from the first bat on, he set the tone from the very beginning. That's why he's very much an MVP, at least candidate."
Game 3 is Tuesday in Houston at 5:09 p.m. Eastern. Nathan Eovaldi will take the mound for Boston with Dallas Keuchel on the hill for Houston.
Conversation