Sports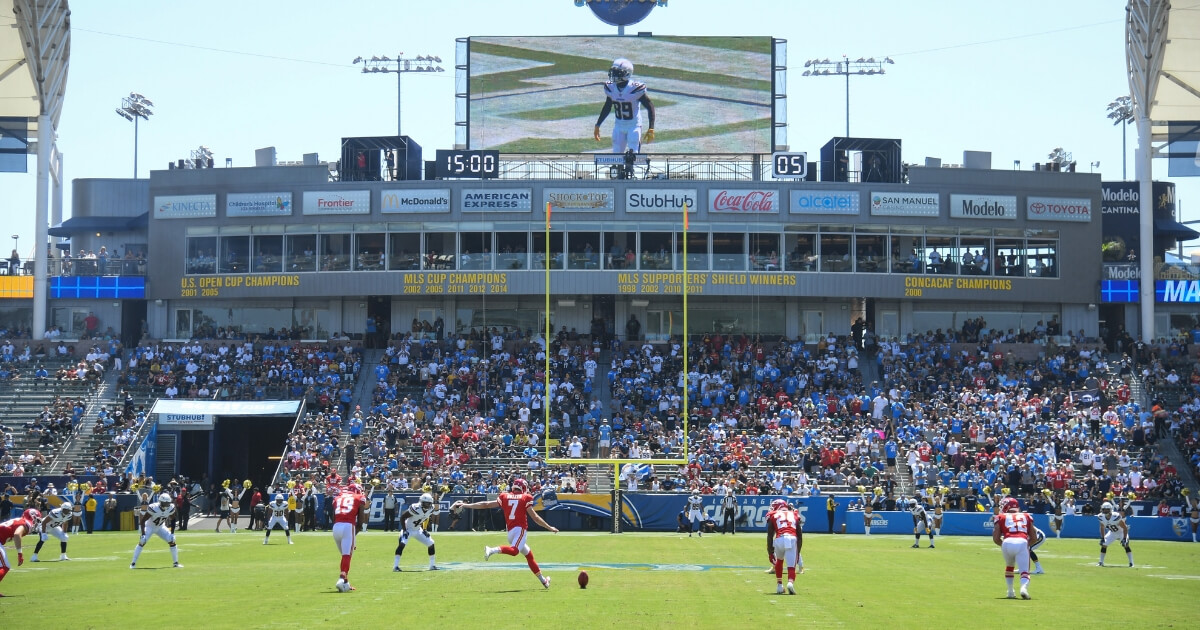 Report: NFL Owners Discuss What To Do About Floundering LA Experiment
Things are going pretty darn good on the field for the NFL's two LA teams as the Rams are 6-0 and the Chargers are holding strong at 4-2.
However, things aren't going as well when it comes to the bottom line, and that's revenue generated. The Rams appear to be doing OK as they play games in the LA Coliseum, but the Chargers reportedly are struggling to hit financial goals as they play in the tiny StubHub Center.
Both teams are set to relocate to the new LA Stadium in Inglewood for the 2020 season, but the Chargers are expected to slash their revenue goals from $400 million to $150 million, according to ESPN's Seth Wickersham.
Advertisement - story continues below
A major discussion topic among NFL owners/executives at this week's league meetings is the Chargers' viability in LA. PSL sales have been a struggle and team is expected to revise its Inglewood revenue goals sharply to a more realistic number: $400m to around $150m, per sources

— Seth Wickersham (@SethWickersham) October 17, 2018
Wickersham followed up by saying that there haven't been any formal presentations on the issue, but owners have been talking "on the side" about it during their meetings this week in New York.
The StubHub Center seats roughly 27,000 people, and the Chargers have announced a total attendance of 76,110 for their three home games this season.
That total is fewer fans than what five NFL teams average in home attendance per game.
Advertisement - story continues below
Since the Rams are considered LA's football team, having spent over 50 years in the city sandwiched around their decade in St. Louis, they will be the first tenant in the new LA Stadium, with the Chargers paying them $1 per year in rent.
But due to the lack of fan support for the Chargers thus far, the team's revenue goals for the new stadium are expected to be 38 percent of what was planned when they first announced the move, according to Wickersham.
Should the NFL admit its mistake and have the Chargers move back to San Diego?
Commissioner Roger Goodell was asked about what the league could do to help the Chargers, and he indicated it's on the team to earn its way back with fans.
"Lots of football, lots of building still to do," Goodell said, according to ESPN. "And frankly, we were out of the market for a long time, and we have to earn our way back with our fans. We have to build that relationship back with our fans and make sure that we do it right.
"Both [LA] teams are committed to that. It will be something that we have to work at over a period of time. They both have very exciting young teams, and I think that will be helpful also. But I think all of those things will come together over the next two years. That's the work that needs to be done."
Advertisement - story continues below
Goodell seems to be unwilling to admit that relocating the Chargers from San Diego to Los Angeles was a mistake with the Rams cornering the LA market.
It might be easier for the Chargers to win back the fans of San Diego were they to return than it would be to win over the fans of Los Angeles as a second-rate citizen.
Ironically, on the same day Wickersham's report came out, the Chargers announced prices for the new LA Stadium.
It's possible the announcement was planned well in advance, but the timing of it looks like the Chargers were trying to shift the focus away from headlines about their financial problems.
Conversation
Notice: Due to threatened de-monetization, we have temporarily removed commenting while we build a long-term commenting solution that allows you to voice your opinion freely and allows us to continue to publish the news fearlessly and cover topics that you care about. If you would like to personally partner with The Western Journal to help us continue publishing while under relentless assault by Big Tech, please visit our
subscription page
here. We encourage you to share this article and discuss with your friends.