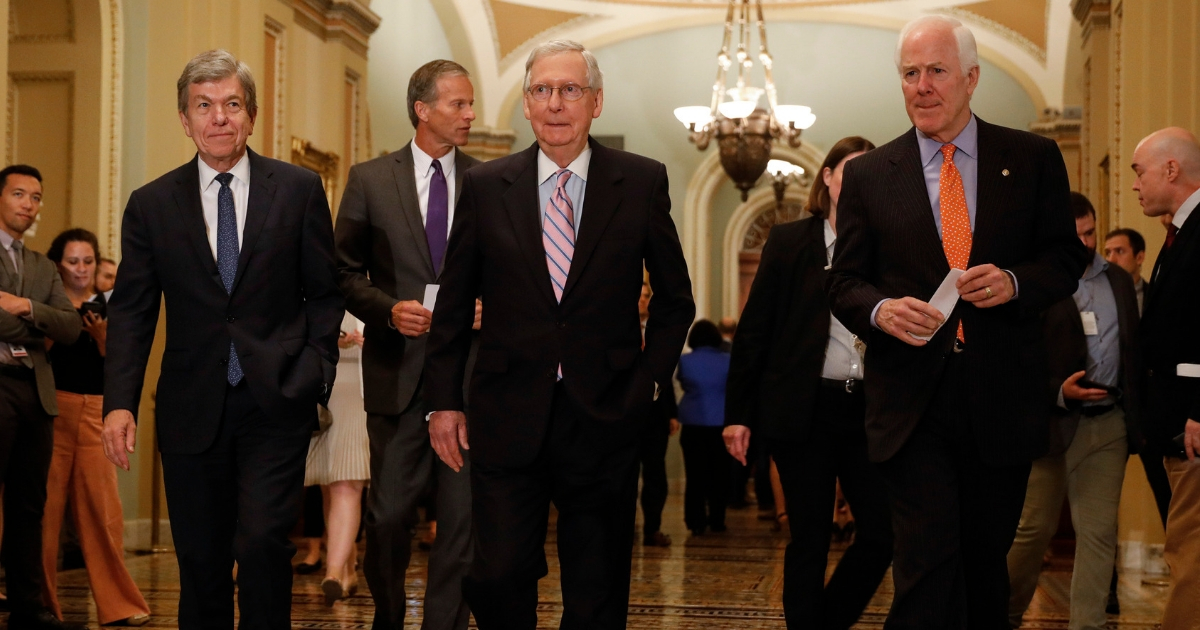 Gallup: Republican Party Favorability Soars, Hits 7 Year High Mark
The results of a newly released Gallup poll indicated that the Republican Party is at a seven-year high in favorability among American voters.
The poll indicates that 45 percent of Americans have a positive view of the GOP, which is a nine-point gain over last year's 36 percent.
January of 2011 was the last time favorability for Republicans was this high. At that time, 47 percent of voters thought well of Republicans, following when they regained control of the House of Representatives in the 2010 midterm elections.
Advertisement - story continues below
The same poll released today found that 44 percent of voters had a positive view of the Democratic Party. This is a change in position from their typical ranking, which Gallup reported is typically higher than that of Republicans.
"The parity in Republicans' and Democrats' favorable ratings marks a change from what has generally been the case since Barack Obama's election as president in November 2008.
"Republicans have usually been rated less positively than Democrats over this time, with the Republican Party's favorability rating for the last decade averaging 39%, compared with the Democratic Party's 44%.
"Only one other time in the last decade has the Republican Party had a significantly higher score than the Democratic Party.
Advertisement - story continues below
"That one exception came in November 2014, immediately after elections that saw Republicans capture control of the Senate and expand their majority in the House, when 42% rated the GOP favorably and 36% the Democrats."
However, with Congress facing a history of a lower turnout for midterm elections than those including a presidential vote, this increase in favorability doesn't necessarily translate to a midterm gain for Republicans.
Will you be heading out to vote in November?
While an increase in favorability is no doubt encouraging, conservatives risk a false sense of security, as Democrats' views of the GOP and of their own party have not changed significantly, according to the same Gallup poll.
In addition to those potential handicaps, the party whose candidate holds the presidency has historically not fared well in midterm elections.
The Economist's election prediction model estimates that Democrats have a two-in-three chance of winning the House of Representatives.
Advertisement - story continues below
Gallup also noted that Republicans could suffer losses due to backlash from their previous wins:
" … Democrats have been buoyed by numerous projections that they will make major gains in November, which could lead to a result similar to what Republicans experienced in 2010, when they scored a big election victory at a time when favorable views of both parties were about the same."
Republicans have suffered from favorability ratings that were below 40 percent for the past five years, which prior to that, had rarely happened in the prior 20 years, according to Gallup.
However, while Republican voters' view of Congress isn't as high as some might hope, their perceptions of President Donald Trump remain high.
Advertisement - story continues below
The same poll indicates that the president is positively perceived by 81 percent of Republicans.
Conversation