Commentary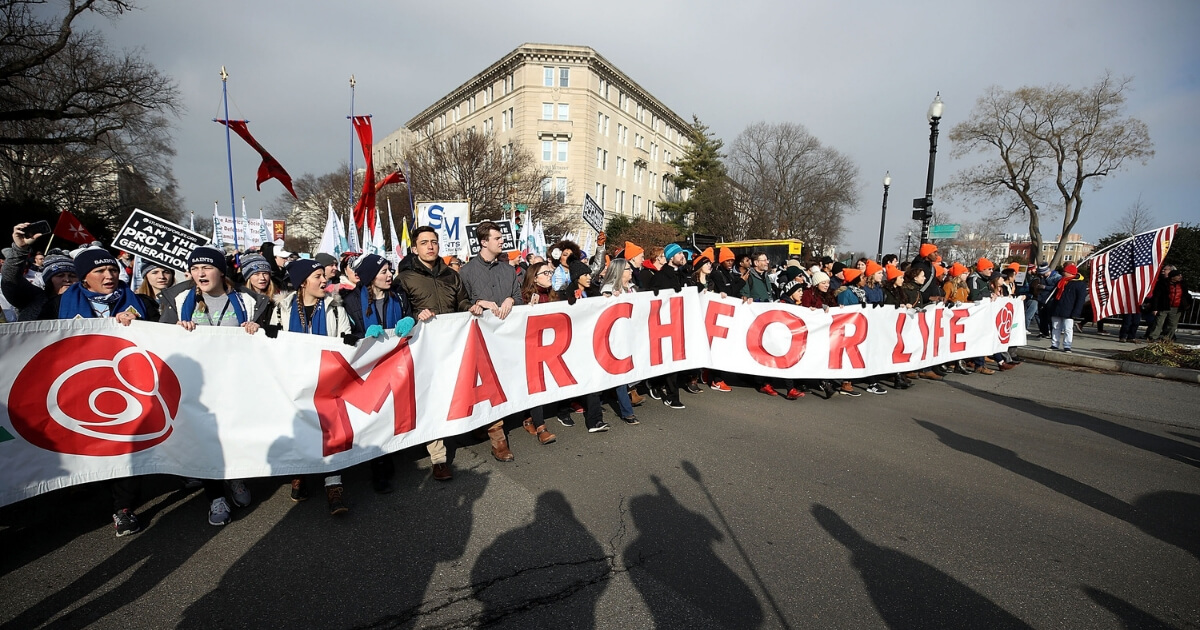 Republicans About To Show US Exactly Where Politicians Stand on Abortion with Roll Call Vote
There has been quite a bit of talk about abortion in recent weeks as Democratic-led states seek to codify the "right" of abortion at the state level.
The moves are designed to guard against the possibility of the U.S. Supreme Court eventually overturning the consequential Roe v. Wade decision at the federal level.
However, even as elected Democrats in a number of states are strongly pushing laws that would allow for abortions up until the moment prior to birth — in some cases, potentially even post-birth — they nevertheless play coy about the grim realities of the fatal procedures they support.
Advertisement - story continues below
Unfortunately for them, a Republican senator is angling for the opportunity to force all Democrats in Congress to be required to go on record one way or the other when it comes to where they stand on the issue of infants that survive an attempted abortion.
The Washington Free Beacon reported that Republican Nebraska Sen. Ben Sasse, a staunch pro-life advocate, has pushed for a roll call vote to be held Monday on the floor of the Senate to take stock of where everybody stands on a bill known as the Born-Alive Abortion Survivors Protection Act.
Sasse told the Free Beacon, "An extreme abortion business lobby is trying to hide behind a wall of euphemisms, but this is as clear-cut as it gets."
"The Senate is going to take a simple yes or no vote on whether newborn babies who survived abortions deserve medical care," he added.
Advertisement - story continues below
The impetus for Sasse's push came from recent remarks uttered by Democratic Virginia Gov. Ralph Northam in a radio interview, in which he spoke of how an infant that survived an abortion would be "kept comfortable" while physicians and the mother discussed whether to allow the baby to live or die.
Sasse said, "Every member of the Senate is going to have to answer. They can stand with babies or they can defend infanticide with Governor Northam — those are the choices. The Born-Alive Abortion Survivors Protection Act should be the easiest vote any Senator takes."
Are you glad some pro-life Republicans are pushing back against Democrats on post-birth abortion laws?
In a press release from the senator on Feb. 14, Sasse explained that his bill would require that newborn babies who survive a botched abortion procedure be admitted to a hospital and provided with adequate life-saving care, as if they had been born normally.
In that release announcing the scheduled roll call vote on Feb. 25, Sasse said of the topic of infanticide, "A lot of Senators spend a lot of time telling people how they fight for the little guy. Well, here's the chance for them to prove it."
"We're going to have a vote on the Born-Alive Abortion Survivors Protection Act and everyone is going to have to put their name by their vote," he continued. "It's cowardly for a politician to say they'll fight for the little guy but only if the little guy isn't an actual seven-pound baby who's fighting for life."
Advertisement - story continues below
"It shouldn't be hard to protect newborn babies — let's pass this legislation," he added.
It was noted in that release that Sasse had previously attempted to move the bill forward with a simple voice vote on the Senate floor, but that move had been blocked by Democrats. The same thing occurred when Republicans called for a voice vote in the House.
The Free Beacon reported that Tom McClusky, president of the pro-life March for Life Action organization, was in favor of Sasse's move to get everyone on record on the issue of late-term and post-birth abortions.
"The Born-Alive Abortion Survivors Protection Act seeks to provide basic protections for babies who are even more vulnerable because they were targeted by abortion yet survived," said McClusky. "As states like Virginia try to remove legal protection for these children, it is important to hold elected officials accountable for their abortion extremism."
Advertisement - story continues below
Assuming the roll call vote goes forward on Feb. 25, it will most likely be passed by the Republican-controlled Senate. Unfortunately, it remains to be seen how the bill will fare in the Democratic-controlled House of Representatives … that is, if Speaker Nancy Pelosi's Democrats even allow that bill to come up for a vote.
Conversation