Sports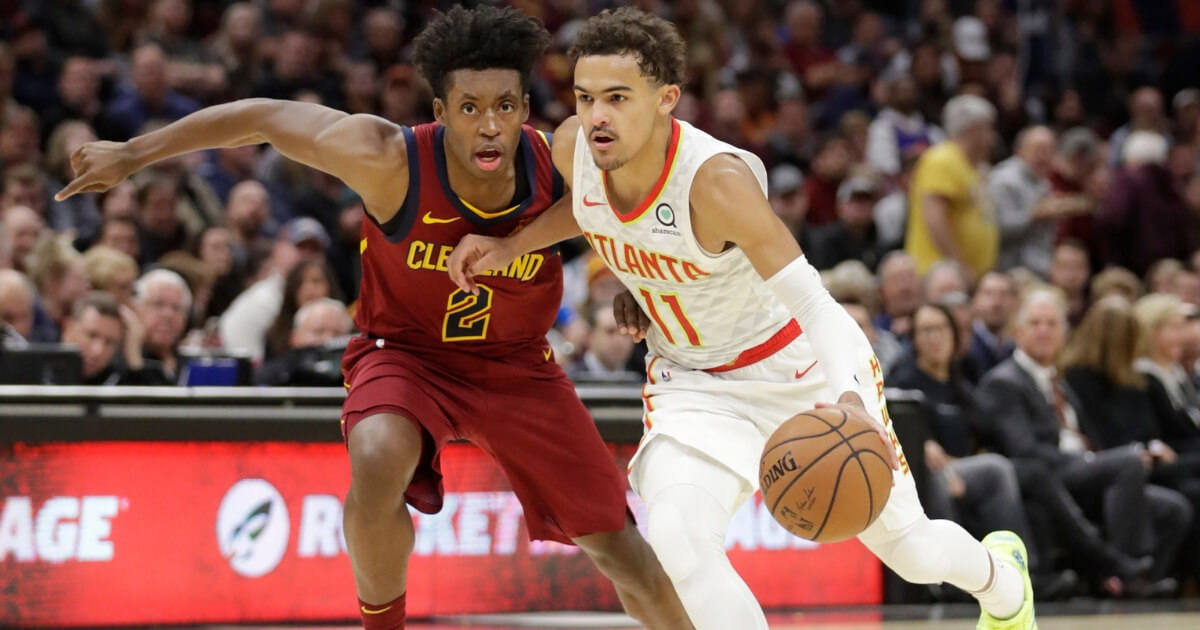 Rookie Trae Young Shatters Record, Dominates Cavaliers in Impressive Showing
Trae Young got doused with a bucket of ice water after his third NBA game.
But the Cleveland Cavaliers couldn't do anything to cool off Atlanta's rookie guard during the game.
Young scored 35 points with 11 assists — the best line for a first-year player since Steph Curry in 2010 — and Kent Bazemore scored 23 as the Hawks rolled to an easy 133-111 win on Sunday over Cleveland, which lost its home opener and fell to 0-3 as it re-adjusts to life without LeBron James.
Advertisement - story continues below
The No. 5 overall pick in this year's draft, Young shook off a slow start and showed why the Hawks believe he's a future superstar. Afterward, Young was targeted by teammates after they soaked coach Lloyd Pierce following his first win.
"It was super cold," Young said with a smile after his shocking bath. "I thought it would just be Coach Pierce because he had his first win. But it was all right. I'll take it."
Oh Trae hoopin' hoopin'

?: 21 points at the half pic.twitter.com/7QSfJSCRHw

— Atlanta Hawks (@ATLHawks) October 21, 2018
Advertisement - story continues below
Young was also unaware he matched Curry, who twice scored at least 35 with 10 assists in his first season with Golden State. And just three games into the season, Young has 79 more chances to do it again.
"Now that we know what he's capable of, we'll be expecting a little bit more," Bazemore joked.
Will Trae Young be the NBA's Rookie of the Year?
The Hawks made a team record 22 3-pointers, including 10 while scoring 41 in the fourth quarter, to blow open the game and send Cleveland fans home early with many shaking their heads on the way out.
Jordan Clarkson scored 19 and Kevin Love had 16 points and 17 rebounds for the Cavs, who could be in for a very long season without LeBron.
Cleveland's issues appear to be far deeper than no longer having the game's best player. The Cavs aren't playing professional level defense and have given up 116, 131 and 133 points in their first three games.
Advertisement - story continues below
"We didn't expect to be 0-3," said Love, who was asked if he was alarmed by the performance. "On opening night at home, we expect to play better in front of our own fans. I don't know if alarming is the right word, but it sure seems right, right now. Our effort level just wasn't there. It's just going to be a growth year for us. We've got to get better."
While wearing neon green sneakers, Young showed plenty of flash in his game.
He made 6 of 7 shots and scored 18 in the second quarter, helping the Hawks erase a 15-point lead and go up 64-60 at halftime.
"Trae is fearless," Bazemore said. "Even in the practices earlier in the summer, he came in and established himself right away. That's what you have to respect. A young guy that comes in, he's not bashful, he's not shy and who has that kind of caliber talent, he's going to have ups and downs. I'm proud of him as a teammate."
Advertisement - story continues below
It's a whole new ballgame in Cleveland without James, who carried the Cavs to four straight NBA Finals and a title in 2016 before leaving as a free agent — for the second time — in July for Los Angeles.
The Associated Press contributed to this report.
Conversation