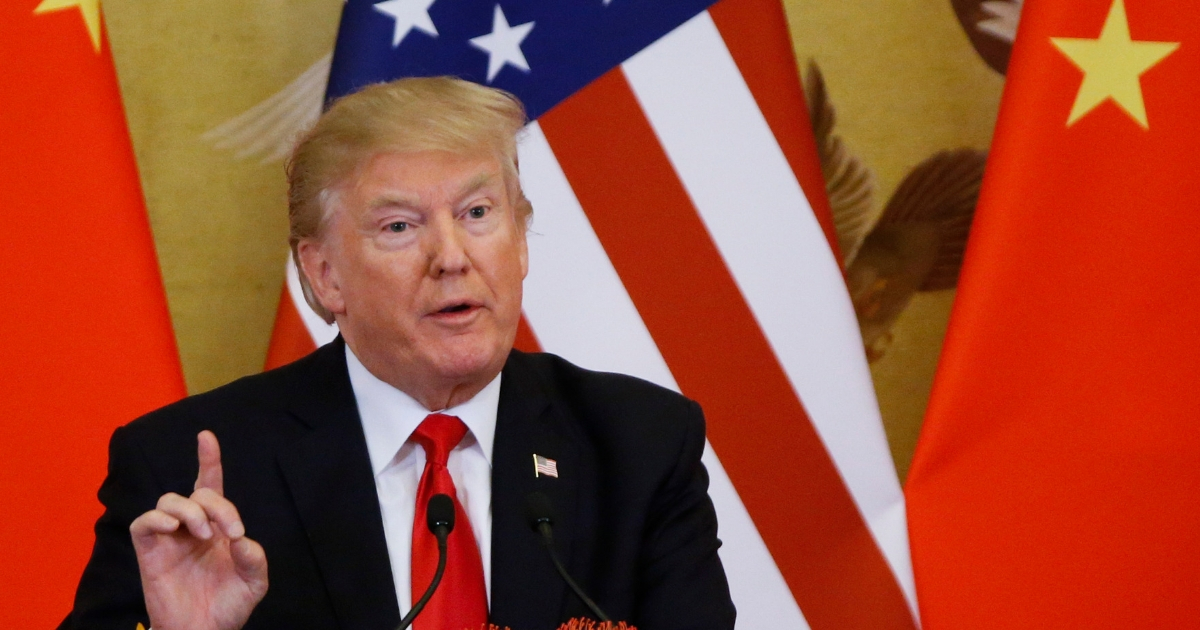 'Satisfactory Deal' with China Could Lead to Lifting of Tariffs, Kudlow Says
President Donald Trump might remove tariffs placed on imported Chinese goods, the chairman of the president's National Economic Council says.
The announcement by economic adviser Larry Kudlow came ahead of the meeting between Trump and Chinese President Xi Jinping at the Group of 20 summit in Buenos Aires on Nov. 30 and Dec. 1.
"If we get a good, satisfactory deal, (Trump) won't impose new tariffs. He might even remove some tariffs," Kudlow told reporters outside the White House on Thursday. "But that requires a very satisfactory deal. Those are his words, not mine."
Advertisement - story continues below
The Trump administration was reportedly considering imposing new tariffs of $257 billion on Chinese imports if such a deal is not struck.
Kudlow stressed that Trump wants to see the Chinese response improve and "deliver the goods," as China has been known for unfair trade practices and theft of intellectual property.
"They start playing by the rules — then, yes, tariffs could be removed. That's a big 'if,'" Kudlow said.
The tariffs on Chinese imports to the United States have mostly been on industrial machines, turbines, furnaces, cranes, farming equipment, batteries, rail parts, electronic parts, motors, semi-conductors and chemicals.
Advertisement - story continues below
In the first round, the U.S. placed a 25 percent tax on $34 billion worth of goods imported from China. China responded by doing the same, mostly targeting agriculture products.
The U.S. later put a 25 percent tax on an additional $16 billion worth of imports. China responded with tariffs on chemicals, gas, additional motor vehicles and fuel oil imported from the United States.
Most recently, the U.S. raised the tariff from 10 percent to 25 percent on an additional $200 billion worth of goods, set to take effect in January.
A survey of 432 American companies doing business in China found that 63.6 percent thought they were negatively affected by the initial round of tariffs on $50 billion worth of imports. The American Chamber of Commerce in the People's Republic of China, made up of American companies doing business in China, conducted the survey.
Further, 65 percent of American companies in China don't plan to relocate back to the United States because of tariffs, but are more likely to consider somewhere else in Southeast Asia.
Advertisement - story continues below
Asked about the survey, Kudlow told The Daily Signal the tariffs haven't been in place for very long, so it's difficult to assess their impact as of yet.
"From our view, we're booming," he later added about the U.S. economy. "China is not."
The economic adviser was upbeat about a phone conversation Trump and Xi had.
"It was a very positive tone. They did talk trade," Kudlow said. "In my opinion, it's always better to talk than not to talk. It looks they are focusing on trade. … It does suggest when they meet again in Buenos Aires, they'll have a bilateral, there may be more, and trade will be on the agenda."
Advertisement - story continues below
Noting that Xi will be giving a speech at a trade conference in Shanghai in the next week, Kudlow added, "I look forward to seeing what's in there regarding trade. So, there may be a little thaw going on here."
Fred Lucas is the White House correspondent for The Daily Signal and co-host of "The Right Side of History" podcast.
A version of this article previously appeared on The Daily Signal website under the headline, "'Satisfactory Deal' With China Could Lead to Lifting of Tariffs, Kudlow Says."
Conversation