Commentary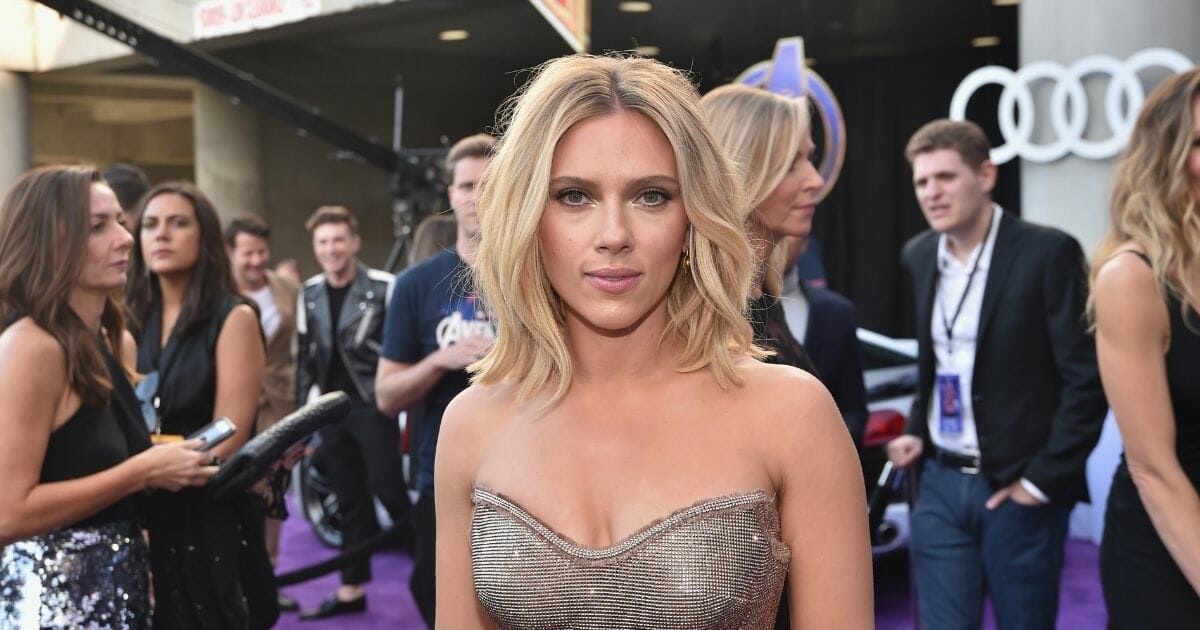 Scarlett Johansson Says She Can Play Any Character. Outrage Ensues.
For Scarlet Johansson, July is the cruelest month — at least when it comes to dealing with the cultural police.
Last year this month, Johansson faced a whirlwind of controversy when it was announced she would be portraying a transgender crime boss in the 1970s period piece "Rub & Tug." She withdrew from the role, saying that she was "thankful that this casting debate… has sparked a larger conversation about diversity and representation in film."
"While I would have loved the opportunity to bring Dante's story and transition to life, I understand why many feel he should be portrayed by a transgender person," she said as she bowed out. The move was clearly a victory for LGBT representation in film as "Rub & Tug" is still in pre-production hell according to IMDb and seems pretty unlikely to get made at this point. But hey, at least a cisgender female won't be playing a transgender crime boss. Flawless victory.
Advertisement - story continues below
Apparently, Johansson was insufficiently chastened by her first experience in the representation rodeo because this July, she deigned to say that she could theoretically play any character.
The comments came in an interview with As If magazine — excerpted by the U.K. Daily Mail, among others — where she addressed the "Rub & Tug" controversy as well as a similar kerfuffle from when she played a character that was originally Asian in the 2017 anime adaptation "Ghost in the Shell."
"You know, as an actor I should be allowed to play any person, or any tree, or any animal because that is my job and the requirements of my job," Johansson said.
"I feel like it's a trend in my business and it needs to happen for various social reasons, yet there are times it does get uncomfortable when it affects the art because I feel art should be free of restrictions."
Advertisement - story continues below
There were admittedly some pretty funny tweets that this engendered, mostly to do with Johansson's arboreal dramatic aspirations:
Okay, hear me out, Scarlett Johansson as this tree in the background pic.twitter.com/Q0qtba8sgR

— Brady (@ElBrady_Smith) July 15, 2019
Tessa Thompson and Scarlett Johansson in ANNIHILATION pic.twitter.com/yXBKb8qTWS

— eric eidelstein (@ericeidelstein) July 14, 2019
I've been on edge for two days. How can I walk outside without fear knowing that any one of these trees could really be Scarlett Johansson

— [crying in spanish] (@SortaBad) July 15, 2019
Advertisement - story continues below
All right, that's legit funny. Unfortunately, the remarks also got a lot of attention from the type of people who still un-ironically say "Not Funny" and capitalize both words:
Some advice from me to Scarlett Johansson. pic.twitter.com/e5hwveEs8n

— Ophelia Brown (@opheliajcbrown) July 14, 2019
Advertisement - story continues below
No one:

No one in the world:

No one in the universe:

Scarlett Johansson: pic.twitter.com/cPNMiZj2s3

— Chris ︽✵︽ ?️‍? (@ChrisScavenger) July 14, 2019
scarlett johansson desperately trying to save her career from her own transphobia/racism: pic.twitter.com/MX5m3DM94Y

— pattman stan (@amyadamsoscarr) July 16, 2019
Advertisement - story continues below
It wasn't just Twitter expressing its displeasure.
Take, for instance the AV Club's William Hughes, who wrote that "while we don't feel qualified to comment on Johansson's aptitude for playing, say, a larch or a marmot, the idea that she might compare those kinds of non-human roles to taking parts that could be more accurately cast with members of the minorities they're meant to represent does seem kind of — and we're using a technical sociological term here — f—-d up."
That was basically the tenor of the criticism levied at her and why it didn't take long for Johansson to say that she was taken out of context and that she realized her privilege, which is a very 2019 way of saying you're sorry.
"An interview that was recently published has been edited for click bait and is widely taken out of context," Johansson said in a statement issued to entertainment industry trade publication Variety. "The question I was answering in my conversation with the contemporary artist, David Salle, was about the confrontation between political correctness and art."
Advertisement - story continues below
"I personally feel that, in an ideal world, any actor should be able to play anybody and Art, in all forms, should be immune to political correctness. That is the point I was making, albeit didn't come across that way."
"I recognize that in reality, there is a wide spread discrepancy amongst my industry that favors Caucasian, cis gendered actors and that not every actor has been given the same opportunities that I have been privileged to," the statement continued. "I continue to support, and always have, diversity in every industry and will continue to fight for projects where everyone is included."
Do you think Scarlett Johansson should have apologized for her remarks?
The first lesson here is that prostrating yourself before the outrage steamroller is so seldom a good idea. It doesn't stop anything. It just tells those behind the controls that this is a piece of pavement that needs to be especially flat.
Advertisement - story continues below
"Basically, she's saying that all actors should be allowed to play all roles, because capital-A 'Art' should not be subjected to the constraints of political correctness," Sam Barsanti wrote in the AV Club's follow-up piece. "Whether she's right about that, it is an easy position for someone like Scarlett Johansson to take — though, in her defense, she does at least seem to be aware of her privilege and she has managed to go two whole years without playing an Asian character."
In Jezebel, Joan Summers picked apart the last part of the statement: "Isn't that a strange, retroactive approach to a history of obstinately assuming roles withheld from those same actors she claims to support?" She then brought up a 2007 interview Johansson did — which was in her early 20s, for those keeping track — in which she assumed a waiter from Mauritius with a French accent was Creole and asked him whether or not voodoo was part of his culture. Probably not her best moment, but then you consider that few of us had our best moments in our early 20s and even fewer of us had those moments dredged up in our mid-30s to explain why we were racist for saying that all actors, in an ideal world, could play all roles.
And that's the basic idea behind acting. Obviously, Johansson isn't going to be trying out for the same roles that Vin Diesel or Chadwick Boseman are, but the basic idea holds that we're dealing with a fictional piece in which human beings who aren't the human beings being portrayed on screen do their best to inhabit the roles. That means, of course, that a trans actor can play a cisgender role, too — something that's increasingly likely to happen in the coming years and which would likely be celebrated.
But, the idea is that established actors can't play certain roles even if it means it's the only way the projects come to fruition if that community is considered marginalized. Even if the individual is the best actor for the role, they should turn it down in solidarity with that community. That doesn't mean, however, that said community is going to get more representation in acting roles. They're just going to get less representation on screen.
Advertisement - story continues below
After all, "Rub & Tug" isn't about to be made anytime soon, mostly because there's no trans thespian high-profile enough to make the project work. The same thing could have been said for films like "Brokeback Mountain" or "A Beautiful Mind" which starred actors who were neither gay nor mentally ill, respectively.
If stopping those films from being made would somehow be a victory for representation, hey, go to town. I'm sure that'll work out well for everyone involved.
Conversation