Sports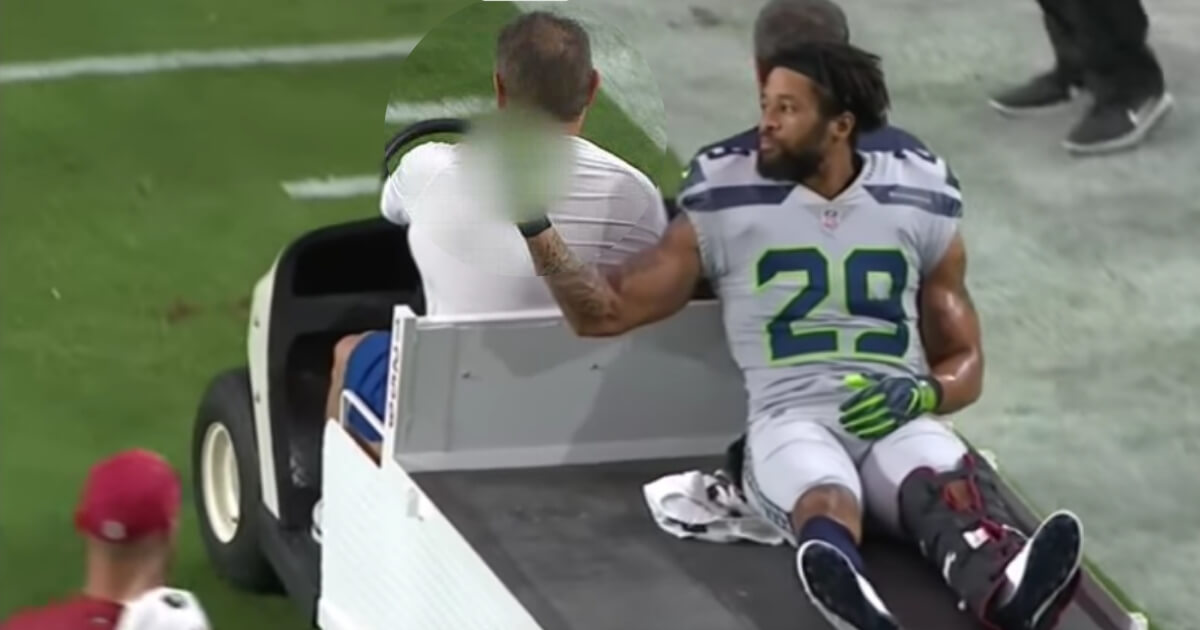 Seahawks Superstar Flips Off His Own Sideline After Breaking Leg
It was not a good way to go out, on any level.
Seattle Seahawks safety Earl Thomas suffered a season-ending injury in the fourth quarter of Seattle's 20-17 win over the Cardinals. Thomas, the six-time Pro Bowler, fractured his leg defending a touchdown pass from the Cardinals' Josh Rosen to Chad Williams.
As he was being carted off the field, Thomas appeared to flip off his own sideline while players on the Cardinals' sideline patted him on the back.
Advertisement - story continues below
The last thing we saw Earl Thomas do in a Seahawks uniform is flip off his own sideline. What a shame pic.twitter.com/NSvnwzeWhp

— Carlton (@SlopingGiraffe) October 1, 2018
It had been a contentious offseason for Thomas, who held out while looking for a contract extension from the Seahawks right up until the start of the season. Days before the first regular-season game against the Broncos, Thomas ended his holdout and rejoined the team, but he had stopped practicing last week out of concern of an injury.
With his current contract expiring after this season, Thomas, 30, was still hoping to re-sign with the Seahawks. But now, after this injury, that appears unlikely.
What prompted the one-finger salute to his sidelines was not clear as Thomas was not available for comment after the game, but one wonders if it had to do with his frustrations over not being signed.
Advertisement - story continues below
"I don't know anything about that," Seattle coach Pete Carroll said when asked about Thomas' gesture, reported ESPN. "It's a big stadium. I don't know where it was aimed at. Earl was extraordinarily poised on the field. For what just occurred to be so clear and so resolved to — he knew what happened. But he was so poised and giving back to the players and all of us. So I don't know what happened after that."
His teammate, linebacker Bobby Wagner, called it an unfortunate situation.
Has Earl Thomas played his final game with the Seahawks?
"I think that's the crazy part of our business. If he doesn't come (to practice), then he's not a team player," said Wagner about Thomas' holdout, reported ESPN. "If he does come and he gets hurt, then it's, 'He shouldn't have come.' So it's a position that we get put in often and it's an unfortunate situation."
Thomas has had an impact in Seattle's four games. He already had three interceptions, including two in last week's win over Dallas. After the win over the Cowboys, his frustration at not being signed spilled out in a post-game interview.
"I need to make sure my body is 100 [percent]," Thomas said, reported ESPN. "I'm invested in myself. If they was invested in me, I would be out there practicing. But if I feel like anything — I don't give a damn if it's small, I've got a headache — I'm not practicing. But I don't want that to be taken the wrong way. I know I'm going to get fined. But that's just where I'm at with that."
Advertisement - story continues below
Another holdout, Steelers running back Le'Veon Bell, said he understood where Thomas was coming from.
Le'Veon Bell's willing to be the "bad guy" so all NFL players get theirs ? pic.twitter.com/jGTAYHS0bV

— Bleacher Report (@BleacherReport) October 1, 2018
"SMH (shake my head) exactly…get right bro bro @earl! I'll continue to be the bad guy for ALL of us," Bell wrote in response to a post quoting Wagner's comments.
If it turns out to be the last time we see Thomas in a Seahawks uniform, it's an unfortunate way to go out.
Conversation