Commentary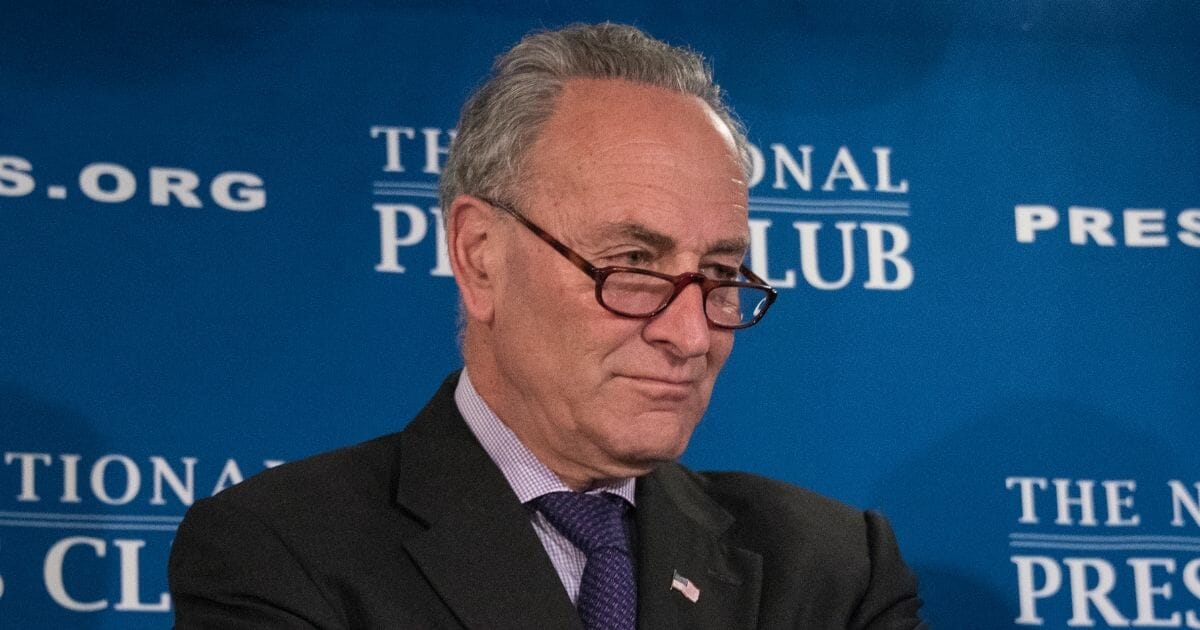 Seriously? Schumer Wants Trump Investigated Over $20 Bill
Proving once again that Democrats in Congress will use virtually any excuse to hinder, investigate, or otherwise obstruct President Donald Trump's administration, it now appears that Democratic Minority Leader Chuck Schumer has made a federal production out of delayed plans to update the $20 bill.
For many years there has been discussion about replacing the face of slave-owning former President Andrew Jackson on the common currency note with that of a hero of the anti-slavery abolition movement, Harriet Tubman, a process that was purported to officially be launched in 2016 by then-Obama administration Treasury Secretary Jack Lew, according to The Hill.
But that plan was recently placed on hold by Trump administration Treasury Secretary Steve Mnuchin until at least 2028, primarily over concerns about potential counterfeiting issues, as reported by Newsmax.
Advertisement - story continues below
But The Hill has now reported that Schumer had apparently rejected the reason offered up by Mnuchin and demanded the Treasury Department's inspector general conduct a full investigation of the decision to delay the change. It appears that demand will be honored.
Specifically, Schumer wanted to know if there was any White House involvement in the delay to replace Jackson with Tubman, no doubt an insinuation of racial motives by the president and his administration who are routinely accused — without evidence — of being bigoted and hateful racists.
Acting Treasury IG Rich Delmar wrote in a June 21 letter to Schumer that the minority leader's request would be incorporated into an audit and review of the process that was already planned and underway. That process would look into the Treasury's Bureau of Engraving and Printing to ensure that "security features," the "counterfeit deterrence program" and other requirements for creating new currency notes were properly implemented.
Delmar noted that his team would "interview the stakeholders involved" in the process, including the BEP, Treasury officials, the Federal Reserve's Board of Governors, the Board's Currency Technology Office, and the U.S. Secret Service.
Advertisement - story continues below
"I believe this approach will efficiently address the concerns expressed in your request," Delmar wrote. "It will specifically include review of the process with respect to the $20 bill."
"If, in the course of our audit work, we discover indications of employee misconduct or other matters that warrant a referral to our Office of Investigations, we will do so expeditiously," he added.
Are you tired of the Democrats' incessant investigations against Trump?
Delmar concluded by noting that he anticipated it would take roughly 10 months to complete the audit and review and put together a final report, and that he would keep Schumer apprised of the progress of the review.
Schumer, who had previously complained that the delayed change of the $20 bill hadn't been "credibly explained" by Trump administration officials, was reportedly "pleased" on Monday by the response he had received from the Treasury IG.
"There are no women, there are no people of color on our paper currency today, even though they make up a significant majority of our population, and the previous administration's plan to put New Yorker Harriet Tubman, on the $20 note was a long overdue way to recognize that disparity, and rectify it," Schumer said.
Advertisement - story continues below
At a glance, it would appear that the move to replace Jackson with Tubman on the $20 bill is little more than a cosmetic change, but in reality, there is a lot that goes into making even minor adjustments to existing bills, let alone wholesale changes of the design.
Schumer and Democrats, however, don't reside in a realistic world, and are instead consumed by an "Orange Man bad" mentality that reflexively ascribes the worst possible motivations to every single thing done or not done by the Trump administration.
The insinuation that there is some racial motivation behind the delay to place the abolitionist Tubman on the $20 bill is just one small example of that mindset, and it is nothing short of ridiculous that Schumer would force the Treasury IG to waste time and resources investigating for evidence of such.
Hopefully, the IG's review of the process will be quickly completed and the report will make it clear that the only reason for the delay is the already announced counterfeiting and security concerns that are critical to maintaining the "full faith and credit" that virtually the entire globe has placed in U.S. currency.
Conversation