Commentary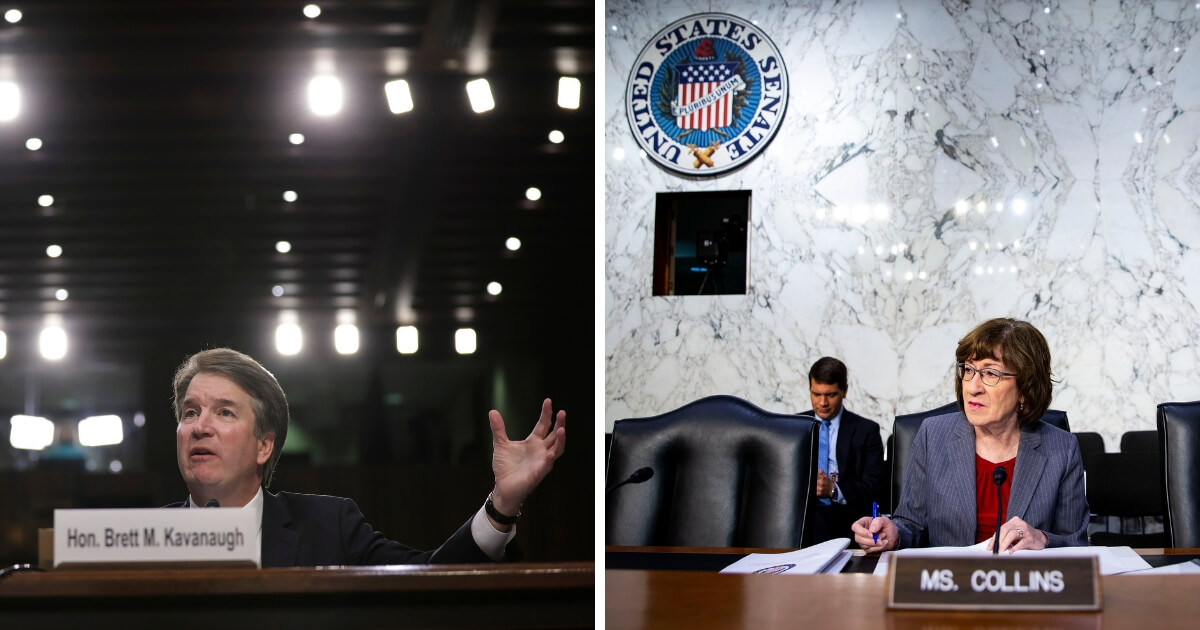 Sex Story Backfiring. Dems Get Bad News from RINO Vital To Stopping Kavanaugh
The days of mere innuendos are over: On Sunday, The Washington Post published a full account of what Supreme Court nominee Brett Kavanaugh's accuser is actually accusing him of doing.
In the piece, 51-year-old research psychologist Christine Blasey Ford claims that at a party during their high school years, a "stumbling drunk" Kavanaugh "pinned her to a bed on her back and groped her over her clothes at a party, grinding his body against hers and clumsily attempting to pull off her one-piece bathing suit and the clothing she wore over it."
"I thought he might inadvertently kill me," Ford said. "He was trying to attack me and remove my clothing."
Advertisement - story continues below
There are two reasons why this story is of interest to the media, one reasonable and one cynical. Reasonably, an accusation of sexual misconduct against a Supreme Court nominee, no matter how long ago it happened or how it was aired, is certainly a subject worth covering. Cynically, the watch is on to see if this can derail Kavanaugh the same way that the Democrats' actions during his confirmation hearings didn't.
If the words of one "Republican in Name Only" senator — who was widely considered a swing vote for Kavanaugh's nomination — are any indication, the accusation might not be as much of an issue as the left might think.
Sen. Susan Collins of Maine has often been a foil to Republican unity in the upper chamber, as evinced by the fact that Planned Parenthood has honored her in the past. They're now running a series of ads trying to get her to vote against Kavanaugh.
However, reached by The New York Times about the allegations, she seemed to be wary of the politicization of it all, with The Times noting that Collins said "Democrats had done a disservice to both Ms. Ford and Judge Kavanaugh with their handling of the accusations.
Advertisement - story continues below
"What is puzzling to me is the Democrats, by not bringing this out earlier, after having had this information for more than six weeks, have managed to cast a cloud of doubt on both the professor and the judge," Collins told the paper.
Susan Collins to @nytimes: "What is puzzling to me is the Democrats, by not bringing this out earlier, after having had this information for more than six weeks, have managed to cast a cloud of doubt on both the professor and the judge." https://t.co/WgMqcx1TjA

— John McCormack (@McCormackJohn) September 17, 2018
Do you think Brett Kavanaugh should be confirmed to the Supreme Court?
"If they believed Professor Ford, why didn't they surface this information earlier so that he could be questioned about it? And if they didn't believe her and chose to withhold the information, why did they decide at the 11th hour to release it?
"It is really not fair to either of them the way it is was handled."
It's worth noting that both Collins and Alaska Sen. Lisa Murkowski, another RINO who's known for often opposing the party line, are publicly undecided on Kavanaugh. However, Collins' remarks echo a growing sentiment that whatever the merits of Ford's claims, the way that it's been handled clearly indicates a total insincerity on the part of the Democrats, an insincerity which indicates they don't quite believe the claims either but are willing to air them out now that they've exhausted other options.
Advertisement - story continues below
https://twitter.com/kylenabecker/status/1041532181036851200
No matter where this all goes, the question of why Sen Feinstein sat on the info for more than 2 months remains a huge question.

Ms Ford has memory problems – according to sane leakers – no date, no house, no host/hostess…

— Don Barcome, Jr. (@dbznd) September 17, 2018
Ford's letter to Feinstein is compelling, but here's the part I don't get…

She makes it VERY clear she is willing to speak about this. Why did Feinstein not pursue this immediately & why did she make it seem in her statement that accuser didn't want to tell her story publicly? https://t.co/ciqbhKyzRz

— John Ziegler (@Zigmanfreud) September 17, 2018
This is probably one of the most important things to stress regarding the Kavanaugh accusation — how it's been handled with political expediency as opposed to decency.
Advertisement - story continues below
Sen. Dianne Feinstein, the ranking Democrat on the Senate Judiciary Committee, had this letter since July. She didn't ask Brett Kavanaugh about it when she met with him. She only gave a vague description of the letter when it was first revealed and information about it began to leak out in slow drips.
If she really believed this was worth pursuing, the time to do it wasn't after the confirmation hearings. It was back in July. Everyone can see through the timing of this accusation's airing. It devalues the entire process — and because of that, the story is currently backfiring. If you can't get Collins, it's very likely you're not going to get many Republicans.
Conversation
The Western Journal is pleased to bring back comments to our articles! Due to threatened de-monetization by Big Tech, we had temporarily removed comments, but we have now implemented a solution to bring back the conversation that Big Tech doesn't want you to have. If you have any problems using the new commenting platform, please contact customer support at
commenting-help@insticator.com
. Welcome back!