Commentary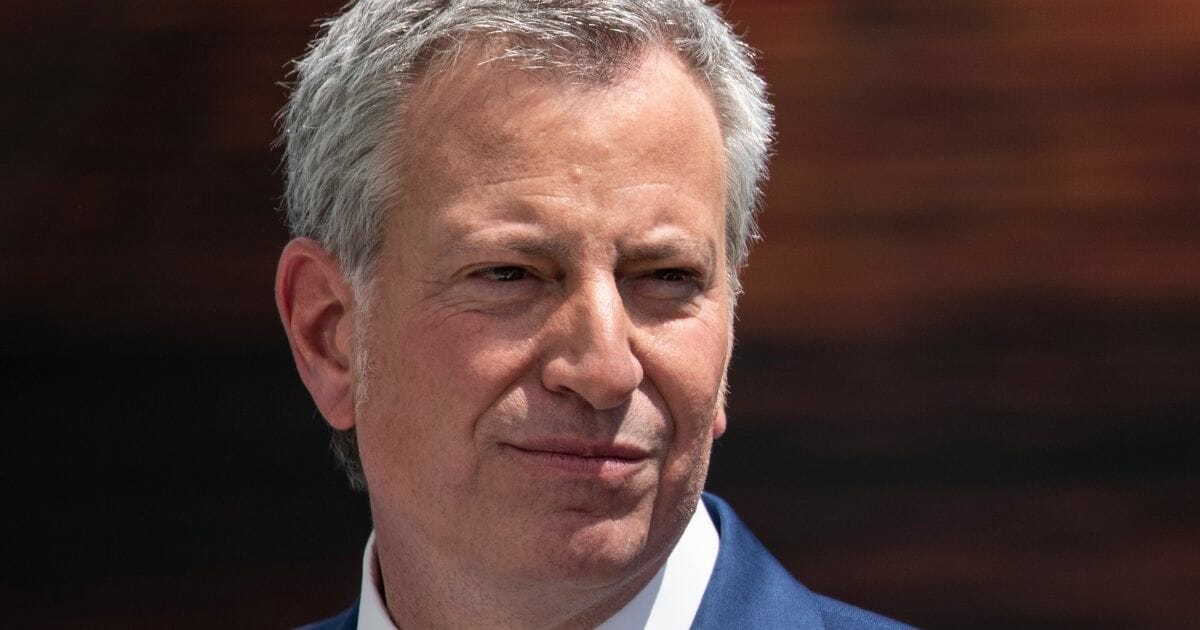 Shameless: De Blasio Skips 9/11 Ceremony, Reportedly Spotted at Fancy Coffee Shop the Same Day
Any reasonable person would expect that the mayor of New York City would put everything aside to attend a memorial service dedicated to the brave first responders of Sept. 11 who have since died of toxic exposure for heroically doing their jobs on that tragic day.
Unfortunately, that didn't happen.
On Thursday, at Liberty and West streets, a dedication ceremony for the new 9/11 Memorial Glade went off without a hitch — with the glaring exception of the absence of the city's top official, Mayor Bill de Blasio.
Advertisement - story continues below
Apparently, the mayor had different priorities that morning, as the New York Post reported that de Blasio was spotted at 7:30 a.m. at Colson Patisserie, a fancy coffee shop in Brooklyn. His security detail was reportedly later spotted at the Park Slope Y from about 8:30 a.m. to 10 a.m.
One might think he would have wrapped up his workout in order to make it to the ceremony afterward, but he was nowhere to be seen. Many attendees of the event took offense at the mayor's conspicuous absence, given what their loved ones sacrificed for the city and the nation.
"They should have been here and it's unacceptable that they're not," Maureen Fritz said.
Fritz was at the event in honor of her brother, firefighter William Gormley, who fell ill from his duties on 9/11 and later died in 2016.
Advertisement - story continues below
"They ought to be ashamed of themselves … They should not be reelected at all because that's not how you treat your citizens, your first responders."
A spokeswoman for de Blasio said the mayor attended an "internal meeting" at the Gracie Mansion while the ceremony took place.
Should Mayor de Blasio apologize for not attending the memorial?
A pathetic excuse, if you ask me.
But de Blasio wasn't the only high-profile figure who should have been there.
Gov. Andrew Cuomo, who was expected to deliver a speech at the ceremony, also didn't show, according to organizers,
Advertisement - story continues below
A spokesperson for Cuomo said the news release about the governor speaking was a mistake and the governor didn't have plans to attend the memorial.
Even if his spokesperson is telling the truth, that's no excuse. If anyone in the state was expected to attend and lend their support, it would obviously be the New York City mayor and the state's governor.
"They should have been here, that's the bottom line," said Michelle Holfester.
Holfester lost her husband, Det. William Holfester in 2008, who died at 43 due to cancer caused by his work on Sept. 11.
Advertisement - story continues below
"We're here where are they? They've seen through the years what's been going on the suffering with the men and women that lost their lives post 9/11… It's not a good picture. It doesn't look good you know," she said.
Commissioner of the New York City Police Department James O'Neill was there to honor his fallen brethren. He tweeted a tribute to the fallen men and women who sacrificed everything.
Today's Memorial Glade dedication marks the 17th anniv. of final rescue & recovery efforts at WTC site. For the more than 200 NYPD members who've since died of 9/11-related illnesses, & for those still suffering, the tragedy has not ended. We lost much that day – & it's not over. pic.twitter.com/2730ZOwsBC

— Commissioner O'Neill (@NYPDONeill) May 30, 2019
Advertisement - story continues below
The memorial, according to the 9/11 Memorial & Museum, will include six stone monoliths pointing toward the sky that "are worn, but not beaten, symbolizing strength and determination through adversity."
The fact that two of the top leaders in the state didn't make it a priority to be there speaks volumes. Hopefully, residents of the state won't forget about it come election time.
Conversation