Commentary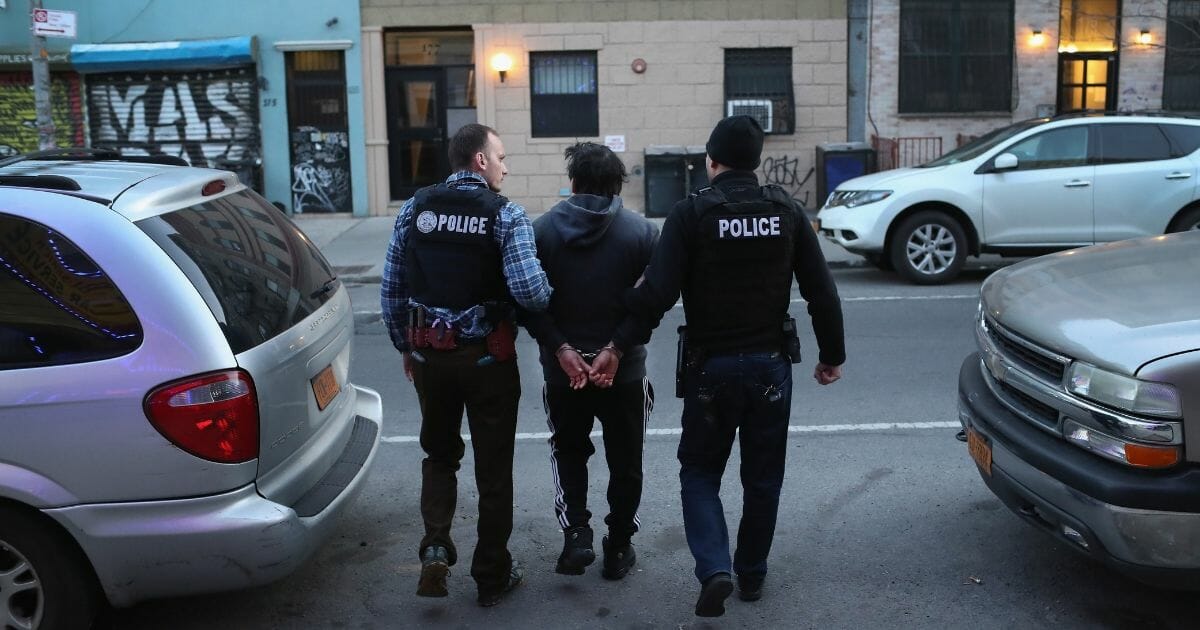 Shameless MSM Tries Controlling the Narrative Ahead of ICE Raids with New Name for Illegals
Agents with U.S. Immigration and Customs Enforcement will conduct a massive raid in an effort to detain 2,000 illegal aliens who've been ordered to be deported but have chosen to illegally remain in the United States.
The mass raid, which will start on Sunday and span across at least 10 U.S. cities, according to WNBC, is essentially the same operation that President Donald Trump postponed in June.
Believe it or not, it's not just immigration advocacy groups who are furious about the news.
Advertisement - story continues below
The announcement of the raids seemingly sparked a subtle outrage across multiple left-leaning mainstream media outlets and part of the way those networks are expressing disapproval is by coining an empathy-soaked, new terminology — labeling the illegal aliens as "undocumented families."
And it wasn't just one outlet that ran with the new label. As you'll see in the tweet below, multiple networks pushed the same narrative on the heels of the announcement of the raid.
The memo has gone out. Henceforth, the MSM will only refer to illegal immigrants as "undocumented families".

Journolist is alive and well. pic.twitter.com/pqwavvgqfK

— Will (@Oil_Guns_Merica) July 11, 2019
Advertisement - story continues below
"Ice raids on thousands of undocumented families are set to begin this Sunday," ABC7 News posted. "ICE to arrest 'thousands of members of undocumented families,'" the Houston Chronicle posted.
Triggering the liberal media even further was a report by The New York Times that mentioned the phrase "collateral" deportation — which means that additional illegal immigrants who happen to be in the vicinity of the targeted suspects could also be detained by ICE.
Do you support the ICE raids?
Other details surrounding the planned operation are secretive, as ICE is concerned about the safety of its agents, given the fact that details of the raid the first time it was supposed to happen were magically leaked to the press.
But its mission is clear.
"As always, ICE prioritizes the arrest and removal of unlawfully present aliens who pose a threat to national security, public safety and border security," an ICE statement read, according to WNBC.
Advertisement - story continues below
There are undoubtedly millions of Americans — ones who understand the importance of deporting illegal aliens — who support the raids, as they are vital to national security.
In far too many instances, American citizens have been slain by illegal aliens who dodged deportation — some on multiple occasions.
But that seems to not make any difference to the liberal media or liberal lawmakers, who are doing their very best to make this situation a lot worse than it has to be.
Let's just be completely honest — it's no coincidence that dozens of known left-leaning media outlets are calling the illegal aliens "undocumented families" all at the same time. Their goal is obvious — push out a narrative that these people are victims and not criminals.
Advertisement - story continues below
Perhaps the worst part is knowing that millions of Americans who gather their news from these networks will see this new terminology in a bombardment of inevitable news coverage and begin to sympathize with the illegal aliens — who were ordered to be deported according to U.S. law.
And not only that, the new phrase is obviously meant to undermine the Trump administration's immigration policies.
It's just a mainstream continuation of the type of manufactured rage that radical lawmakers like Rep. Alexandria Ocasio-Cortez started in an effort to demonize Trump and the agents who work for ICE and other border agencies.
If Democrats genuinely wanted to help, they would set aside their politically nasty, anti-Trump agendas and come to the table in an effort to forge real solutions. Wishful thinking, I know.
Advertisement - story continues below
Hopefully, if and when the raids do occur, they go off without a hitch and nobody on either side gets injured.
Conversation