Op-Ed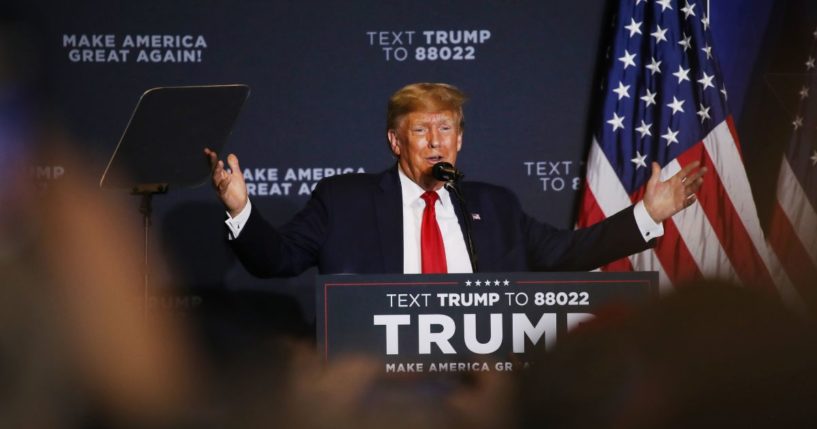 Op-Ed
Solomon: Is Trump Politically Immune to His Legal Woes?
This afternoon, after only a three-hour deliberation, a Manhattan jury delivered a verdict against former President Donald J. Trump in a civil lawsuit filed by E. Jean Carroll.
Trump was found liable on several charges, including sexual assault and defamation. He was found not liable for rape. The total of the awards in the case is just under $5 million.
While Trump is having a rough legal week, month and year, there is no evidence that any of the charges he may face will either disqualify him from running for the presidency or be an impassable obstacle to victory.
Advertisement - story continues below
Trump's journey to the White House was a controversial and surprising one that disrupted American politics.
He entered the political arena in 2015, tapping into populist frustrations and commanding attention through provocative statements and media dominance. Despite relentless attacks, he secured the Republican nomination and won the presidency in a bitter and divisive campaign against Hillary Clinton. Trump's victory stunned the political world and left many wondering how he could have succeeded.
Whether that 2016 success can be rekindled eight years later is anything but a rhetorical question.
As David Gelman, a New Jersey criminal defense lawyer, told me, "Trump's rise to the presidency was a perfect storm of factors that came together in a way that nobody could have predicted as a candidate promising to address people's concerns and deliver real change. Whether his ongoing legal issues play a factor in his upcoming presidential run remains to be seen. It's clear that today isn't the end of this case — he will almost certainly appeal."
Advertisement - story continues below
Part of what propelled Trump to victory in 2016 was his seemingly innate ability to dominate the media narrative in a way that few candidates have ever been able to do.
Using his larger-than-life persona and controversial statements to stay in the headlines day after day, Trump's candidacy was also helped by a deeply unpopular opponent in Clinton, who was seen by many as the embodiment of the political establishment that Trump was promising to upend. All of these factors combined to create a powerful wave of support for Trump that ultimately carried him to victory.
Would you vote for Trump in the GOP primary?
Ultimately, Trump's legal woes are unlikely to get in the way of him successfully running for president in 2024. According to Article II of the Constitution, which lays out qualifications for the presidency, criminal accusations or convictions do not disqualify a candidate from running.
So while a criminal trial could have a dramatic effect on Trump's presidential campaign and credibility, it won't disqualify him.
Where we stand today is pretty much exactly where the former president wants things to be. Despite his legal issues, he continues to hold a substantial lead among Republican voters as their pick for the 2024 GOP nomination, and this week the news was better for Trump as polling revealed that he has a clear lead over President Joe Biden.
Advertisement - story continues below
Things can quickly change where law and politics intersect, but the trends for Trump are strong, proving, at least for now, that he has a political resiliency that few would have predicted.
The views expressed in this opinion article are those of their author and are not necessarily either shared or endorsed by the owners of this website. If you are interested in contributing an Op-Ed to The Western Journal, you can learn about our submission guidelines and process here.
Conversation