Commentary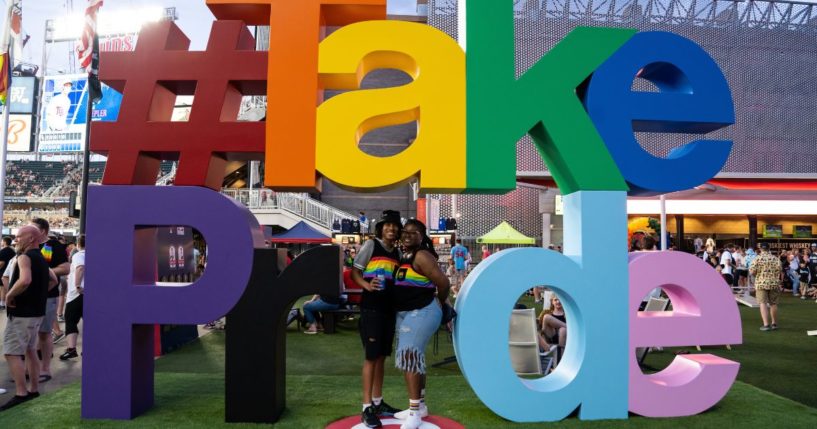 Commentary
After Target Caves on LGBT Grooming Merchandise, Gay Rights Group Likens Angry Consumers to the Proud Boys
It's a phenomenon that's become so common in just the past two months that the media has coined a name for it: "BudLighting."
"BudLighting" is defined by USA Today, with a typical flourish of lefty prose, as a "strategy … to crush so-called rainbow capitalism by branding companies as 'woke' and calling for boycotts over everything from Adidas' gender-inclusive swimwear to a North Face marketing campaign featuring drag queen and environmentalist Pattie Gonia."
To put it in less loaded terms, here's the process: Brand X believes its customers are just as woke as the people who teach their DEI seminars and plans its marketing and merchandizing accordingly. Shockingly Brand X is very wrong — and, thanks to social media, the company's non-woke customers find out about the affront to their values and shop accordingly.
Advertisement - story continues below
Brand X moves swiftly to distance themselves from the scandal — let's say, purely hypothetically, that it involves an ad campaign with transgender TikTok influencer Dylan Mulvaney — first quietly, then a bit more loudly. Not only do the customers still stay away, but now woke pressure groups descend like vultures. It's the worst of both worlds.
The Brand X of the week is big-box store Target and its line of LGBT-themed merchandise for pride month. While this is pretty standard in this day and age, Target went a bit beyond the pale, introducing LGBT-themed clothes for children, a "tuck-friendly" swimsuit in the women's section that allows male swimmers to discreetly hide the bulge that would ordinarily be there, and a line of apparel that was designed by an honest-to-goodness Satanist. (Although I must admit that one of his designs not featured by Target, a shirt which read "Satan Respects Pronouns," is less pithy and more accurate than he might think.)
On Wednesday, WCCO-TV in Minneapolis, where Target is headquartered, reported the retailer was scaling back the LGBT-themed merchandise significantly, citing "threats impacting our team members' sense of safety and well-being while at work" in a statement. The move came after Target executives held what Fox News described in a Tuesday report as an "emergency meeting" to deal with consumer "outrage" over the grooming gear and other in-your-face culture war salvos included in the chain's pride-month wares.
So, naturally, the Human Rights Campaign — a gay rights group — condemned Target and branded those who were opposed to the merchandise "conservative extremists" who were in league with the Proud Boys. Yes, seriously.
Advertisement - story continues below
"Amid extremist anti-LGBTQ+ rhetoric and attacks on businesses that stand by values of diversity and inclusion, retail giant Target is the latest center of attack for extremist groups. In response, it's been reported that Target is pulling some of its Pride merchandise from its sales floors across the country," HRC said in a Wednesday statement.
In the media release, HRC president Kelley Robinson said the retailer "should not be responding so easily to criticism and threats from the likes of the Proud Boys.
Do you plan to boycott Target?
"Target should put the products back on the shelves and ensure their Pride displays are visible on the floors, not pushed into the proverbial closet. That's what the bullies want. Target must be better," she continued.
"Extremist groups and individuals work to divide us and ultimately don't just want rainbow products to disappear, they want us to disappear. For the past decade, the LGBTQ+ community has celebrated Pride with Target — it's time that Target stands with us and doubles-down on their commitment to us."
Now, in case you've forgotten: The Proud Boys are a small, fringe organization of street-fighting hoodlums best known for having several of its more prominent members take part in the Jan. 6, 2021 Capitol incursion. It's not quite clear how large the group's membership is, but 1) it's undoubtedly small and 2) probably half-comprised of undercover FBI agents.
Advertisement - story continues below
And, I can tell you this much: Neither the Proud Boys nor "conservative extremists" were the ones behind these viral tweets.
WARNING: The following tweets contain graphic footage that some viewers will find offensive.
Pride toddler section @Target . "Tuck friendly" bathing suits etc. I never shopped here but I will definitely never will now. pic.twitter.com/Ihsukl12ZW

— Alexa Strange (@AlexaStrange) May 23, 2023
Advertisement - story continues below
Did you know @Target also sells "tuck-friendly" bathing suits for children in the Pride section? Well now you do.#BoycottTarget #GaysAgainstGroomers pic.twitter.com/ohK7X3D4N3

— Gays Against Groomers (@againstgrmrs) May 20, 2023
Target has new Pride collection. What this corporation is doing is far worse than anything Bud Light did. They are targeting children and selling chest binders and "tuck-friendly" bathing suits for children. pic.twitter.com/1koW3N6mkZ

— I Meme Therefore I Am 🇺🇸 (@ImMeme0) May 16, 2023
Advertisement - story continues below
Conservative women should be embarrassed to shop at @Target. Right now a little boy is wearing their "tuck friendly" swim suit, a little girl is wearing a Target brand chest binder, and a creepy trans-satanist is planning his next product line for the Target "Pride Collection."… https://t.co/FNiOpdOX1N pic.twitter.com/LSckKrE7Ng

— Scarlett Johnson (@scarlett4kids) May 23, 2023
Target's CEO has defended the stores 'Tuck Friendly' clothing designs and LGBTQI+ baby's clothing as part of the brands Pride Collection.

CEO Brian Cornell said:

"The things we've done from a DE&I (diversity, equity, and inclusion) standpoint, it's adding value. It's helping… pic.twitter.com/xHe3jVKlN3

— Oli London (@OliLondonTV) May 23, 2023
Advertisement - story continues below
Nor, in fact, could the Proud Boys or other "conservative extremists" pose any kind of threat to Target's bottom line. The half of America that leans right of center culturally, however, could very well do that — which seems to be a more plausible explanation as to why the store's pride-month extravaganza was seriously scaled back.
If there is a fringe group exerting pressure on Target, however, it's the HRC, which has a history of punishing corporations they perceive to be insufficiently woke if and when they go through the process of "BudLighting."
Take, for instance, the company that gave the phenomenon its name. After Anheuser-Busch InBev managed to shed roughly a quarter of Bud Light's sales after its disastrous ad campaign with Mulvaney, the company tried to minimize the role the transgender influencer played in its marketing strategy, with Anheuser-Busch's CEO telling investors on an earnings call that terming the Mulvaney partnership an actual ad campaign was "misinformation."
That didn't mollify beer-buyers one bit — and it caused HRC to suspend Anheuser-Busch's perfect 100 score on its LGBT inclusivity index.
Advertisement - story continues below
"Anheuser-Busch had a key moment to really stand up and demonstrate the importance of their values of diversity, equity and inclusion and their response really fell short," said Eric Bloem, senior director for HRC's programs and corporate advocacy.
Yes, well, at the very least, Mr. Bloem had the common decency not to tar those who refuse to buy Bud Light as Proud Boys apologists and "conservative extremists." The same, unfortunately, can't be said in this circumstance. Even though Target's LGBT pride line was far more controversial — especially given the grooming element of LGBT clothes for kids and the involvement of an honest-to-goodness Satanist — somehow the backlash is even worse in HRC's eyes.
Can't wait to see the kind of obscene hyperbole the HRC manages to come up with as more corporations are faced with the damned-if-you-do, damned-if-you-don't phenomenon of "BudLighting." Dare I predict a Hitler reference sometime in our future? The season's still young. Heck, pride month isn't even upon us yet. The possibilities, unfortunately, are endless.
Conversation