Sports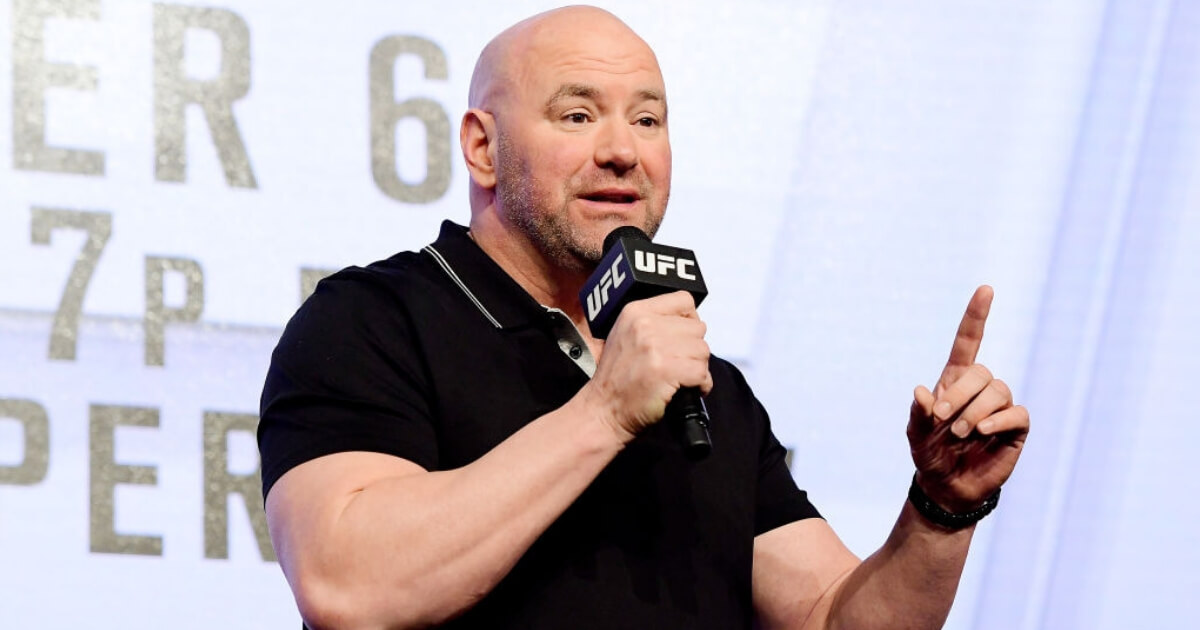 UFC Abruptly Moves Big PPV from Vegas to LA, Fans Are Basically Told 'Oh, Well'
Dana White became the Grinch in Las Vegas with his recent announcement about the location of UFC 232.
The UFC just moved its upcoming pay-per-view event from Vegas to Los Angeles thanks to marquee attraction Jon Jones getting himself into licensing hot water with the Nevada State Athletic Commission over "trace amounts" of a banned substance showing up in his urine test.
Jon Jones tested for a trace amount of the same metabolite that was found in his system in 2017. USADA has ruled the test was caused by a residual amount of the substance from 2017 and will not sanction Jones, but Nevada didn't feel it could license him. California will.

— Brett Okamoto (@bokamotoESPN) December 23, 2018
Advertisement - story continues below
Jones had a picogram of turinabol metabolites in his system, which the U.S. Anti-Doping Agency ruled was a result consistent with the residual effect of a drug test Jones failed in 2017, but the NSAC wasn't buying it and refused to give Jones a license.
How small is a picogram? It's one-trillionth of a gram.
Should Jones have been removed from UFC 232 to keep it in Vegas?
Advertisement - story continues below
If a U.S. dollar weighed one picogram, the entire U.S. gross domestic product would weigh less than an ounce.
UFC VP of Athlete Health and Performance Jeff Novitzky pointed out that the amount of metabolite was one 50-millionth of a grain of salt.
Daniel Cormier took to Instagram to express his anger at the NSAC for their decision-making process.
The NSAC did allow Jones to withdraw his application for a license so that California, which has a reciprocity agreement and would otherwise stand by its neighbors to the east, could evaluate Jones under its own standards, which in turn meant that Jones was licensed to fight in the Golden State.
So on less than a week's notice, the Dec. 29 event was re-booked to the Los Angeles Forum in Inglewood.
Advertisement - story continues below
So what about all those fight fans in Vegas who bought tickets to the fight and possibly planned a casino getaway and used vacation time for the trip?
Well, White says he'll "try to accommodate them."
Dana White says tickets for UFC 232 in LA will go on sale Wednesday and folks who bought tickets in Vegas can get a full refund or they will try to accommodate new seats for people willing to travel to Los Angeles.

— Damon Martin (@DamonMartin) December 24, 2018
Advertisement - story continues below
It's hard to blame White for this, since he's not the one who's saying Jones can't fight in Vegas.
As for Jones himself, he issued a statement in two tweets showing that he is purely focused on trying to win back the title he has coveted during his exile from the sport.
I'm focused on achieving my ultimate goal of reclaiming my Light Heavyweight title.  I have willingly submitted to every USADA test in the lead up to this fight and USADA has confirmed what I've been saying all along, that I'm a clean athlete. I sincerely thank the California

— Jon Bones Jones (@JonnyBones) December 24, 2018
Advertisement - story continues below
State Athletic Commission and Andy Foster for doing the right thing and supporting me through this process. I cannot wait to fight Alex Gustafsson this Saturday December 29th at the Los Angeles Forum in Inglewood.

— Jon Bones Jones (@JonnyBones) December 24, 2018
Meanwhile, simply relocating from Vegas to LA on the fly is proving to be about as "convenient" as you'd expect.
Just got e-mail from AXS about my UFC 232 tickets saying I'll get a refund in 7-10 days.. I think that means I need to buy new tickets, I don't know how much attendance will be in The Forum.

— Roberto (@Robert00CL) December 24, 2018
Advertisement - story continues below
Corey Anderson, who is fighting on the card, took the risk that one takes when trying to stand up to White and suggested that every fighter on the card boycott the LA venue, refuse to travel, and demand that Jones be removed from the card so that the event can stay in Vegas.
Anderson noted that his wife is seven months pregnant and was barely able to travel to see her husband fight as things stood.
He also, in vulgar terms, accused the UFC of holding Jones to a different standard because his name sells tickets, pointing out that he and other fighters weren't the ones who tested positive for a banned substance to rile the commission in the first place, taking White to task for screwing the fans, and expressing his displeasure at White's trying to deflect blame onto the Nevada commission for making a mess out of this event.
Advertisement - story continues below
Fighters who stand up to White tend to spend a lot of time on dark undercards, so good luck with that, Corey.
There's a debate over who the villain is in this debacle. Is it Jones, for still having a so-close-to-zero-as-to-be-zero amount of a banned substance from 18 months ago in his system?
Is it White, for trying to salvage a card and in the process seeming to screw an entire city, his stable of fighters, and everyone else involved in the insane logistics of moving a major mixed martial arts event on six days' notice?
Or is it the Nevada commission for putting a bureaucratic hurdle in front of something that even the USADA said outright is not new usage?
Advertisement - story continues below
Usually, when a debate like this breaks out, the correct answer is "all of the above."
Jones gets to fight and White gets his money and everyone else associated with the event got a lump of coal in their stocking. That's what passes for the holiday spirit in the UFC.
Conversation