Commentary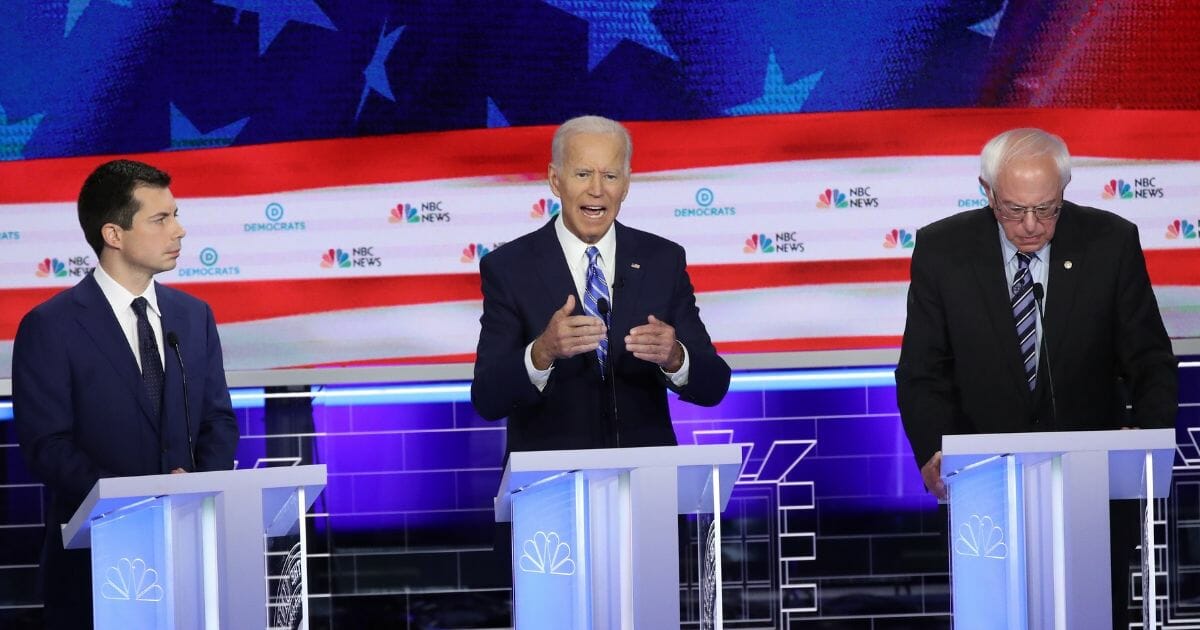 Uh, What? Biden Brags About Banning 'Number of Clips in a Gun'
The only thing most Democrats know about firearms is that they want them banned. They prefer to blame guns, not gunmen, for shooting deaths.
They also continue to trample the Constitutional right that gives law-abiding Americans the ability to possess and use firearms.
Anyone looking to Democrats for intelligent anti-gun arguments will end up disappointed. During Thursday night's Democratic primary debates, former Vice President Joe Biden illustrated his party's complete ignorance of the subject.
Advertisement - story continues below
After MSNBC moderators brought up guns, Biden made sure to inform the audience of his record on gun control. But gun owners across America had to be cringing as he stumbled through his comments.
"I'm the only person that beat the NRA nationally," Biden said, according to The Daily Caller. "I'm the guy that got the Brady Bill passed, background checks, number one. Number two, we increased that background check during the Obama-Biden administration. I'm also the only guy that got assault weapons banned, and the number of clips in a gun banned."
That's right, he bragged about getting the "number of clips in a gun banned."
How many clips does your gun hold?
Advertisement - story continues below
My guns use magazines and accepts one at a time. And guns that accept "clips" usually take one at a time, as well. It doesn't take a rocket scientist to know the difference between magazines and clips and how many a firearm can accept.
You can watch Biden's ridiculous moment in the video below.
Biden senior moment: "I'm the guy that got … the number of clips in a gun banned" pic.twitter.com/UNHtr5q4Ad

— Tom Elliott (@tomselliott) June 28, 2019
How does a politician who has voted on the subject of gun control in the U.S. Congress not understand the most basic firearms terminology? Biden's gaffe is both embarrassing and discrediting.
Perhaps the former VP meant to say "rounds" instead of "clips." That would have made him sound less ignorant at the very least.
Advertisement - story continues below
Do you think liberals are ignorant about firearms?
But Biden's "clips" snafu wasn't his only cringe-worthy moment. Another came when he opened his anti-gun screed by describing his actions during the "Obama-Biden administration."
I wonder what former President Obama thought when he said that?
Biden was invoking Obama's name in an attempt to establish his political superiority over the rest of his opponents. That strategy may have been more effective if he had Obama's endorsement, which hasn't happened yet.
Advertisement - story continues below
Like many of his opponents, Biden has pushed a national buyback program. According to The Blaze, he has also called for the introduction of "smart guns," firearms that can only be fired with a matching biometric signature from the gun's registered owner.
Overall, Biden. who was supposed to take the stage and easily dispatch his less-experienced opponents, was battered throughout the debate. It was difficult to watch.
President Donald Trump's "Sleepy Joe" nickname perfectly described Biden's subpar showing on Thursday night. Only time will tell how his below-average performance will affect him in the polls.
Conversation