Commentary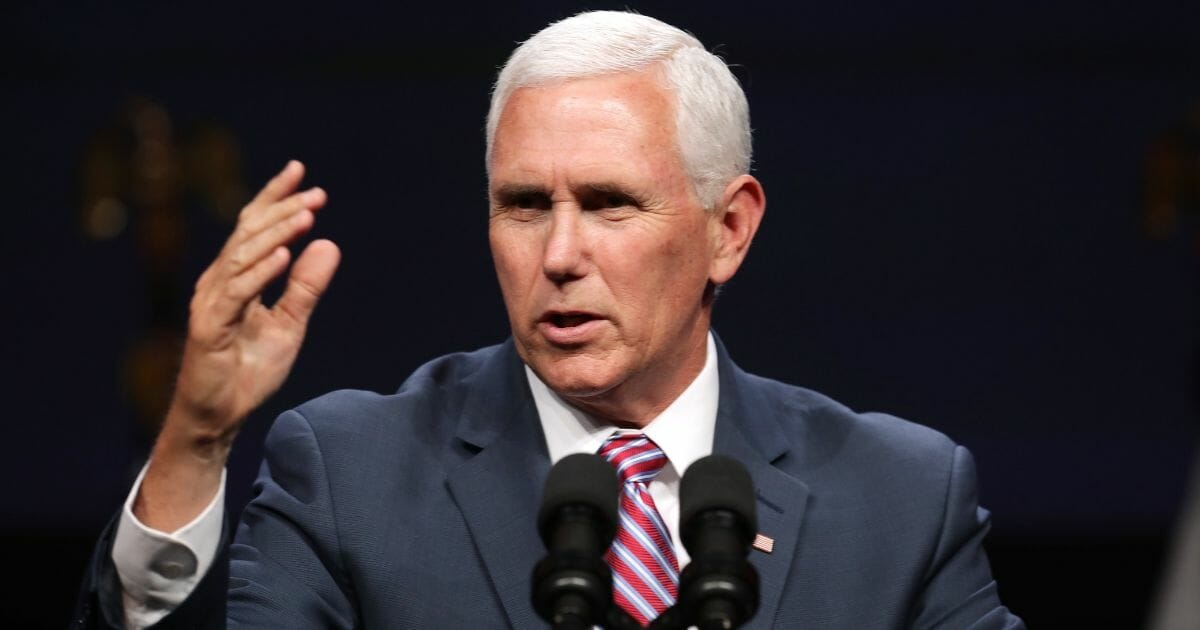 University President Apologizes, Quits After Inviting Pence to Speak at Graduation
As a campaign strategist might put it: The optics aren't good.
Six weeks after stirring up a controversy over Vice President Mike Pence speaking at a commencement ceremony, Paul Haines, the president of Indiana's Taylor University, has stepped down, effective August 15.
And even if the school maintains there's no connection between the two developments, the possibility is disquieting.
Advertisement - story continues below
In his resignation, according to a news release on the Taylor University website, Haines said only that he and his wife "leave with a strong sense of accomplishment, knowing that remarkable progress has been made over the last three years, but also a clear awareness of God's new purpose and direction for our lives."
To that, all anyone on the outside can say is "good luck and God bless." But there's still at least the appearance that something more is afoot.
As a small, evangelical school of about 2,000 students in central Indiana, Taylor isn't the kind of place that normally generates national headlines.
But when a few dozen disgruntled faculty members and students saw fit to walk out of Taylor's May 16 commencement ceremony before Pence began his address, the editors of USA Today saw fit to bring it to the country's attention.
Advertisement - story continues below
Even before that, The Washington Post published a column by Amy Peterson, an adjunct faculty member, complaining that Pence's selection for the commencement ceremony "doesn't build bridges; instead, it ratchets up the already-high level of division and distrust on campus."
And before that, the school's faculty voted 61-49 against the invitation, according to Christianity Today.
Do you think this school president resigned over the Pence controversy?
Haines even apologized to students in the school's chapel in April, according to The Echo, the school's student newspaper.
In other words, the Pence invitation was a serious bone of contention on the campus in Upland, Indiana.
The real question is, why? After all, Peterson's Washington Post piece made a point of claiming the opposition to Pence "isn't primarily partisan." (Note the qualifier.)
Advertisement - story continues below
Before he became President Donald Trump's No. 2, Pence was the governor of Indiana who had served in the United States House of Representatives from 2001-13.
He's also well known as an evangelical Christian — the kind of faith Taylor is built on.
And finally, regardless of anyone's personal politics, Pence has a spotless reputation — so clean liberals used mock him for making it a rule not to dine alone with a woman who isn't his wife. A Washington Post column even saw that as a sign of a "bigger broblem."
(They stopped mocking him around the time the sordid scandal of Hollywood Democrat Harvey Weinstein started gathering steam. Turns out, Democrats had a "bigger problem" with women than Pence. Funny how that works.)
Advertisement - story continues below
In short, Mike Pence is an accomplished, reputable and successful man with an impeccable reputation — and is pretty much what any campus composed of decent human beings should be looking for in a commencement speaker. (A campus composed of liberals blinded by partisan rage, of course, would be a different story.)
The fact that there was any sort of a "controversy" in the first place is absurd. Academics are an infamously liberal bunch, and that apparently goes for evangelical academics in certain places, too.
The fact that a walkout by "dozens" of students and faculty at a small midwestern college made national news is ridiculous.
And the fact that the college president who invited Pence is leaving his post now, so close in time to the controversy, is unfortunate.
Advertisement - story continues below
For the sake of Taylor, Haines himself and even the civic good of the country, let's hope those events really are unrelated.
But the optics definitely aren't good.
Conversation