News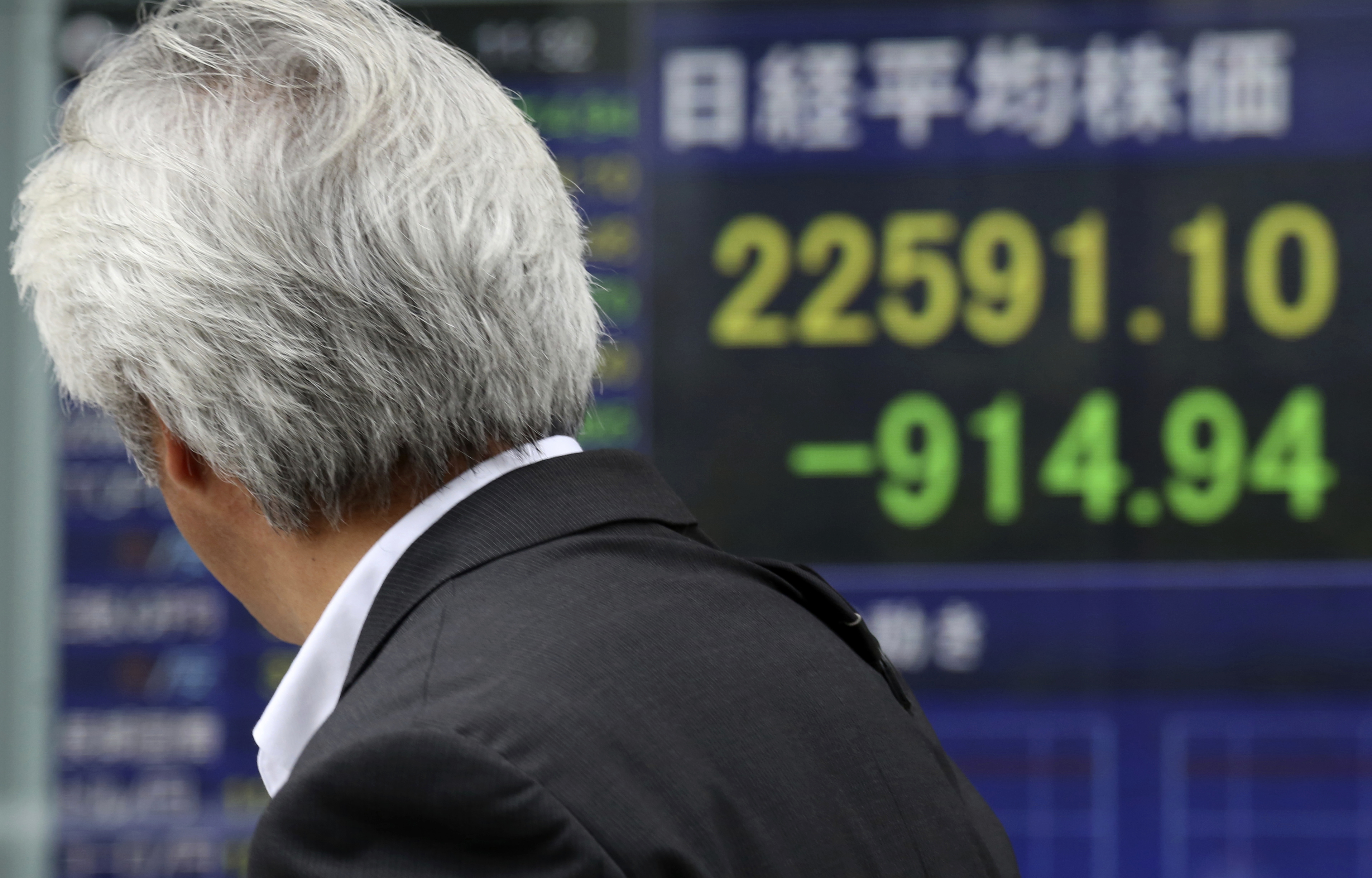 Losses Ease a Day After Stock Market's Biggest Drop Since February
U.S. stocks are mostly lower in unsteady trading one day after their biggest drop since February. A report indicating that inflation remains limited seemed to calm U.S. investors.
Following Wednesday's sell-off in the U.S., markets in Asia tumbled and European stocks suffered more modest losses.
Bond yields, which have spiked over the last week, slid after the Labor Department said consumer prices grew only slightly in September. That's a sign inflation remains under control, and it suggests the Federal Reserve won't have to raise interest rates at a faster pace.
Advertisement - story continues below
The market's recent decline was set off by a sharp drop in bond prices and a corresponding increase in yields last week and early this week. Yields slipped Thursday, as it appears investors are more interested in government bonds now that their prices are lower and their returns look better.
Stocks volatile after Wednesday's plunge. @KristinaParts has more from the @NYSE https://t.co/NNHMpl9UN3 pic.twitter.com/EXrqxlJL88

— FOX Business (@FoxBusiness) October 11, 2018
The benchmark S&P 500 index dipped 15 points, or 0.6 percent, to 2,770 at 10:50 a.m. after it fell 3.3 percent Wednesday, and the Dow Jones Industrial Average lost 138 points, or 0.5 percent, to 25,4460 after an 831 point plunge. Technology and internet companies recovered slightly after big losses over the past week, but energy companies fell along with oil prices.
The Nasdaq composite fell 24 points, or 0.3 percent, to 7,398, after a 4.1 percent dive that was its biggest one-day loss in two years. The Russell 2000 index of smaller-company stocks was slightly higher at 1,579. Most of the companies on the New York Stock Exchange traded lower.
Advertisement - story continues below
France's CAC 40 dropped 1 percent and the DAX in Germany lost 0.6 percent. Britain's FTSE 100 sank 1.3 percent. In Asia, Tokyo's Nikkei 225 gave up 3.9 percent and Hong Kong's Hang Seng index shed 3.5 percent. The Kospi in South Korea fell 4.4 percent.
"Equity investors are surprised by the pace at which rates have risen," Marcella Chow, global market strategist at J.P. Morgan Asset Management, said in a report.
The Labor Department's index of consumer prices edged up 0.1 percent in September as energy prices retreated after a big gain in August. Inflation has risen slightly this year after a prolonged stretch when prices stayed below the 2 percent target set by the Federal Reserve. For the 12 months ending in September, consumer prices were up 2.3 percent.
Bond prices rose as the recent surge in yields attracted the attention of some investors. The yield on the 10-year Treasury note fell to 3.17 percent from 3.22 percent late Wednesday. That's still sharply higher than it was a week ago, and earlier this week the yield on the 10-year note reached its highest level since mid-2011.
The drop in yields hurt banks, and JPMorgan Chase fell 0.7 percent to $110.65 while Bank of America sank 0.7 percent to $29.04. JPMorgan Chase and several other banks will report their third-quarter results Friday morning. Insurers and other financial stocks also slid.
Advertisement - story continues below
Health care companies lost ground as well. CVS sank 4.4 percent to $75.45 and Aetna sagged 0.9 percent to $201.61 after the New York Post said regulators in the state have concerns about CVS' purchase of the health insurer. The Justice Department approved the $69 billion deal on Wednesday.
Technology companies edged higher after taking a beating over the past week. Apple rose 0.2 percent to $216.77 and Microsoft gained 0.7 percent to $106.41. Alphabet, Google's parent company, bounced 0.4 percent to $1,096.59. In retail, however, Amazon fell another 1.2 percent to $1,734.69.
All of those stocks have made strong gains this year, but Alphabet and Amazon are now in what's known as a "correction," a drop of more than 10 percent from a recent peak. They are the second- and fourth-most valuable U.S. companies. Facebook, which ranks sixth, has tumbled 30 percent since late July, and Netflix has fallen more than 20 percent, meeting the threshold for a "bear market." The Nasdaq composite has fallen more than 8 percent since it set a record high in late August.
U.S. crude dropped 1.6 percent to $72.01 a barrel in New York. Brent crude, the international standard, dropped 2 percent to $81.45 a barrel in London. The price of gold jumped 1.9 percent to $1,215.90 an ounce.
Advertisement - story continues below
U.S. corporate profits have been boosted this year by the lower tax rates put in effect by President Donald Trump and the GOP. Now investors will be watching anxiously this earnings season to see if higher interest rates and the trade dispute with China are dimming the impact of the tax cuts.
On Wednesday, U.S. President Donald Trump said the Federal Reserve "is making a mistake" with its campaign of rate increases and said the central bank "has gone crazy" by gradually raising interest rates over the last three years.
WATCH— President Trump: "I think the Fed is making a mistake. They're so tight. I think the Fed has gone crazy…" https://t.co/ocRLvd570D pic.twitter.com/oWWwpz96G3

— CNBC Now (@CNBCnow) October 10, 2018
Sentiment also has been dimmed by the spreading U.S.-Chinese tariff fight over Beijing's technology policy. The International Monetary Fund cut its outlook for global growth this week, citing interest rates and trade tensions.
Advertisement - story continues below
The U.S. Treasury Department is due to release a currency report that some analysts suggest might change the official stance on China's exchange rate policy, and the Justice Department announced Wednesday it arrested an official of China's Ministry of State Security on charges of trying to steal trade secrets from U.S. aerospace companies.
The tensions hurt Chinese technology stocks. Tencent, China's most valuable tech company, dropped 6.8 percent. Shares of Chinese smartphone maker Xiaomi Corp. fell by 8 percent.
The dollar fell to 112.36 yen from 112.59 yen, and the euro rose to $1.1562 from $1.1525.
The Western Journal has reviewed this Associated Press story and may have altered it prior to publication to ensure that it meets our editorial standards.
Conversation