Op-Ed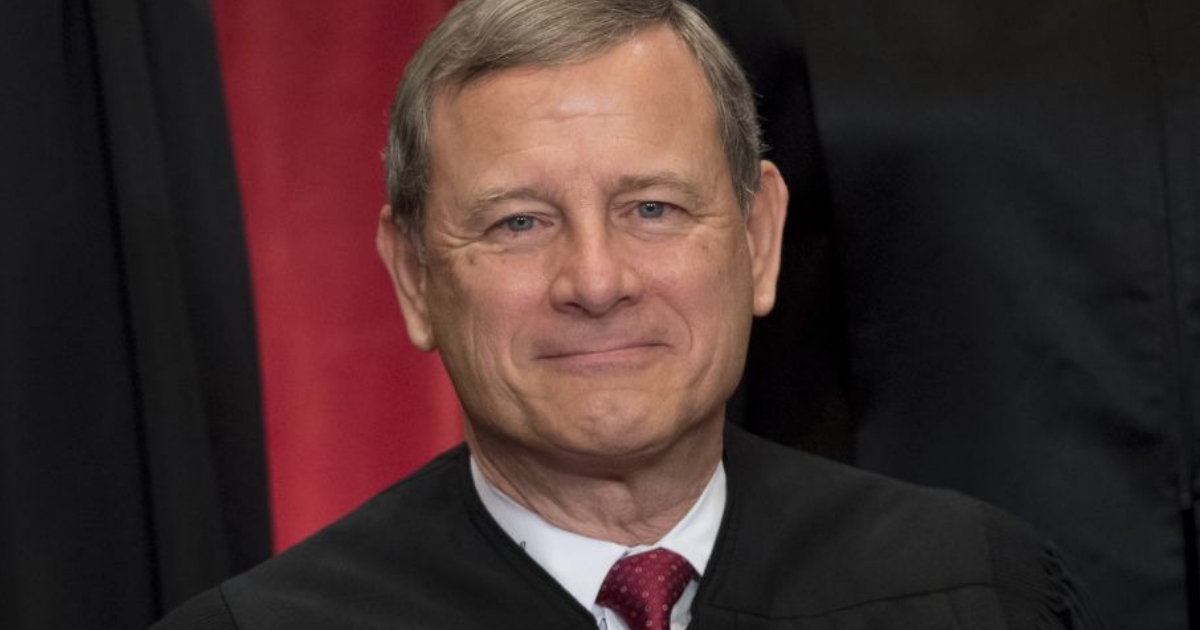 The Utopian Views of Chief Justice John Roberts
The courts of this country should base their decisions and rulings on the law. They should not render decisions based on political ideology or party loyalty. When they improperly inject their political biases and/or loyalties into their decisions, they cast a stain on our legal system and those who serve it.
According to Chief Justice John Roberts, our judges are independent and are not partisan.
"We do not have Obama judges or Trump judges, Bush judges or Clinton judges," Roberts said in a rare statement released by the Supreme Court on Wednesday. "What we have is an extraordinary group of dedicated judges doing their level best to do equal right to those appearing before them."
Advertisement - story continues below
"That independent judiciary is something we should all be thankful for," the chief justice added in the statement, which came a day before Thanksgiving.
Roberts is wrong. His comments reflect a utopian view of what the judiciary should be, not what it is.
Canon 3 of the Code of Conduct for United States Judges compels judges to perform their duties fairly, impartially and diligently. Section 3(A)(1) states "[a] judge should be faithful to, and maintain professional competence in, the law and should not be swayed by partisan interests, public clamor, or fear of criticism."
Unfortunately, partisan interests appear to be rearing their ugly head more than they should be in some of our courts. One such example is the 9th Circuit Court of Appeals.
Advertisement - story continues below
The 9th Circuit is one of the most liberal courts in the country and has been a sore spot for conservatives for years. Critics have referred to it as the "9th Circus" given the number of times its rulings have been overturned by the country's highest court.
Such rulings include the 9th's decision that the Pledge of Allegiance is unconstitutional because of the phrase "under God" and its opinion that Americans do not have a constitutional right to own a gun.
While it is not necessarily unusual for a judge (or a panel of judges in the case of an appeal) to be reversed on occasion, the reversal rate for the 9th Circuit suggests something more than the occasional, innocent mistake is going on. One need only look at the political makeup of this court to understand why this might be happening.
In a Fox News article, Kent Scheidegger, legal director of the Criminal Justice Legal Foundation, said: "The Ninth Circuit is out in left field and has been since a major expansion of the court allowed President Carter – and Sen. Alan Cranston (D-Calif.) – to pack its left wing in the late 1970s."
This same court recently made headlines when Judge Jon S. Tigar of the U.S. District Court for the Northern District of California (who was nominated by President Barack Obama) issued a temporary restraining order blocking President Donald Trump's plan to refuse asylum to immigrants who cross the southern border illegally and who do not arrive at a port of entry.
Advertisement - story continues below
"Whatever the scope of the President's authority, he may not rewrite the immigration laws to impose a condition that Congress has expressly forbidden," Tigar said in his ruling.
Tiger's conclusion appears to be incorrect in light of a recent Supreme Court case that affirmed that Congress has given the president broad authority to limit or stop aliens from entering the country. The Court also explained that the Executive Branch grants asylum on a discretionary basis and when certain legal conditions are met.
Moreover, pursuant to the House report on the 1952 immigration bill, the president has "the authority to suspend the entry of all aliens if he finds that their entry would be detrimental to the interests of the United States, for such period as he shall deem necessary."
The president's power to impose such restrictions on immigration is plenary, meaning that the courts should not interfere with the president's decision on this matter. Given the clear language of this bill, the recent Supreme Court opinion, the 9th Circuit's very liberal propensities/make-up and its high reversal rate, Robert's assertion that our judiciary is independent seems disingenuous and more along the lines of "wishful thinking."
Advertisement - story continues below
Roberts' statement also raises questions. For example, if the judges were all independent, why did Senate Democrats put Justice Brett Kavanaugh through such a disgusting and heart-wrenching confirmation process? Why would it matter whether the justices sitting on our highest court are left- or right-thinking? Why would the issue of judicial activism be so relevant today if the judges were simply enforcing the law and the Constitution as opposed to legislating from the bench?
To further cast doubt on Roberts' conclusion, one need only look at Florida's Supreme Court, which has put its stamp on a variety of important issues. In a report for the American Justice Partnership, Colleen Pero, an attorney and legal analyst specializing in reviewing state supreme court opinions, said, "Nowhere is the pattern of judicial activism more prevalent than in the State of Florida."
Pero referenced numerous Florida Supreme Court cases where judicial activism allegedly played a role in the court's ultimate decision. These cases involve a variety of legal issues and are instructive as to what can happen when judges allow their personal opinions and/or policy preferences to dictate the way they rule as opposed to the law they've sworn to uphold.
Roberts' message is one of hope and does not reflect the current status of our judiciary. While many of the nation's judges are impartial and independent, there are also members of the judiciary who engage in judicial activism and/or legislate from the bench. In a speech before supporters of the Heritage Foundation, former Attorney General Jeff Sessions strongly condemned judicial activism, calling it "fundamentally undemocratic."
Advertisement - story continues below
"You're all probably familiar with the term judicial activism," Sessions said. "An activist judge has traditionally been defined as one who goes beyond the law in a given case and injects his or her personal opinion or policy preferences for judicial rulings. This improperly takes the policy making prerogative away from the democratically accountable branches. One argument for activism was advocated openly by President Obama — he said it repeatedly. He declared his nominees must judge with empathy. It's a seductive argument; politically it sounds good, but whatever empathy is, it's more akin to emotion, bias, politics — not law. "
"Such an approach is a direct threat to law," Sessions added. "And since law and law alone protects our liberties, it's a threat to our freedom and the democratic process."
Hopefully, one day, Roberts' conclusion can become a reality. Until then, it is merely a utopian dream.
Elad Hakim is a political writer and commentator and a practicing attorney. His articles have been published in The Washington Examiner, The Daily Caller, The Federalist, The Western Journal, American Thinker and other online publications. 
The views expressed in this opinion article are those of their author and are not necessarily either shared or endorsed by the owners of this website. If you are interested in contributing an Op-Ed to The Western Journal, you can learn about our submission guidelines and process here.
Conversation