Commentary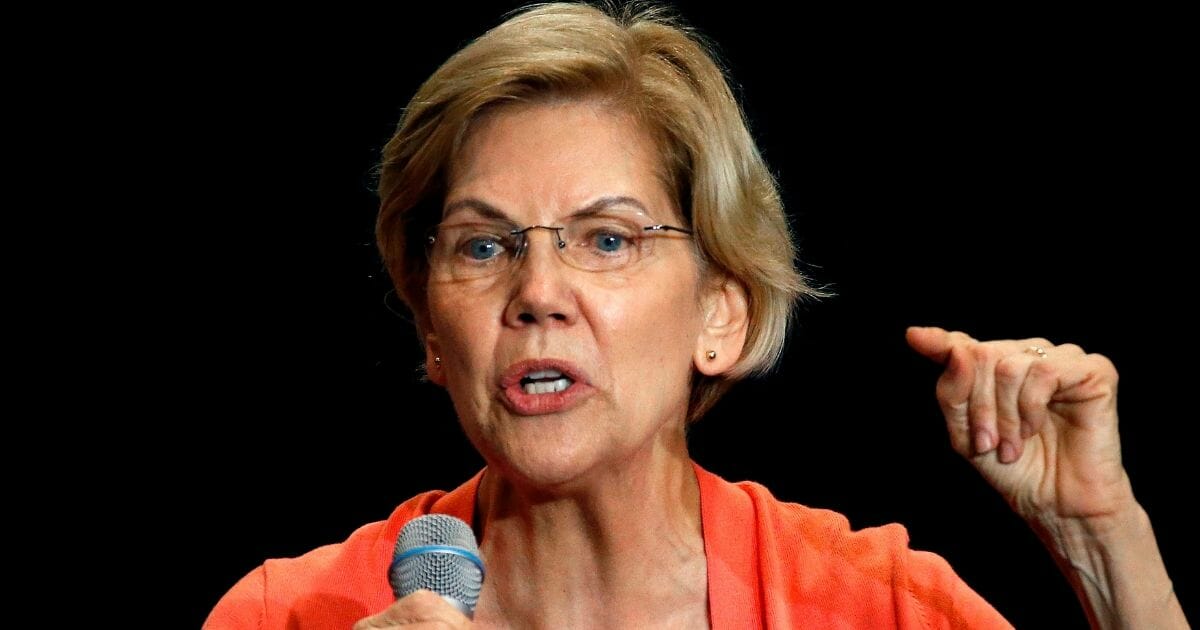 Warren Proposes New Election Plan That Will Destroy States' Rights Across America
Sen. Elizabeth Warren says she wants to "strengthen our democracy." To do this, she needs to take away some of your state's rights.
Let me explain. "Voting rights" has always been a major rallying call for the Democrats, who believe that being asked for an ID to vote amounts to racist voter suppression.
The Massachusetts senator has been busy ticking off all of the boxes in the liberal column so far — "Medicare for all," wiping out student debt, paying for it all with a "wealth tax" — so one could have guessed something involving voting would come at some point.
Advertisement - story continues below
However, like most of Warren's proposals, you're always kind of agog at how gargantuan the change would be.
"A day before Sen. Elizabeth Warren takes center stage in the first Democratic presidential debate, she unveiled a $20 billion plan to federalize national elections, notably by buying new voting machines for the entire country, standardizing ballots and making Election Day a holiday," The Washington Post reported on Tuesday.
As The Post noted, "Democrats, particularly in the South, contend that actions by GOP-led states to tighten voter ID requirements, purge voter rolls and take similar actions have suppressed Democratic votes. Republicans have complained of voter fraud, and President Trump created a national commission to examine voting irregularities, although it disbanded without issuing a report."
The subtext of this has always fascinated me: Democrats are somehow unable to follow basic voting laws while Republicans can follow them. Nobody seems to point out this blatant contempt for the party base. Warren seems to go a bit further, implying in a Medium post that announced her new policy proposal that ballot shortages and polling-place lines are somehow failures of commission, not omission.
Advertisement - story continues below
"We have all heard stories about polling places running out of ballots, computer problems causing delays, ballot designs confusing voters, and extremely long lines preventing working people from voting," Warren writes.
Yes, because the one institution that can solve all of these things is … the federal government, which, as Milton Friedman once quipped, would cause a shortage of sand if put in charge of the Sahara Desert.
Do you think Elizabeth Warren will be the Dems' presidential nominee in 2020?
"And on top of these administrative issues, racist and partisan officials often deliberately seek to stop citizens from exercising the right to vote. States have purged names from the voter rolls, limited same-day registration, closed polling places in communities of color, used voter ID laws to try to disenfranchise Native Americans, and even placed restrictions and criminal penalties on efforts to register new voters," Warren's post continues.
Amazingly, after arguing against voter ID laws — and again, this is based on the racist assumption that persons of color are somehow unable to obtain government ID — she then argues that our electoral system isn't secure enough.
"Our elections should be as secure as Fort Knox. But instead, they're less secure than your Amazon account. State and local officials take their jobs seriously, but they often don't have the resources to secure their elections," Warren wrote.
Advertisement - story continues below
"Even then, it's hard for local officials to defend against attacks from foreign governments. In the 2016 election, the Russian government tried to infiltrate at least 39 state election systems and at least one election equipment company. They tried to spear-phish more than 100 local election officials' email accounts. They even successfully broke into several voter registration databases."
This, again, is somehow going to be solved by federalizing elections, buying new machines and mandating how your state handles voter registration.
Nothing in her plan, you may not be surprised to learn, is designed to ensure that individuals are eligible to vote in the district in which they're voting. No, it's all about suspending voter ID laws, buying new machines for every district in the country, stopping gerrymandering by requiring states to "use independent redistricting commissions" to draw districts,  and giving everyone a federal holiday to vote, among other things. It would even incentivize states to adopt the plan for local elections.
Warren's proposed legislation would also ban states "from removing voters from the election rolls unless the voter affirmatively requests to be removed or there is objective evidence of a legitimate reason to remove them, like death, change of address, or loss of eligibility to vote. We will also re-enfranchise those who have served their time and left prison."
Advertisement - story continues below
In fact, her plan would even micromanage things to the extent that we'd decide what the ballot would look like. Our republic has survived more than 200 years, and the one time we've ever heard of confusing ballots affecting the election is when Democrats claimed the butterfly ballot in Florida cost Al Gore the 2000 election. (Cursed ballots! And hanging chads and Ralph Nader!)
Voting is easier than it has ever been. What the Democrats want to do is remove safeguards they want to believe are standing in the way of complete electoral domination. Warren's plan, meanwhile, is nothing more than a compendium of liberal fears — "racist" voter ID laws, Russian hacking, gerrymandering — and an evidence-free promise that the federal government will solve them.
Warren says that she'll enforce the plan "through incentives where possible, and with federal authority where necessary." In other words, if you don't eat the carrot, expect the stick.
This is nothing less than a proposed soft federal takeover of our election system that would include dismantling measures meant to prevent voter fraud. And if you think this is the last thing that Warren is going to propose federalizing before this electoral season is over, you're wrong.
Conversation